After being out of commission for almost two months Chicago Blackhawks defenseman Steve Montador is closing in on a return to the lineup. Montador who has been dealing with concussion symptoms since the 'Hawks February 7th contest against the Colorado Avalanche. Before going down with the injury Montador was having a solid first season with the 'Hawks with five goals, nine assists, a plus-4 rating and 45 penalty minutes, 5th amongst Blackhawks.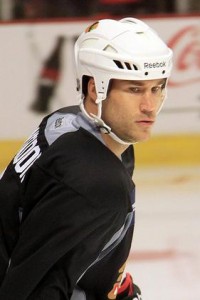 After Blackhawks practice on Monday Montador sounded positive and upbeat about the prospects of making his return to the lineup and with him traveling with the team to New Jersey, a Tuesday return seems to be a good chance.
With the Blackhawks thin on defense missing Duncan Keith due to his suspension, Sami Lepisto has been nursing an injury and of course Montator's injury if he is able to return to the line up on Tuesday it will be an upgrade over current fill in Sean O'Donnell. With Montador the Blackhawks would add a key component of toughness on the backend that is much needed in his absence with the likes Lepisto, Olsen and O'Donnell filling his void.
Although the trio just mentioned are not soft they do not bring the mixture of toughness, puck moving ability and a dependable defender. Although Montador would not be the perfect replacement for Keith, although I don't think many could, he does allow the 'Hawks to lean less on they youngsters Leddy and Olsen and also allow for more well rounded pairings.
With Montador's imminent return to the lineup the Blackhawks now will look forward to the return of captain Jonathan Toews. Toews has been out with a concussion since February 19th but has been taking strides towards returning after he skated for his 7th consecutive day and as Coach Joel Quenneville would say is trending in the right direction.
Of course the 'Hawks would like to have Toews back before the playoffs to get some hockey under his belt before the playoffs but in the 'Hawks mind they don't care when Toews comes back just that he comes back and is symptom free.
So there is some good news on the horizon for the Blackhawks and if they can get both Toews and Montador back for the playoffs or even before they have to be considered a dangerous team entering the playoffs