Steve Yzerman is a boss.
On Friday, he traded a second round draft pick for D-man Jason Garrison. Then, later that day, while making multiple trades on the floor in Philadelphia in order to strategically draft the players of their choice, Yzerman used his 19th overall pick on defenseman Anthony DeAngelo. A player of some controversy due to his checkered past, DeAngelo was a surprise choice to many, but seems like he'll make a great fit.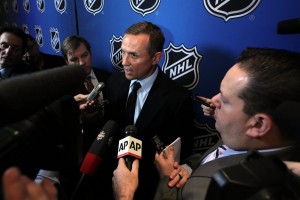 Then, after the draft, it seemed like all was quiet in Tampa Bay. And, well, it was, until Sunday night. That's when the hurricane really began. If you logged onto your computer, or checked Twitter from your smartphone or tablet, then your feed was probably filled up with news about Yzerman and his trades. It all began at 9 p.m. that night with the first of three trades.
Yzerman is making more moves than I do when I start a GM Mode in NHL 14.

— Saved by the Bolts (@savedbythebolts) June 30, 2014
Three Trades
Yeah, you heard me right. That's not one, not two, but three trades in one night. Yzerman dumps players left and right while he only receives picks for the 2015 draft in return. The general consensus was that ole Stevie Y was taking necessary moves to clear some much needed cap space right before the Free Agency hunting season begins. Also, it seems that Yzerman made these moves with specific Free Agents in mind. Since the interviewing period was last week and ends today, it's more than likely that the Lightning have already contacted and made plans with their guy. It's just a matter of clearing room and money for this mystery players. Now, there's plenty of money and even more room for him.  
Trade # 1
Sam Gagner for Teddy Purcell
In the past couple weeks, some discussions have popped up here and there discussing the potential for a trade involving Teddy Purcell. Before last night, none of these rumors held any truth to them; they were just the results of educated guesses and suppositions made on previous rationale. But, they turned out to be accurate. That being said, the Gagner-Purcell trade still perplexed quite a few.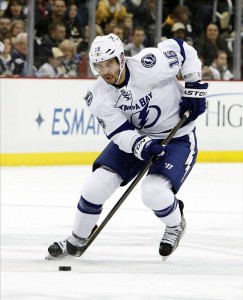 Technically, Purcell, when it comes to stats, provides more offense than Gagner does. Purcell had 228 points in 401 games with the Lightning, a not so insignificant number when it comes to young forwards these days. When Tampa Bay's cap space before the first trade is considered, the trade makes even less sense. Purcell gets paid $4.5 million per season and Gagner receives $4.6 million per season.
After the initial trade was made, it was rumored that the Lightning would begin the process of buying out Gagner the following Monday. But, less than two hours later, those rumors turned out to be false when Yzerman struck again.     
Trade # 2
B.J. Crombeen & Sam Gagner for Picks
At 10:45 p.m., it was announced that Sam Gagner would be going off to the Arizona Coyotes with B.J. Crombeen going along with him. Before the specifics of the trade were announced, many thought Arizona might be giving someone back to the Lightning. Several mentions of Keith Yandle being involved were floating around, but turned out to be mere speculation. Instead, the Lightning received a 6th round pick in 2015.
As it turns out, the Coyotes have coveted B.J. Crombeen for quite some time now. Obviously, Yzerman didn't really have any attachment towards the forward since he was willing to trade Crombeen so quickly. The deal could only be finalized if the Lightning retained 1/3 of Gagner's salary. Retaining part of Gagner's salary would mean a little bit less cap space. Fortunately, the amount of money leftover would basically be the same as paying Crombeen but without the roster position taken.      
Plot twist: Yzerman signs himself to an entry level deal, plays with Stamkos and scores 70 goals. — Saved by the Bolts (@savedbythebolts) June 30, 2014
Gagner's brief time with Tampa Bay resulted in a number of jokes that, in a roundabout way, captured the frantic tone caused by this trading frenzy. Around the time that Gagner and Crombeen were dealt to Arizona, Yzerman's intentions began to become pretty clear. What's unknown though is whether or not all these moves were being made for someone about to enter Free Agency or for a sizable trade. Both seem plausible as of right now, considering that Yzerman wasn't done for the night just yet.
Trade # 3
Nate Thompson for (even more) Picks
When all the insanity from the previous two and a half hours began to subside and our heartbeats were finally slowing down to a normal rate, Yzerman made a final move at midnight. How could a hockey fan possibly go to sleep after an evening like this? I know I stayed up an extra two hours just to see if he'd trade the rest of his team away.
At midnight, Yzerman traded Center Nate Thompson to the Anaheim Ducks. In return for Thompson, the Lightning received two draft picks in 2015 – one fourth round and the other in the sixth round. With Thompson gone, Yzerman bumped up the total amount of cap space save by $1.6 million. There are now three roster spots open which weren't there at the beginning of the night.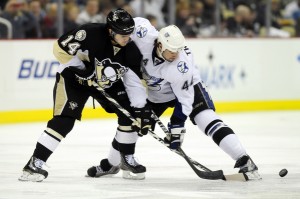 Yzerman Can't Stop, Won't Stop
Now that all the dust has settled, the Lightning have somehow managed to put themselves in an even better position than before. In addition to opening three roster positions, Yzerman also managed to save about $8 million dollars in cap space. But, what's most impressive has to be all the draft picks acquired for next year's draft.
With the 3 trades tonight, TB saved $5,583,333 in cash and $5,650,000 in cap space; plus added a 4th, a 6th and a 7th round pick. — Pierre LeBrun (@Real_ESPNLeBrun) June 30, 2014
While this year's draft class was somewhat dull, massive amounts of talent can be found in the class of 2015. Yzerman knows this and is already beginning to plan for next year's draft when it comes to Sunrise, Florida. As of last night, after the completion of the Thompson-to-Anaheim trade, the Tampa Bay Lightning hold twelve draft picks in 2015. TWELVE. That's almost two per round!
Considering how many players would be added to Tampa Bay's roster following fifteen selections, it's no wonder Yzerman rid his team of so many players. But, there's more to learning from this than just saving money and opening positions: Yzerman's never finished. Just when you think he's finally decided to rest, to allow the waters to settle at last, he throws in a move that always seems to be just another piece to some enormous puzzle.
Steve Yzerman's new book, "Midnight Trades: The New Cure for Insomnia," will hit bookstores on July 2. #TBLightning

— Bolt Prospects (@BoltProspects) June 30, 2014
There's definitely an overall scheme going on here. Yzerman's not just acting out on impulse – no, we all know he's a calm, collected man who only makes tough decisions when he believes he's making the right choice without any margin for error. Each year, he makes changes to the roster, alters lines into formats that we believe should never work but turn out to be that one unforeseen combination that defies logic but works perfectly.
Yzerman's simply a hockey magician. And, tomorrow afternoon, when Free Agency begins, it's safe to say that Yzerman's finally going to show us what he's been hiding up his sleeve all this time.