It takes a lot to be super-villain in the world of sports. Not just anybody can be universally despised by an entire fan base, or have the ability to ignite a rivalry at a moment's notice. The best villains have game, making sure that everyone cares enough to hate them. Each has passion because without it they are rarely taken seriously. And most importantly, villains are unlikable to their core. They ooze arrogance, demonstrate consistently questionable behavior, and primarily live to be obnoxious. Villains are loathsome to the core.
There is but one villain in the Los Angeles hockey community, and his name is Corey Perry. Along with fellow forward Ryan Getzlaf, Perry has helped establish the Anaheim Ducks as a top-tier NHL team for the last decade. And he's done so with a various combination of dekes, snipes, elbows, and slashes. As the Ducks were churning out success year after year, the crosstown Los Angeles Kings were accumulating young pieces and laying the foundation for their own dynasty. A rivalry born out of proximity was enhanced by success, and a new playoff system that forces divisional foes to face off in the early rounds was the cherry on top. These two teams are step-brothers like Huff and Dobak, and they won't be bonding at the end of the film.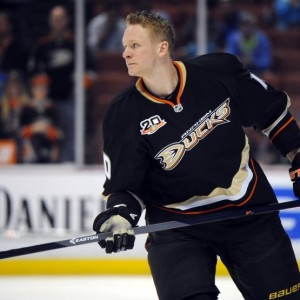 At the center of it all has been Perry, who has managed to both uplift the Ducks to new heights while making Kings players, coaches, fans, and peanut vendors detest his existence. L.A. is not alone in their resentment of the controversial forward, as fans in cities like Dallas, Winnipeg, and Minnesota would love nothing more than to have a few Pilsner's and tell you why #10 is a cheap shot artist. But make no mistake about it, Perry has some serious game. His hands are among the NHL's best, his hockey IQ is grossly underrated, and he saves his most heroic moments for crunch time. Oh, and he absolutely loves being hated. Those chants that combine juvenile humor and vicious insults, the old attendees proclaiming him Lucifer reincarnated, and the chilling silence after he scores a pivotal goal to shut everybody up. Perry knows his role, and he owns it.
Which brings me back to the NHL's other team in southern California. As much as they might hate to admit it, there is no greater opposing threat to a third Stanley Cup than the Ducks, who are a mind-boggling 18-1-1 in their last 20 games and taken over the lead in the Pacific division standings. Anaheim's the hottest team in hockey and a team that the Kings will most likely have to defeat just to make the Western Conference Final. And how do you stop the Ducks? You stop Perry in his tracks first and foremost. There aren't many tougher tasks in hockey, but the Kings can do it if they do their homework.
Physical to a Point
Ok class let's open our "Hockey 101 books to page one. To combat with illustrious skill and speed, you have to be physical. While not the most imposing forward in the world, Perry is more than capable of using his 6ft 3' 209lb frame as a weapon on the attack. The Kings have to body him at every opportunity the puck is on his stick, and take away any time and space he even thinks he has. That's not just the cliché NHL 94 video game hip check that rarely occurs at real life's blistering pace, but rather every area of the ice that Perry operates. In the corners. In front of the net. Entering the offensive zone. The seconds right after he steps on the ice for a shift, and the seconds right before he exits the ice to regroup. Every time Perry touches the puck, the Kings should be circling like sharks in the water.
Here's an example of Dustin Brown catching Perry with a clean hit in the neutral zone:
There's absolutely nothing dirty about this check, but it is within perfect reason to expect the Ducks to leap (or waddle?) to Perry's defense. It's hard to catch such an elusive player with a clean hit, so these opportunities cannot be passed up. The biggest concern with physical play of this nature is going overboard. If the legal hit is not there, you can't force it. Keep your feet moving, and find another opportunity. An ill-advised roughhousing can lead to a penalty, or worse, take a Kings player completely out of the play and lead to a Ducks goal. Perry thrives on getting opponents to over-commit to maiming him and then counterattacking with one of his slick finishes. Which goes hand in hand with lesson number two:
Don't Take the Bait
Look, I understand that on the ice Perry has the face that only a mother could love. And throughout the course of the game, he will try everything to get you off your game. Don't believe me? This was him against the Kings in the 2014 playoffs:
That was his Olympic teammate Jeff Carter of all people! But lowering yourself to his level and committing these tactics are just going to do more harm than good. First off, it is common sports knowledge that the referee always catches the retaliation. Perry is begging you to punch him in the face, slash him in the knee, or spear him where it hurts the most. Not because he has some sort of sick fetish like Joe McGrath's player in Omaha, but because it gets you off the ice and his team a man advantage. The second thing it does is takes your brain off of all your coach's advice and prior hockey training. Instead of thinking "how can I make the next smart hockey play" and "this is the forecheck system we want to run," you'll start thinking "how can I physically chop Perry's wrist off" and "if I get a good lawyer I think I can beat this at the league office." It's not worth it, and it will do the Kings more harm than good.
If there's one knock on Perry's style of play it's that all this extracurricular stuff is unnecessary. One moment he's scoring goals, the next he's starting a full-on line brawl with a fly-by hit after the whistles have been blown:
You can be ultra-skilled while simultaneously being a pest, but all the cheap antics, while the refs aren't looking takes away from just how talented he is. To be fair, he's not the only the one who behaves like this, but he very well be the most offensively gifted player who takes liberties in the NHL. That does it for my "Backhanded Compliment of the Week" award.
Stay off the Penalty Kill
Want to know just how lethal Anaheim's been with a man advantage? The Chicago Blackhawks lead the NHL in power play effectiveness, scoring on 24.1% of their chances. During the Ducks 11 game winning streak, the power play unit went 19 for 42. That's over 45%, and hardly a small sample size. It goes without saying that for the Kings to have success against their Orange county foes, they need to stay out of the penalty box. That didn't happen on their February 28th tilt in Anaheim, and the Kings were roasted to the tune of three power play goals by the Ducks. Guess who was the driving force in that contest?
All three of these goals showcase Perry's versatility as a goal scorer. There's a filthy snipe, unmatched puck-tracking, and a relentless finish at the net. Two of those goals came on the power play, and all three came on situations the Kings need to avoid, with Perry having free reign in his wheelhouse. The Kings needed to be better spaced on Perry's first goal, failing to account for the Ducks best power play weapon on a clean rush into their defensive zone. On goal number two, Luke Schenn needs to tie up Perry and stay with him, even if he loses sight of the puck. Perry's hat trick goal was sheer will and determination, but it's the kind of play that needs to be matched by whichever Kings players are on the ice. Without effort, Perry will make you pay. That holds especially true on the Ducks high-octane power play.
A Full Game
The final step to stopping Perry is the most fundamentally basic one to understand. L.A. has to keep track of him for the entire game, whether that's 60 minutes or deep into overtime. It sounds so rudimentary, but few teams have been able to weather the storm Anaheim's superstar winger creates. It doesn't take him long to warm up, as he can strike on the first shift of a game with ease. And Perry can salvage a poor performance with a goal in the waning moments, something the Western conference knows all too well. Most players will cower in fear if they are ineffective for long stretches of hockey. Perry is not most players.
Stopping Perry requires both superstar talent and overall depth that few teams possess. The Kings are one of those teams, who will happily trot out Drew Doughty every time Perry's skates crack the ice. Doughty has the speed and hockey smarts to match him stride-for-stride and has improved his conditioning to remain persistently on Perry's tail until the final horn sounds. Still, though, Ducks head coach Bruce Boudreau has found creative ways for Perry to avoid the opponents' top defenseman, especially at home when his squad has the ability to make the last change before a faceoff. That's why Jake Muzzin, Alec Martinez, or whoever else is on the ice with Perry has to be aware at all times. Respect his abilities, but don't bow before him. He's a hockey player first and foremost and has the same vulnerabilities that anybody who laces up skates does.
It's not just the defensemen who have their hands full with Perry. Elite forwards such as Anze Kopitar, Tyler Toffoli, and Jeff Carter can't abandon their defensive responsibilities and focus solely on goals. If they do, Perry will burn them. The grinders of the offense need to keep defending Perry as their top priority and work together to keep him off of the scoresheet. And then there's starting goalie Jonathan Quick, who might dislike Perry more than anybody on the Kings roster. Quick needs to keep his head in the net, avoid letting #10 throw him off his game, and bear down whenever Perry has the puck. There's no room to nap against Perry.
Just one more regular season game remains between the Kings and the Ducks, but I have a feeling that won't be the last time they meet this season. L.A. wants a third Stanley Cup more than anything, but one notorious player stands directly in their path. Corey Perry wouldn't have it any other way.