The start of the season seemed like a fairy tale for the Toronto Maple Leafs. Down several roster players, this team seemed to find ways to grind out wins regardless of the uphill battle that faced them.
Unfortunately for Toronto, that struggle ended in their first defeat of the season at the hands of Patrick Roy's Colorado Avalanche. Colorado remains undefeated in 3 games so far despite finishing 29th in the NHL in points last year. It's been a tale of two seasons for the storied Denver franchise.
Jonathan Bernier Turning Heads
There have been holes in Toronto's game thus far, but Bernier has not been one of them. Even his first loss this year, Bernier still managed to win 2nd star honors along with a 93.9 save percentage on the night. He made some game-saving stops last night, including a dazzler of a glove save 5 minutes into the first.
Even the game-winning goal was a bit of a stinker – a deflection of P.A. Parenteau's skate.
Not a single person thus far can say Bernier wasn't worth every piece GM Dave Nonis sent to LA. After three straight outstanding appearances, you have to believe Bernier has the inside track on winning the goaltending battle against Reimer for starter.
The 25-year old boasts a 96.3 save percentage and a GAA of 1.18 which are 5th and 7th in the league, respectively. He has been a complete rock so far through 7 periods of play.
The Leafs may now have a goaltending controversy, but it's a good problem to have. Several of the league's most successful teams run on tandems, often forgotten after the whole Luongo-Schneider drama in Vancouver.
Jaroslav Halak and Brian Elliot led the Blues to a Jennings trophy back in '11-'12 as a tandem, and provide stability and depth for the team. Last year, Marc-Andre Fleury and Tomas Vokoun led the Pittsburgh Penguins to a first place finish in the Eastern Conference.
As long as it's handled professionally, there's no reason why the Leafs can't carry two starting-quality tenders. At least for now.
6 Games Left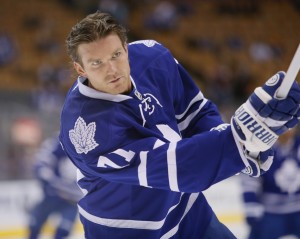 You have to imagine that the guys in that Leafs locker room are very anxious to get on the ice with David Clarkson.
The gritty winger has yet to make a regular season appearance for the Leafs, but they look no worse for the wear as a result of it.
One interesting question to consider – where will Clarkson play once this team is healthy and at full strength? The top line of JVR-Bozak-Kessel seems locked in, but the 2nd and 3rd lines are still being juggled quite frequently. Randy Carlyle seems intent on trying as many combinations as he can at the start of the season to test out his new pieces.
Nikolai Kulemin has always been a defensive/checking forward in is career, but was given a shot on the top-6 with Kadri and Lupul at the start of the season. He didn't look out of place playing along with those two, so he could get a shot at the position again following his return from his bone injury.
Mason Raymond looked good in the preseason alongside Kadri, but has looked even better playing with fellow new acquisition Dave Bolland. So much so that Carlyle has promoted their line to the 2nd line and shifted Lupul away from Kadri.
So where does Clarkson come in?
His physical and confrontational style seems like it would fit perfectly with Bolland and Raymond. A line with Raymond's speed and Bolland and Clarkson's grit would be an absolute pain to play against and would also have decent scoring prowess. That gives Lupul back to Kadri alongside Kulemin.
Regardless of how it all pans out, one thing is clear – this team is not hurting in forward depth.
Shots on Shots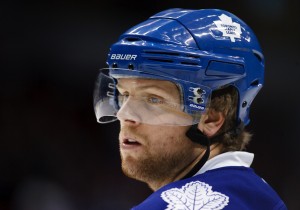 One man had a fantastic showing last night, but you wouldn't be able to tell if you just looked at the boxscore. That man was Phil Kessel.
He went pointless through the game, but was an offensive force that was dangerous all night. He ended up with a whooping 7 shots on goal for the night.
A lot has been made of Alex Ovechkin's hot start for the Capitals. The Great 8 has logged 24 shots thus far through 3 games, and seems to be primed to pick up right where he left off a few seasons ago when he was the consensus best goalscorer in the league.
One thing many people haven't been talking about – Phil Kessel is right behind Ovie with 22 shots, albeit in one more game. That puts him second in the league so far.
Kessel has always been a streaky player, but as he matures, so does his game. It's been said over and over again throughout his career that Kessel is a one-dimensional player, but even noted hardass Randy Carlyle has made a point to state how he feels Kessel is learning how to play a 200-ft game.
As Kessel begins to enter the prime of his career, he could soon be in that discussion for "best players in the game", if he isn't already.
Not to be outdone, Joffrey Lupul also had a great showing in shots last night – 5 shots on net along with the lone Leafs goal.
Quick Hits
–Tomas Hertl. 4 goals. Enough said. Guess who everyone is going to be pinning the Calder on early this year?
-Apparently the addition of goaltending coach Francois Allaire and goalie legend Patrick Roy was enough for Semyon Varlamov to turn a new leaf. He's been an absolute stud this season, and though it's early, if the Avs make the playoffs, look for Varly to be team MVP.
-Talk about proving your former team wrong. Jussi Jokinen netted a hat-trick against his former teammates, the Carolina Hurricanes. GM Jim Rutherford gave Jokinen away for peanuts and even held onto some of his salary. This one has really bit him in the rear.
Follow me on Twitter to get all the latest updates! My handle is @alexmai11, or just click the author box below.
Alex is a Lead Writer for the Toronto Maple Leafs. Since joining the Hockey Writers, he has also briefly covered the Carolina Hurricanes. He also currently works as an assistant for the Western Mustangs at the University of Western Ontario. Follow him on Twitter @alexmai11.