Jack Studnicka made a name for himself at the World Junior Summer Showcase.
Overshadowed and unheralded heading into the exhibition tournament — that also featured the United States, Sweden and Finland — Studnicka emerged as a standout for Canada as the week progressed in Kamloops.
"Obviously I'm not a big name in one of these situations, so I try to keep my head down and go to work and prove that I should be a candidate for the team come Christmastime," said the 19-year-old forward from the OHL's Oshawa Generals, a second-round draft pick (53rd overall) of the Boston Bruins in 2017.
#NHLBruins sign forward Jack Studnicka to entry-level contract: https://t.co/9b6A0R0qPw

— Boston Bruins (@NHLBruins) September 26, 2017
Perhaps perceived as a long-shot for Canada's roster prior to this week-long audition, Studnicka made the most of his opportunity.
Granted, a handful of other forwards invited to the Summer Showcase were missing due to injury — including bigger names like returnee Robert Thomas as well as Owen Tippett and Gabe Vilardi, the 10th and 11th overall picks from 2017 — but Studnicka certainly improved his chances and raised his profile with an eye-catching performance in Kamloops.
First Star in Final Game
Studnicka saved his best for last, named Canada's player of the game in Saturday's finale with a goal and an assist for two points in an entertaining 6-5 victory over the rival U.S.
His assist sparked Canada after falling behind early in the first period. Studnicka was the catalyst in setting up that 1-1 equalizer, buzzing into the U.S. zone and getting off a good shot that was blockered away before following up with a wraparound attempt that his linemates combined to finish off, with Jaret Anderson-Dolan getting a rebound chance and Ty Dellandrea eventually putting the puck in.
That sequence capped Canada's first sustained pressure of the game and shifted the momentum, tilting the ice in the hosts' favour for the remainder of the opening frame.
Studnicka's goal made it 5-1 for Canada at the 7:22 mark of the second period, chasing American starter Keith Petruzzelli with a wicked wrister that clanged in off the far post after taking a feed from Anderson-Dolan on the rush.
.@HC_WJC gets the puck up ice quick before Jack Studnicka (@NHLBruins) walks in and rips one high to make it 5-1 🇨🇦. #WJCShowcase pic.twitter.com/jOE1lVCleS

— TSN (@TSN_Sports) August 4, 2018
That goaltending change prompted a pushback from the Americans, who scored three straight to close within one early in the third period.
With Canada suddenly on its heels, Studnicka made his biggest impact of the game — even though it didn't show up on the scoresheet.
Studnicka hustled back to break up another developing chance for the U.S., lifting the puck-carrier's stick for a takeaway and leading Canada in transition, driving to the net in generating a scramble that saw the puck pop out to defenceman Calen Addison in the slot. His quick shot through traffic — including Studnicka in front — eluded Cayden Primeau and the goal withstood video review. However, it was recorded as unassisted since a U.S. defender had the last touch before Addison.
Impressed Coaches, Teammates
Nevertheless, that 6-4 goal at 4:01 of the third period stood up as the winner and cemented Studnicka as the game's first star. His snipe was more of a highlight, but the latter efforts left a lasting impression on Canada's coaching staff.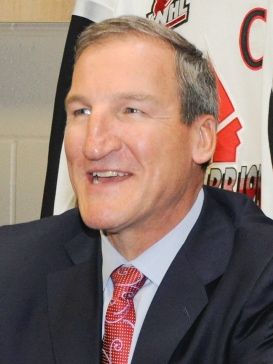 "He's stepped up and played real well. That's what you look for," said head coach Tim Hunter, who may not have been as familiar with Studnicka since the national junior team's bench boss is based in the Western Hockey League with the Moose Jaw Warriors.
"I don't look at the scoresheet at the end of the day," continued Hunter. "It's summer hockey, I don't care how many goals or assists you got, it's 'did you play the right way?' If you play the right way, that's the process, and the end result will be what we get and that's a win."
Studnicka's teammates also took notice of his grunt work on the winning goal and his contributions — big and small — throughout the Summer Showcase.
Addison, who patrols the blue line for the WHL's Lethbridge Hurricanes, was among those surprised by Studnicka's overall skill-set.
"He's a hard worker. He grabs the puck and takes it to the net, makes plays in the O-zone," said Addison. "That's what they really like about guys is when they're relentless and they know they don't quit working, and that's the type of player he is."
Trusted Trio
It was telling that Hunter trusted Studnicka's line to protect a one-goal lead in the final minute against the U.S., with Anderson-Dolan taking a defensive-zone draw in the dying seconds.
That trio of natural centres proved to be a perfect fit, all possessing good size and similar styles. Dellandrea skated in the middle for the most part, with Studnicka to his right and Anderson-Dolan on the left.
Asked if that could be a sign of things to come — if Studnicka and Anderson-Dolan could flank Dellandrea again at Canada's selection camp in December — Hunter was noncommittal.
"This is three guys that, short-term chemistry, let's see what they look like," Hunter said of comprising that combination. "That group really did a good job but, again, this is summer hockey and the selection camp is a long way off."
In the moment, though, they received rave reviews.
"That line really played well," said Hunter. "I liked their effort, liked their honest hockey.
"I gave them a bit of an assignment today and they came through and showed they could do it."
Battle of the Jacks
That assignment was shutting down the Americans' top line of Jack Hughes, Brady Tkachuk and Joel Farabee. No easy task, with Hughes the favourite to go first overall in the 2019 NHL draft, while Tkachuk and Farabee were top-15 picks in 2018.
That potent trio struck first, with Tkachuk teeing up Farabee for a one-timer to open the scoring at 3:58. Tkachuk was the best player on the ice throughout the first period, but Studnicka and his linemates neutralized them the rest of the way and wound up outscoring them 3-1 at even strength.
"We were well aware that we were playing against that big line, and it was our job to keep them off the scoresheet," said Studnicka. "We did that to the best of our ability and at the same time, fortunately, added some ourselves."
Mission accomplished, and although young Hughes didn't have his best day, Studnicka got the upper hand in the battle of the Jacks. On this day, he was the stud.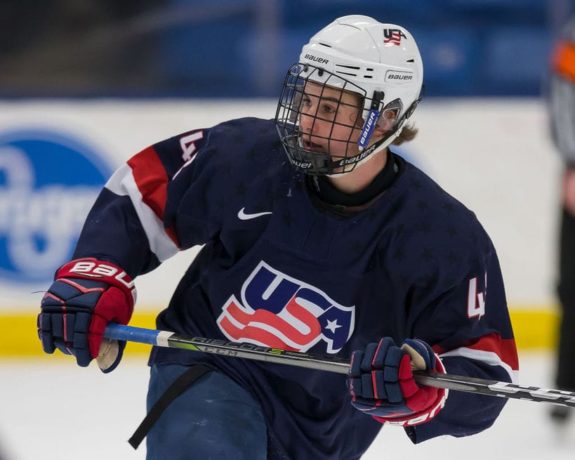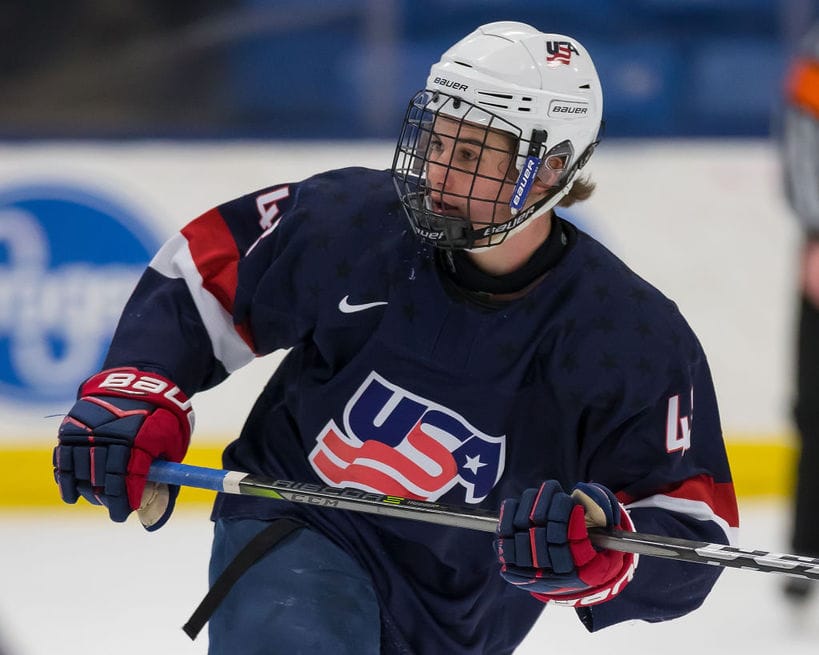 Carving Out a Role
In the big picture, for Studnicka to make the World Junior team, it would likely be as a role player.
So that two-way prowess he displayed at the Summer Showcase should bode well for earning another invite to Canada's selection camp — assuming he's not playing for Boston.
This was a step in the right direction, a step towards carving out a role and securing a roster spot representing his country in the prestigious under-20 tournament from Dec. 26 to Jan. 5 in Vancouver and Victoria.
"There's so much skill here, it's hard to stand out on just skill alone, so I try to bring my work ethic and my compete level and show them what I'm made of," said Studnicka. "I'm a guy who can contribute to offence, but at the same time give the team energy, kill penalties. I like to think of myself as versatile — this week I played centre and right wing, I'm comfortable at both positions — and think I'd be effective come Christmas."
Developing in Oshawa
Studnicka is capable of playing up and down the lineup, getting that experience in a variety of roles over his three seasons in Oshawa. He climbed that depth chart and became the Generals' captain last season, producing 72 points, including 22 goals, in 66 games. He followed that up with five points (one goal, four assists) in five games with the AHL's Providence Bruins during his first taste of pro hockey this spring.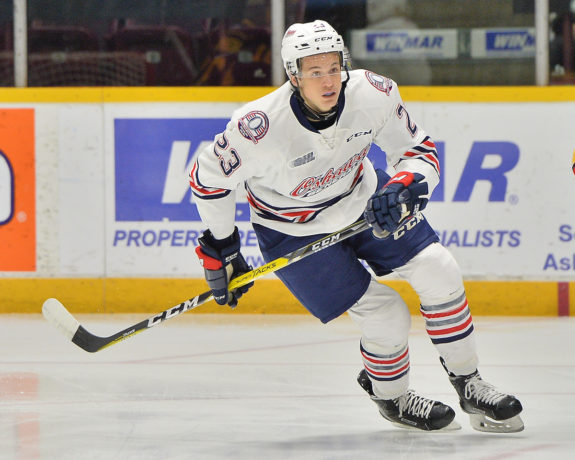 "I've continuously got better over my career," said the product of Tecumseh, Ont., a Windsor suburb of approximately 25,000 people. "My draft year, in Oshawa we were a good team and I primarily played second or third line. My third year there, guys moved on and I was able to fill that No. 1 centre role. With that comes responsibility and I think I handled that well, and just tried to be that go-to guy in all situations."
Dreaming of WJC
With Canada, a return to a lesser, more-defined role would be welcomed. Studnicka just wants to be part of that team and is willing to do whatever it takes.
"Hundred per cent, it's been a big dream of mine," he said of wearing the Maple Leaf in the World Junior Championship. "Canada obviously has so much skill in hockey, you can rely on so many guys. The load is evenly distributed, so everybody is going to know their role when the team is made and hopefully I'll get a job."