In defeating the Columbus Blue Jackets, The Montreal Canadiens won their 6th road game in a row. Since the beginning of the season, except the western road trip back in December, the Habs have had the upper hand on their opponent's home ice. In 22 games, the bleu-blanc-rouge boasts a 14-7-1 record with 36 goals for and 32 goals against. Analytics shows that even with poor possession numbers – although they might have played their best puck possession game of the season against Columbus – with a FenwickFor% of 48.5 and a CorsiFor% of 48.7 the Habs are able to secure wins. The good news analytically is that the Canadiens have a road PDO of 101.5 after 6 straight wins, their consistent success is more than lucky bounces.
More of The Same
Show me consistency and I will show you hard work. The Canadiens are as consistent as they come. Ever since Michel Therrien took over the coaching of the team, the Habs have found themselves in similar spots in the past three years. In his first season, the lock-out shortened 2012-13 season, the Montreal Canadiens had 57 points after 42 games. In the front-loaded, Olympic season last year, Therrien's squad had 52 points after 42 games. After last night's win in Columbus, the Habs earned their 57th point in their 42nd game of the season.
Problems As Guidelines
The Canadiens still have their problems but if last night's game is a sign of things to come, those problems will slowly disappeared, and once fixed, the Habs will be one of the best teams in the league. The power play has gotten a lot of attention lately but for all the wrong reasons. The Habs scored 8 goals in 65 power play opportunities on the road. Obviously they need to do better. Again they've pulled themselves out of it through hard work. After getting scored on for the second time and trailing 2-0. The Canadiens took ownership of the puck and out-worked the Blue Jackets and forced them to take bad penalties. After going 0 for 5, the Habs scored 3 goals in the last 3 power play opportunities. Granted those 3 goals were scored on a tired, beaten team. The Canadiens will have to figure out a way to get those goals on the first or second power play opportunity and not on the 6th.  Good teams are good teams in part because they don't go to the box 6 times in a game.
Speaking of not going to the box, Montreal's defense has played a more disciplined game against Columbus than they usually do, especially in a game that got rough at times and could've gone rougher. Michel Therrien finally found a cure for what ailed two of his more troubled defensemen. Alexei Emelin and Tom Gilbert have been relegated to the third pairing. In 15:26 of ice time for Emelin and 15:33 for Gilbert, the pair was solid and played their roles nearly perfectly. They played a better game than when they play 18 minutes and up. A bad news salary cap wise, they are grossly overpaid for bottom pairing defensemen. However it helps the team win and that's what matters most.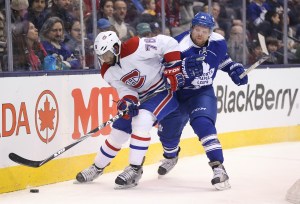 P.K. Subban also has to be better defensively and again that's something that can be fixed by working on it. P.K. is good enough to make up for his mistakes but that's no reason to be careless on the ice. His talent and athleticism gives him an edge over other players but not a big enough one not to be mindful of the opposition. Subban needs to keep up the danger he represents to his opponents while eliminating the danger he represents to his team. The game against the Blue Jackets is representative of what P.K. Subban needs to change, he was the worst defender in his zone, giving up a few scoring chances and taking a penalty that lead to Columbus' second goal. He made up for that goal by scoring his own on the power play. We have all seen how excellent a focused Subban is in last year's playoff. He needs to play with that intensity more often during the regular season, scoring as much as he does while keeping his zone clean.
Plight of the Superstar
People talked a lot about P.K. Subban's absence at the All Star Game but arguments can be made on why he wasn't invited. It's entirely up to him and his work ethic to take those arguments away from his detractors and not leave any doubts. That is the plight of the superstar. Stories like his stupid penalty against the Tampa Bay Lightning or the All-Star Game omission are so sexy for the reporters; they spark the interest of fans and even non-fans so much that they will always be looked for. Even with their rich history of winning, every single player that has their jersey retired by the team has faced heavy media and popular criticism at some point or another in their careers. P.K. is no different. It is now Subban's job, for the remainder of his career, to maintain a standard of excellence that supplants those stories.
In the Driver Seat
After 42 games, the Montreal Canadiens have established their identity for the 2014-15 season. They are a hard working club with their problems but luckily for them, those problems have been identified and are fixable. They have the luxury to be masters of their own fate. If they want to be where they want to be by the end of the season they have to show up to every game and work. They can't let games slip away from them. They can't take it easy against teams perceived to be weaker.
Thumbs Down For the Senators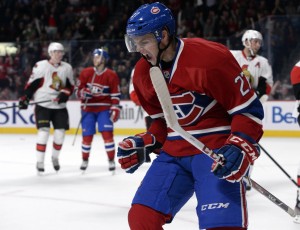 Ottawa's the next stop for the Red White and Blue wrecking crew trying to string a 7th road win in a row. Ottawa Senators are having a rough season. Ten points out of a playoff spot, they are trying to get back on the right track after losing their last game against Dallas. In 17 home games this season, the Sens are 8-5-4. Of the 52 goals they scored, 23 of them came on the power play. It will be up to the Habs not to take penalties and if they do they will have to rely on their penalty kill, 83.76% efficiency on the road. The Habs hold a 9-3-1 record within their division, beating the Sens once already this year in a 4-2 win in Montreal with Robin Lehner keeping Ottawa's twine. Craig Anderson should be dressed this time. Chris Neil will be an absent of note, the usual suspect, always ready to stir things up against the Habs will miss the game due to an undisclosed lower body injury.  Max Pacioretty will look to keep his goal scoring streak alive. The Canadiens' sniper has scored in each of his last five games, for six goals total and has ten points in his last ten games.