The NHL trade deadline is a date hockey fans always have circled on their calendar. Or at least they used to, back when trades actually happened.
It is Monday, March 2 this year — just under 2 months away — but chances are your fantasy league's trade deadline is fast approaching. Most are slated for some time in January because the fantasy season is shorter, allowing for playoffs to be completed before the end of the NHL's regular season on April 11.
By now, you should know whether you're buying, selling or staying the course. Fantasy leagues tend to work on an accelerated timeline, so buyers and sellers are often established much earlier than in real life. The majority of leagues also don't operate within the constraints of a salary cap, making it easier to execute blockbuster moves.
Get In or Get Out
With keeper leagues, there really isn't a benefit to finishing in the middle of the pack. If you can't make a run for the top, you may as well tank your way to the bottom. If you sit on your hands and don't make any deals in either direction, you'll likely go nowhere fast.
If you want to "go for it", you've got to go "all-in" and give yourself the best possible chance to cash in. Maximize your assets and focus on "win-now" trades even if you're overpaying, or parting with future cornerstones. It'll be worth it if you end up winning, and should you fall short, at least you won't be left with a bunch of "what-ifs".
If you feel you're already "out of it", then don't keep teetering on the fence. Put up the "for-sale" sign, name your asking price and target specific pieces in return. Drive a hard bargain, but don't play too hard to get. The clock can work for and against you, so be ready to pull the trigger at any time. Generally speaking, you want to move older for younger, current for future. The tricky part is still getting quality over quantity. Make sure your available assets are all "on the block" and don't jump at the first offer you receive unless it is too good to pass up. There is typically no harm in countering for something more to your liking. The worst a rival GM can say is "no" or "thanks but no thanks".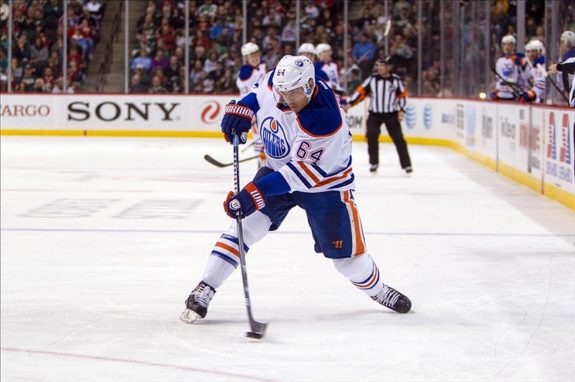 I Got In . . .
It's been a while since my last Fantasy World post, but there hasn't been much to report through the middle portion of our season in either of my keeper leagues.
I'm a full-fledged buyer in one league, pulling out all the stops in hopes of earning a top-5 payout in the regular season, plus one of four prizes from the playoffs. I'm sitting in 7th place out of 20 teams with 6 head-to-head matchups left.
Since trading resumed last June in advance of the current season, I've made 26 deals, including 9 in-season trades. I don't have a single prospect or draft pick left on my roster of 17 forwards, 8 defencemen and 3 goaltenders. I've improved my overall depth, but I'm still dependent on my top-end talents from week to week, day to day. That includes Sidney Crosby, Erik Karlsson, Tyler Seguin, Oliver Ekman-Larsson and the trio of Edmonton Oilers first overall picks in Taylor Hall, Ryan Nugent-Hopkins and recently acquired Nail Yakupov. I'm rolling the dice on the latter hitting his stride in the second half of the season, but I was able to get Evander Kane thrown into the deal as an insurance policy. I also added Patrik Elias and Zach Bogosian from the same seller, acquiring those four in exchange for my first-round pick (currently 13th overall) and Mike Hoffman. I further bolstered my blue-line — short- and long-term — by bringing in Erik Gudbranson, John Moore and Jay Bouwmeester in hopes that trio will contribute more offensively going forward.
I'm spent now, though, with nothing more to offer. Marek Zidlicky and Nikita Nikitin round out my defence corps, while Josh Bailey, Jimmy Hayes, Riley Nash, Eric Fehr, Scott Gomez, Daniel Briere, Matt Calvert, Justin Fontaine, Ben Smith and Cedric Paquette flush out my forwards.
Between the pipes, I'm relying on Antti Niemi, Craig Anderson and Cam Ward to carry the load — for better or worse. I really need them to be the backbone of my team down the stretch and into the playoffs.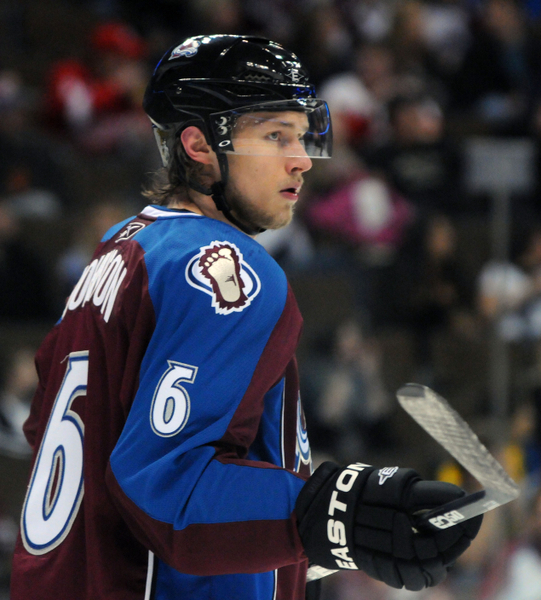 Stuck In The Middle
My other keeper is a little more complicated because I'm kind of that middle-man I told you not to be. I'm more buyer than seller, but I haven't completely mortgaged the future yet either. I still have second- and third-round picks, plus three forward prospects in Alexander Khokhlachev, Hudson Fasching and Patrick Holland, and Niklas Svedberg still has prospect status in goal.
I just joined that league this past summer and overhauled my inherited roster by making 20 trades to date. In a league with 4 divisions of 7 teams (28 total), I'm currently third in my division — four make playoffs — and tied for 9th overall in the power rankings. But I'm still a long-shot to receive any kind of payout this season.
At this point, I'm more so trying to make small tweaks to gradually upgrade my roster. If I stand pat at the Jan. 31 trade deadline, so be it. I've already put my stamp on this team, shifting away from elite forwards like Ryan Getzlaf and Patrick Kane to budding blue-liners such as Erik Johnson and Dougie Hamilton. The league has a weighted scoring system that seems to make defencemen more valuable, so I'm building around those two, plus Cody Franson and Calvin De Haan, with Marek Zidlicky and Tom Gilbert adding veteran presence.
My forwards are nothing to brag about, but they have been getting the job done lately. I don't have any "big" names to speak of. The biggest might be Mikko Koivu or Brandon Dubinsky. I have a lot of sandpaper types — Steve Downie, Leo Komarov, Derek Dorsett and Scottie Upshall — which is a good thing in this multi-category league that rewards hits and penalty minutes. I also have some aging skill in Brad Richards, Ales Hemsky and Martin Havlat, plus some youth with Craig Smith and Mika Zibanejad. I have Nathan Horton too, but he's become an afterthought on the long-term injury reserve.
I'm pretty set in goal with Kari Lehtonen starting and Svedberg waiting in the wings. If anything, I might package up some of that future and target a "bigger" name forward. In fact, I may just get on that right now — and you should start sending out some proposals, as a buyer or seller, sooner than later too.
Larry Fisher is a sports reporter for The Daily Courier in Kelowna, British Columbia, Canada. Follow him on Twitter: @LarryFisher_KDC.