After yet another deflating loss, this time to the Montreal Canadiens, the Columbus Blue Jackets have hit the halfway mark of their season.  They check in with an overall record of 18-20-3, good for 26th overall in the NHL.  If the season were to end today, they would own the 5th overall pick, and would have an 8.5% chance of jumping to the number 1 pick overall, thanks to the new odds the NHL has established for the lottery.
What a roller coaster season this has been so far.  It started with a rash of injuries to key players.  That in part caused the team to stumble out of the gate in October and November.  The Blue Jackets lost 15 of 17 games at one point.  The calendar then turned to December.  With that came a change in fortune.  The Blue Jackets turned in their best winning month in franchise history, going 10-1-1.  Since then, the team has gone 2-4, including losing their last 3 games.  As a result, the Blue Jackets sit 13 points out of a playoff spot in the Eastern Conference.
We have graded the half season performance of the Blue Jackets, including the players and head coach Todd Richards.  We graded them based on expectations coming into the season, and their resulting performance.  Players could get an A, B, C, needs improvement, or incomplete.  Needs improvement is reserved for those who have fallen short of expectations.  Incomplete is reserved for those who we couldn't grade (those who were injured for majority of the season).  For that reason, you will not see a grade for Nathan Horton, Artem Anisimov, or Boone Jenner.  So how did the team do?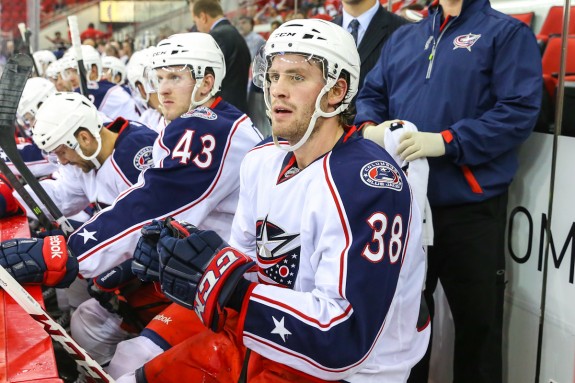 Grading The Blue Jackets Forwards
Cam Atkinson: Started out the season as though he had something to prove, but has slowed down considerably.  To be fair, he was injured, and has had different line mates throughout the season.  Many thought he could threaten 30 goals this season.  Yet, he is on pace to finish with under 30 points.  Grade: Needs improvement.
Jared Boll: Boll is only 1 of 3 players to play in all 41 games this season.  He is what he is.  He gets limited ice time being on the 4th line, but doesn't produce very much.  Given the salary he makes, and the fact that he wears an "A", one should reasonably expect to get more.  Grade: Needs improvement.
Matt Calvert: Many expected a breakout season from Calvert after his performance in last season's playoffs.  For whatever reason, he hasn't been able to really get it going on a consistent basis yet.  He looked energized against Montreal.  Makes you wonder if he has been limited in some capacity this season.  Regardless, more has been expected from the winger. Grade: Needs improvement.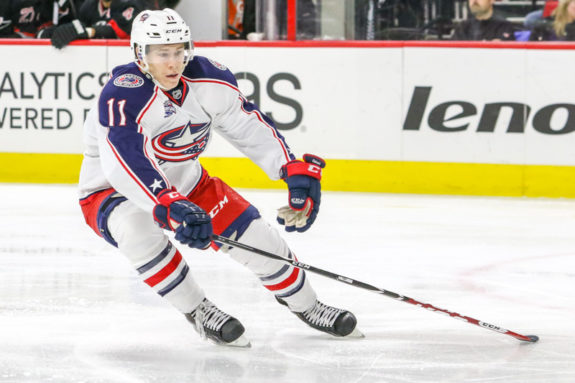 Sean Collins: He has played in just 8 games this season, but has played well.  He has been back and forth between the Blue Jackets and AHL Springfield.  The fact that Michael Chaput was sent down, and not Collins, speaks to the way Collins has played.  Let's see if he can keep it up.  Grade: B.
Adam Cracknell: He was a waiver wire pickup during the rash of early injuries.  He is now in Springfield.  He got into 17 games, scored 1 point and was a -8.  The bottom 6 did the Blue Jackets no favors early in the season.  With Mark Letestu back, we will only see Cracknell if injuries creep up again.  Grade: Needs improvement.
Brandon Dubinsky: He is hard to grade at the moment.  He's only been in 15 games thanks to injury.  He took a bad penalty last night that led to Montreal's game winning goal.  At the same time, his personality was missed in locker room.  He is still working his way back to Dubinsky form.  But he does need to be better, he said it himself yesterday.  Grade: C-
#CBJ Brandon Dubinsky owned it."Stupid penalty. Stupid on my part. I'm not interested in talking about anybody else. I expect more from me."

— Aaron Portzline (@Aportzline) January 15, 2015
Nick Foligno: He has exceeded every expectation this season.  He leads the Blue Jackets in scoring.  He was named an All-Star for the 1st time.  He was also named a Captain for the All-Star Game.  Where would the Blue Jackets be without Foligno this season?  Grade: A
Brian Gibbons: He didn't start the season with the Blue Jackets.  But he got his chance, and has made an impact when he has been healthy.  He is one of the few who is a plus player on the season.  Given his role, he has not disappointed.  Grade: B
Scott Hartnell: He got off to a slow start thanks to the injuries on the team.  He himself also was injured.  When he has been right, he has had an impact.  Hartnell is the 3rd leading scorer on the team, and is pesky to play against.  He does take the untimely undisciplined penalty though, which has hurt the team.  All in all, Hartnell has been good.  Grade: B-
Ryan Johansen: The big question coming into the season was how would Ryan Johansen do after the events of the summer.  He recently told me that he's relieved to be able to just focus on hockey.  He has exceeded expectations from opening night until now.  He's 2nd on the team in scoring, and was named to his 1st All-Star Game.  He is a true number 1 center and will only get better.  Grade: A.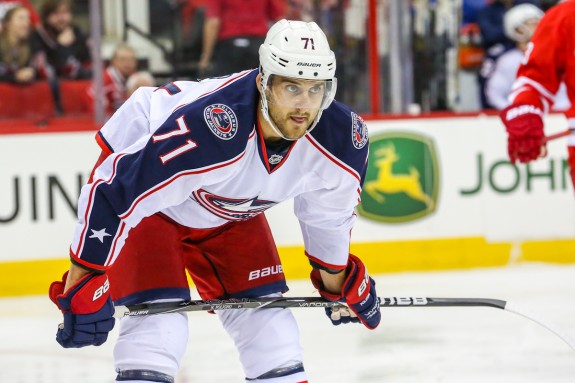 Mark Letestu: He missed 6 weeks due to injury, and was dearly missed on the Blue Jackets 4th line.  He is back now and is getting back into form.  His presence vastly improves the bottom 6.  Letestu has also contributed 4 goals.  He fits his role well and will improve with more games.  He also leads the Blue Jackets in 5 on 5 Corsi For, granted it is a small sample size.  Grade: B+
Jeremy Morin: He requested a trade from Chicago after not getting enough playing time.  He now plays everyday and has done ok.  For all the talk of what kind of offensive player he could be, he's off to a slow start.  But he is good with the puck, and hasn't made many mistakes.  He's been known to take untimely penalties, but that hasn't happened yet.  Grade: C+
Jack Skille: Skille came back to Columbus after having a cup of coffee with the Islanders.  Thanks to injuries, he has been in different spots in the lineup.  He has 7 points and is -11 in 35 games.  He currently has one of the worst Corsi Against/60 and Corsi For % at 5 on 5 all situations.  More was definitely expected from him.  He was also placed on IR retro to January 9th.  Grade: Needs improvement.
Corey Tropp:  He has played in 27 games this season.  When he has been in, he's been on the 4th line.  Unfortunately, most everyone who has been on the 4th line hasn't been good.  Tropp is sitting at -11.  He has had a couple of nice "moments", but overall, more was expected from him.  Grade: Needs improvement.
Alexander Wennberg: Wennberg started the year with the Blue Jackets thanks to the injuries.  He had a good camp.  But he had a rough start to the season.  He was sent back to Springfield as a result.  Wennberg is now back with the Blue Jackets.  He looks more comfortable now than he did earlier in the season.  He has 5 points in 31 games, and a -16 rating.  He will get better, but he is going through rookie growing pains.  Grade: C-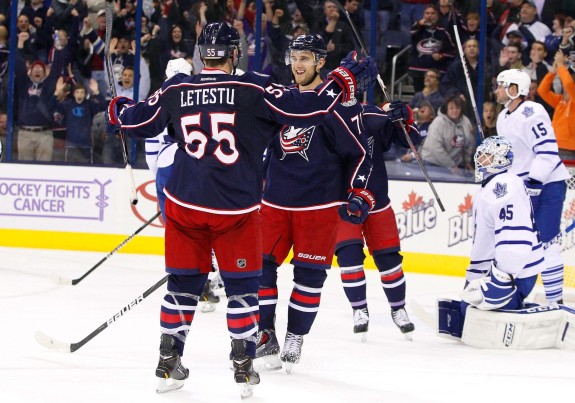 Grading the Blue Jackets Defense
Kevin Connauton: Connauton was claimed off waivers from the Dallas Stars due to the injuries.  All he has done has scored 7 goals in his 21 games since being claimed.  He is tied for 4th on the team in goals, just one behind both Scott Hartnell and Cam Atkinson.  In terms of expectations, he has exceeded them and then some.  Grade: A.
Cody Goloubef: He just returned from a long stay on injured reserve.  He has 2 assists in the 7 games he has been in.  He has looked good in the limited time he has been on the ice.  Grade: Incomplete.
Jack Johnson: Johnson has had more than his fair share of events off the ice.  Credit to him for being able to play through it.  He eats a ton of minutes, and is 4th on the team with 20 points.  Unfortunately, his possession numbers are only slightly better than that of the 4th line.  For being a number 1 defenseman, much more is expected.  Given his off ice situation, I tend to be more lenient.  Grade: C
Jordan Leopold: Leopold was acquired from St. Louis to help with defensive depth.  He has appeared in 13 games.  He did his job.  Unfortunately for him, the numbers game has caught up to him, and has been a healthy scratch.  He has done what has been asked of him, which is more than what can be said of others.  Grade: C+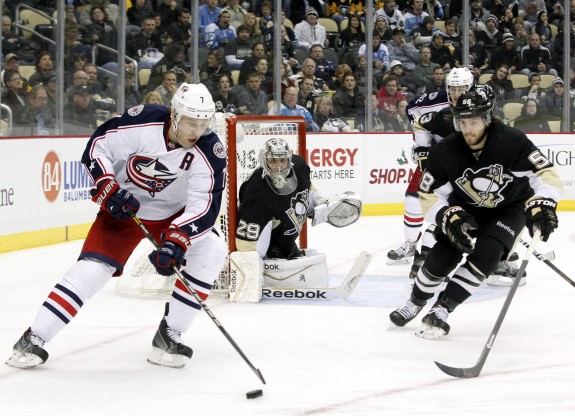 Dalton Prout: There are times in which I wonder why Prout doesn't get more ice time.  The advanced stats on Prout show he has outperformed both Jack Johnson and David Savard, both of which get much more ice time.  He has 5 assists in 34 games, but is -11.  Given what was expected of him, I've been relatively pleased with him.  Grade: B-
David Savard: Speaking of Savard, expectations on him were higher this year after the way he finished last year.  He has appeared in all 41 games.  He has contributed at the offensive end, with 7 goals and 16 points, but has similar possession numbers to Jack Johnson, rating just above the 4th line.  For a top 4 defenseman to have those possession numbers, is disappointing.  One must wonder if this is what we will get from Savard on a consistent basis.  Grade: C-
Fedor Tyutin: Tyutin was also hit by the injury bug.  He has appeared in 28 games.  He is a steadying influence on the blue line.  But like Johnson and Savard, his possession numbers are down.  To his credit, he is at -3, which is actually an improvement for him.  He is not flashy, but he is steady.  That's what the Blue Jackets ask of him.  Grade: B-
James Wisniewski: I think Wisniewski has had a decent year, given all the injuries the Blue Jackets have faced.  His impact is felt most on the power play.  The team has the 2nd best power play in the league.  However, his scoring is down, primarily because of the state of the team early in the year.  They hardly have the puck.  Wisniewski also has one of the higher Corsi Against/60 at 5 on 5 on the Blue Jackets. He's been fine, but given expectations, we wish there was more here.  Grade: C+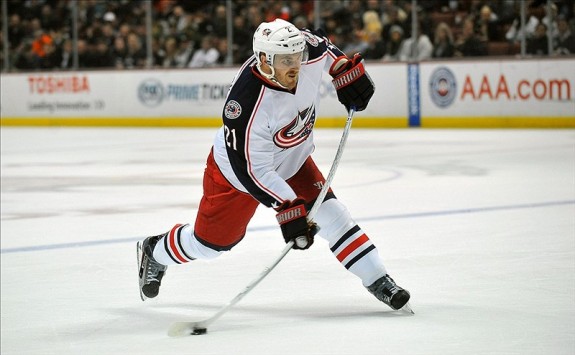 Grading The Goalies & Coach
Sergei Bobrovsky: Where would the team be without this stud?  Bobrovsky was justly rewarded with a new 4 year contract for his efforts.  Unfortunately, he can only do so much.  He was a big reason why the Blue Jackets went 10-1-1 in December.  When he is on, he can carry this team.  But because of the play in front of him, vintage Bob hasn't been out as much as we are used to seeing.  But all in all, he is the reason the Blue Jackets aren't worse off. Grade: A-
Curtis McElhinney: He was pressed into duty when Bobrovsky dealt with his own injury.  McElhinney however hasn't been good in his limited time this season.  He is 3-6-1 with a 3.22 GAA and .899 save percentage.  Current Springfield goalie Anton Forsberg actually got into a couple of games, and did well for himself.  McElhinney has not been able to build off what he was able to start last season.  Grade: Needs improvement.
Todd Richards: What a roller coaster ride this season has been for Richards.  At one point, the team had 9 regular starters out.  There is only so much a coach can do.  That said, he is responsible for those on the ice.  As of late, the performances have not been good.  The Blue Jackets are being out shot consistently.  On top of that, they don't have the puck very much.  It's been a challenge no doubt, but you can't ignore what is happening on the ice.  Injuries can't always be an excuse.  But to his credit, Richards has done a nice job in keeping team steady while the injured players return.  Grade: B-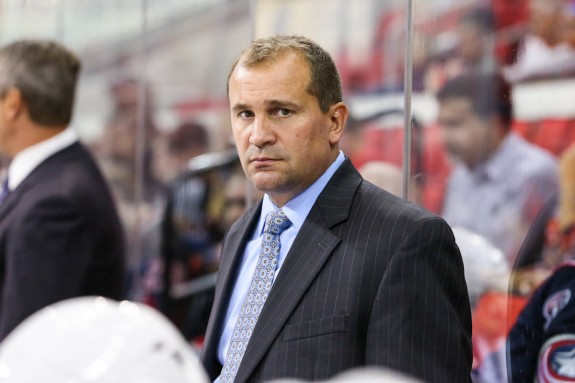 There are 41 games left for the Blue Jackets to turn things around.  If they want to think about making a serious playoff run, they need to step their game up.  There is plenty of room for improvement.  Even if they don't make the playoffs, the 2nd half of the season is worth monitoring, if nothing else, to see which players distinguish themselves.  No matter what happens, it will be a very eventful offseason for the Blue Jackets.
*Note: All references to advanced stats in this article are courtesy of stats.hockeyanalysis.com.