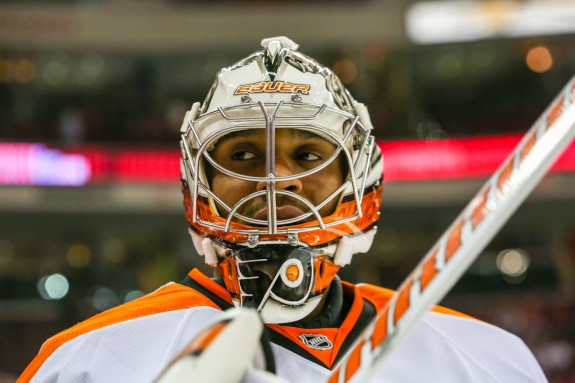 Is it too early to say that Thursday's start against the Vancouver Canucks is a make or break game for Ray Emery?
With the way that Rob Zepp has performed over the past few contests, it's not a stretch to ponder if Emery's spot as the Philadelphia Flyers' backup netminder is in jeopardy.
However, before looking at Zepp, let's see how Emery got to this point.
Limitations
Many were already aware of Emery's limitations as a netminder coming into this season – his ability to move from post-to-post is constantly exposed. It was evident during the 2014 Eastern Conference Quarterfinals against the Rangers, and it has remained an issue that teams have tried to exploit this season.
Emery has had games where he's stood on his head to give the Flyers a chance to win, recording 34 saves or more in four contests this season, but some of the goals he's given up have been alarming.
According to war-on-ice, Emery has done his part when it comes to low-danger saves, but once a higher degree of difficulty is involved, that's where the drop off occurs. After posting a 90-plus save percentage on medium-danger shots the past two seasons with the Chicago Blackhawks and Flyers, Emery is now only stopping those attempts at an 80-percent clip. He's still been outstanding on high-danger shots, stopping about 83 percent of them – which would be one of his higher save percentages for that type of shot over his career.
Not all of this can be pinned on Emery. The defense playing in front of him most nights is subpar at best, but it sometimes feels like the 32-year-old netminder hasn't delivered any game-changing saves, as evidenced by his career-low .889 save percentage this season.
The Unknown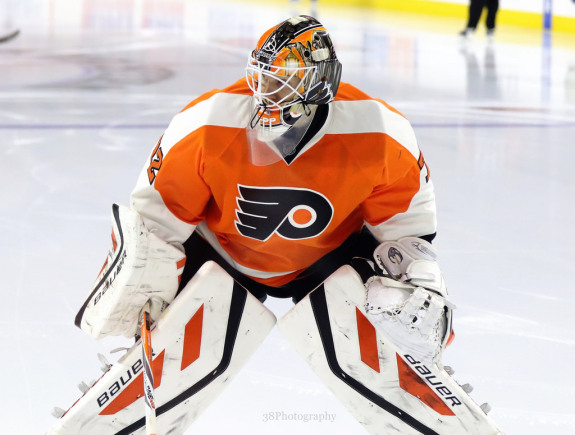 Coming into this campaign as a complete unknown, no one really expected Zepp to make much of an impact with this team. The journeyman goaltender, however, has already made an impression with a few game-changing saves during his limited time in Philadelphia.
While it didn't mean much in the end, Zepp stopped Alexander Ovechkin on a one-on-one opportunity in the first, then stoned Eric Fehr at the doorstop with a great pad save in the final minute of the second period, keeping the Flyers within one of a very dangerous Washington Capitals squad on Wednesday night.
Zepp made another such save in the first start of his career, this time affecting the outcome of the game and helping the Flyers overcome a two-goal deficit in the third period to grab a victory on the road in overtime against the Winnipeg Jets.
Zepp's remarkable journey to the NHL has been well documented since his debuted, but he's held his own and given the Flyers a chance to win each night he's started, something you would hope your backup could provide when called into duty.
In his first start, he limited the Jets to three goals playing in one of the toughest road venues in the league. Zepp then went on to halt one of the NHL's high-powered offenses, the Tampa Bay Lightning, to help the Flyers overcome a team they have struggled to grab points against in recent years.
After earning back-to-back starts, Zepp's last performance continued to reinforce the idea that the netminder may be ready to stay in the NHL next season, holding the Capitals to just one goal — albeit behind one of the Flyers' stingiest defensive performances of the season — but still impressive none the less.
Both goaltender's deals expire following the campaign, leaving general manager Ron Hextall with an interesting decision – do the Flyers stick with the veteran whose post-to-post quickness is evaporating, or does Philadelphia go with a more unknown but possibly cheaper option.
Maybe it's not this season, but Emery's tenure as the Flyers' backup netminder beyond this campaign appears to be coming to an end.