When the New York Islanders and Montreal Canadiens play each other Saturday night, it will potentially mark the first of two pivotal match-ups between former teammates Carey Price and Jaroslav Halak in two weeks. Well, kind of.
The other is the All-Star Game the following Saturday… which is pivotal the same way a movie on an airplane is critical to the in-flight experience. It's there if you want… but, eh, so are the clouds outside the window. And at least they have birds.
Halak's First All-Star Appearance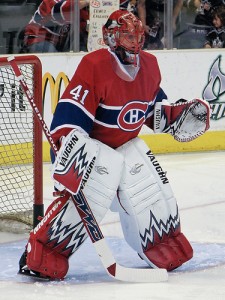 On Thursday, Halak was named as the replacement for the injured Jimmy Howard of the Detroit Red Wings, meaning, barring a sudden injury between then and now, the former Habs playoff hero will make his first-ever all-star game appearance. Pittsburgh Penguin Marc-Andre Fleury will meanwhile be replacing the injured Pekka Rinne of the Nashville Predators.
It may be an asterisked accomplishment. At the end of day, though, seeing as he and/or Fleury should have been named in the first place, consider it instead karma coming back to bite the NHL at Howard and Rinne's expense for selecting Columbus Blue Jacket Sergei Bobrovsky instead.
It's a long time coming for Halak, who has a career .918 save percentage and has led the New York Islanders to a surprising Metropolitan Division-leading 29-13-1 record. Of course, the only surprising part is that it's with the Islanders, as Halak has been perennially good dating back to his beginnings with the Habs back in 2006-07.
"Good" is actually understating his performance during the 2009-10 playoffs, when Halak almost single-handedly won two playoff rounds for the Habs, as Montreal upset two of the top-seeded teams in the Eastern Conference that year in the Pittsburgh Penguins and the President's Trophy-winning Washington Capitals.
Ultimately, the Habs lost to the Philadelphia Flyers in the third round that season. And in the offseason, apparently unable to cope with the simple premise that someone out there—let alone someone on the very same team—could be a better goaltender than Price, management traded him out of sight and out of mind to the St. Louis Blues for Lars Eller and Ian Schultz (so, just Lars Eller then).
Price and Halak Head-to-Head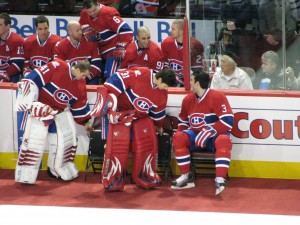 Over the past two seasons, Montreal's general manager at the time, Pierre Gauthier, was actually proven right in hindsight (still awaiting word on the whole Rene Bourque for Michael Cammalleri trade; it's not looking good).
Since the start of 2013-14, Halak has a very good save percentage of .919. Price has one of .927 and this season is hearing whispers of a potential Vezina Trophy nomination if he's able to keep it up.
However, head-to-head, it's been a very different story, with Price never actually being able to beat Halak. Halak is a perfect 4-0 with one shutout and a .960 save percentage against the Habs all-time. Price is 0-3-1 with 13 goals against and a .883 save percentage when facing his old rival for ice time.
Needless to say, Price won't get much of a chance to improve much on those stats come the All-Star Game, which will see the team-selection process follow the draft format. Even if Price and Halak get selected to different teams AND face each other in-game, each is likely to be shelled pretty badly.
Admittedly, there's just as good of a chance that they get selected to the same team… which would all end up being preettttty anti-climactic. We already know how that plays out… with Halak outplaying Price and winning the car.
That's why this Saturday's game at the Bell Centre is so much more important. It will almost certainly pit Price against Halak. More than that, it will actually mean something in the standings. That's not even taking into account the fact that it will potentially pit two Eastern Conference division leaders against one another, with Montreal at 27-12-3 and just one point behind the Tampa Bay Lightning in the Atlantic.
The moral of this story? Watch the All-Star Game if you must (gun pointed at your head). Watch the Habs host the Islanders on Saturday night (7 pm Eastern Time) because you can. Because you should. It has all the makings of an actual mid-season classic.
***Update*** TVA's Renaud Lavoie has reported that Price sustained an upper-body injury against the Columbus Blue Jackets on Wednesday night and that he will probably not actually get the chance to face Halak on Saturday… meaning you might have to settle for the All-Star Game after all ***sigh***
Carey Price (upper body) is injured. Joey MacDonald is call up. Not a big injury for Price but I'll be surprised if he plays tomorrow.

— Renaud Lavoie (@renlavoietva) January 16, 2015
.