In case you haven't heard, Steven Stamkos is set to become a free agent this summer. The same goes for Kyle Okposo, Eric Staal, Keith Yandle, and Milan Lucic.
But there are others who will become free agents that are not on fans' immediate radars. These players could all significantly contribute to a team's success next season and beyond. Some are role players and others could potentially fit in well with a team's top-six.
Let's count down the Top 10 underrated free agents of the 2016 offseason: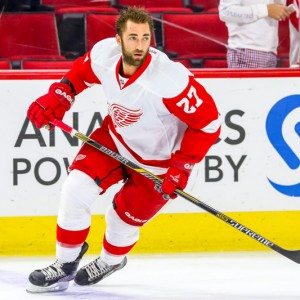 10. Kyle Quincey | D
Likely on his way out of Detroit, Kyle Quincey should be able to find work elsewhere with ease. He's not known for being an offensive defenseman, but is more than adequate in his own end. Quincey plays with a physical presence in the defensive zone and plays a conservative game in the neutral and offensive zones.
9. Lee Stempniak | RW
Can we just call Lee Stempniak the Rodney Dangerfield of the NHL? Despite scoring double-digit goals in all but one of his NHL seasons (the 2013-14 Lockout season, when he scored nine), Stempniak can't get any respect. He projects as a third line right wing and can contribute to the power play as well. And as a right-handed shot, Stempniak is a coveted asset for some teams.
8. Vernon Fiddler | C
Want to build a perfect grinding fourth line? Look no further than Vernon Fiddler for your veteran presence. In Dallas, Fiddler has mentored young players like Antoine Roussel, Colton Sceviour, Brett Ritchie. Now a free agent, Fiddler can help develop the young bottom-six players of another team if Dallas does not re-sign him. He only made $1.5 million last season and can expect a similar salary elsewhere.
RT @DefendingBigD Dallas Stars 2015-16 Player Grades: Vernon Fiddler: I like Fiddler, he's … https://t.co/JqBx8gh8ds #DallasStars #NHL

— HockeyFeed (@HockeyFeed) May 29, 2016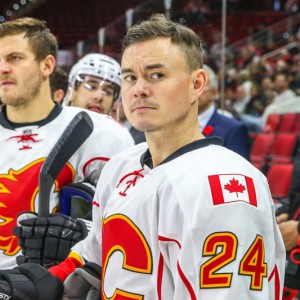 7. Jiri Hudler | LW
Would you believe Jiri Hudler is now a veteran of 11 NHL season and 83 playoff games? The fun-loving Czech forward would be a great locker room presence on a playoff contender. Hudler can still play significant minutes as well—it was only last season when he scored 76 points.
6. Jason Chimera | LW
There probably isn't a player in the NHL with faster straight line speed than Jason Chimera. If he gets the puck and has a straight line up the boards into the zone, Chimera can instantly create a deep, in-zone possession. The Capitals' third line succeeded in part because they'd feed Chimera along the boards leaving the defensive zone and he'd burst up the wall. He would then use his size to carry the puck down low while the other forwards joined the rush and got open in the offensive zone.
Jason Chimera is a pending free agent with perhaps one last contract left. Should the Caps be the team to sign it? https://t.co/Ak3EzuiApg

— Japers' Rink (@JapersRink) May 23, 2016
5. Dale Weise | RW
After a solid season split between Montreal and Chicago, Dale Weise could be a bargain this summer. Weise was scratched in three of Chicago's seven first round games and did not factor much when he played—a complete opposite from his playoff performances in Montreal. Adding Weise to the lineup could significantly bolster a team's bottom-six. As Pittsburgh and San Jose have shown so far in the 2016 playoffs, you need four solid lines to compete in today's NHL.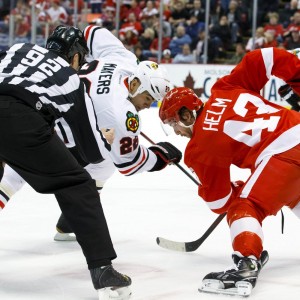 4. Darren Helm | C
Is he a winger or a center? Second line or third? Darren Helm may be one of the most versatile players to hit free agency this summer if the Detroit Red Wings do not retain his services. His top-line speed makes him dangerous at even strength and shorthanded. Additionally, Helm is one of the best players in the league when it comes to board battles. His hustle, big hits, and timely scoring have made Helm a fan favorite in Hockeytown.
3. Matt Cullen | C
Currently in the Stanley Cup Finals with Pittsburgh, Matt Cullen is finishing up a one-year, $800,000 contract with the Penguins. After being passed over for much of the offseason last summer, Cullen could sign sooner this year. The veteran has had a revitalizing season with the Penguins this year as a multi-purpose role player. He kills penalties, plays late in games, is dependable in his own end, can provide offense when asked, and most of all, is the closest thing to a player-coach in the NHL today. His experience and mentoring has been invaluable to the Eastern Conference Champions this season.
ICYMI, a good read from Cullen in @PlayersTribune >> https://t.co/pPy2lM17KQ #pens

— Rob Rossi (@RobRossi_Trib) May 31, 2016
2. P-A Parenteau | RW
It was a long season in Toronto for P-A Parenteau, despite his solid personal numbers. In 77 games with the Leafs, Parenteau lit the lamp 20 times and added 21 assists for 41 points. Despite Toronto being outscored 227-192 by opponents this season, Parenteau managed to have an even plus/minus. However much credibility into plus/minus aside, the fact that Parenteau managed to have a good personal season in Toronto is incredible given their commitment to the rebuild. As one of Mike Babcock's favorite players in Toronto, Parenteau thrived for the fiery coach and added a nice line item to his NHL resume.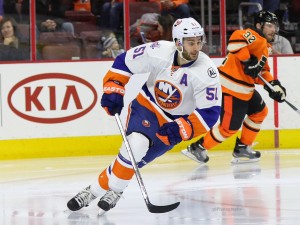 1. Frans Nielsen | C
Often overshadowed by John Tavares in Brooklyn, Frans Nielsen is perhaps the most underrated free agent of this offseason. Capable of instantly slotting into the second line center role, Nielsen is strong in both ends and plays a smart game. He put up 52 points with the Islanders this season, which was good enough for fifth among pending free agents and third on the Islanders. Nielsen's six playoff points and 21:42 ATOI also put him third among the Islanders' forwards in each of the categories.
Your Take
Who is on your short-list for free agent targets? What roles does your team need to fill? Comment below with your take on this summer's underrated free agents.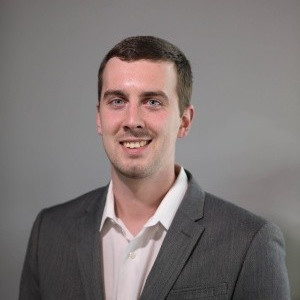 Tony Wolak is based in the Washington D.C. area and covers the Detroit Red Wings for THW. As a former junior and college hockey player, Tony has a unique perspective on Red Wings topics.