The play of Red Wings prospect Evgeny Svechnikov has helped the defending Calder Cup champion Grand Rapids Griffins turn the season around in recent weeks.
On the heels of a championship hangover, the Griffins sat at 7-7-1 through the first 15 games of the season. Then, they hit rock bottom; the champs dropped 13 of their next 16 and fell to 11-15-5 overall. The start to the season was different from previous years for the annual contender, but learning curves should have been expected after an offseason of change.
Griffins Retool
Over the summer, the Griffins went through a slight roster overhaul, which brought in an influx of new players and created a slight youth movement in Grand Rapids.
The Griffins lost four of their top eight scorers from 2016-17 in Martin Frk (Detroit Red Wings), Mitch Callahan (Bakersfield Condors), Tomas Nosek (Vegas Golden Knights) and Kyle Criscuolo (Rochester Americans).
Veteran captain Nathan Paetsch also found a new team in the offseason, as the underrated defenseman returned to the Rochester Americans he broke into the league with years prior. In December, the team lost Tyler Bertuzzi, who has earned a full-time spot in Detroit. Bertuzzi had 14 points in 16 games at the time of his promotion.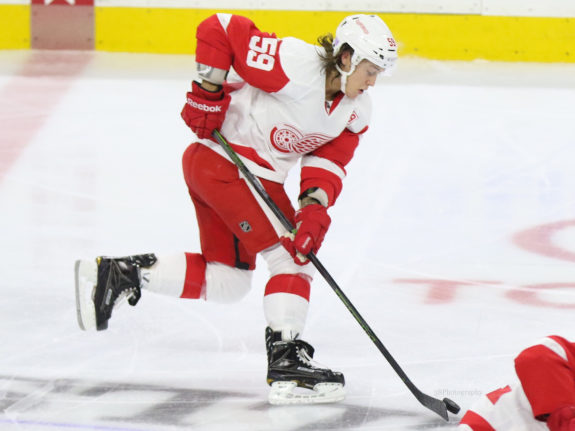 In their places came 20-year-old Filip Hronek (OHL), 21-year-old Axel Holmstrom (SHL) and 24-year-old Dominik Shine (NCAA, who have each transitioned into full-time roles.
Six games into the season, standing at 2-4-0, the team traded defenseman Ryan Sproul to the New York Rangers for forward Matt Puempel. Puempel, 25, leads the team with 35 points in 32 games since his arrival. The four newcomers don't equal the six losses, which has been another part of problem in Grand Rapids. A handful of players have bounced between the AHL and ECHL for the Griffins as some rookies have struggled to adjust as quickly or efficiently as others.
The fits and starts are melding into results in recent weeks and prized winger Svechnikov is right at the forefront, where he was expected to be from game one.
Evgeny Svechnikov's Resurgence
The 21-year-old Svechnikov had a fantastic rookie year for the Griffins, but his failure to meet expectations as a sophomore has hindered the Griffins' season. In 2016-17, Svechnikov finished third in team scoring with 20 goals and 51 points in 74 games. He added another five goals and 12 points in 19 postseason games to help the Griffins claim the 2017 Calder Cup.
But, through his first 27 games this year, the Russian scored just two goals and three assists. The Griffins went 9-13-5 in that time.
As the 19th overall pick in 2015, he didn't just lose his offensive edge. He's an incredibly skilled winger that, at 6-foot-3 and 212-pounds, moves better than most players his size and will be a big part of the Red Wings rebuild. His struggles stemmed from a neck injury suffered during the preseason, which forced him to miss the first four games of the season. He was visibly outmatched upon his return.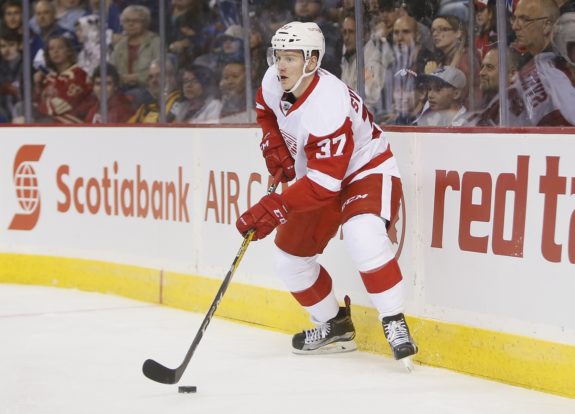 He has since broken out with four goals and eight points over his past 13 games, helping the Griffins finally trend in the right direction. His recovery as led the team to an 11-3 run in its last 14 games and has raised its overall record to 22-18-5. His rookie prowess earned him a two-game stint in Detroit last season, where he scored a beautiful shootout winner in his first NHL game.
The Red Wings have offered more time to farm players in recent weeks, but Svechnikov has a lot more work ahead of him if he wants another NHL call-up this season.
Grand Rapids' Final Stretch
The Griffins have nearly half a season remaining with 31 games left. Svechnikov and company will have their work cut out for them as they sit fifth in the Central Division.
Manitoba currently holds the top spot with 63 points, but Grand Rapids is just four points back from second-place Rockford's 53 points, yet Iowa and Chicago stand between them at 52 points apiece. The Griffins' have a favorable schedule over the next week, as they play division bottom-dweller, Cleveland, three straight times. The Monsters sit second-to-last in the league this season at 12-23-6 and are 3-6-1 over the past ten games.
It could be a great second-half spark for Svechnikov and the streaking Griffins.