For the past few months Swiss hockey news focused on North American players in the Swiss NLA. Now that the the lockout is over, let's focus some attention on Swiss players playing in the NHL.
Damien Brunner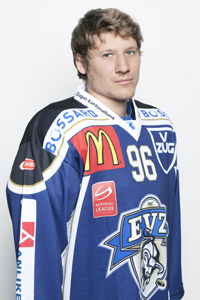 Brunner was a relative unknown to hockey fans until debuting in a Red Wings jersey only days ago. Despite being unknown in North America, Brunner was a household name among Swiss hockey fans, registering over a point-a-game for EV Zug in the NLA for the past three seasons and totalling 58,46 and 60 points in the regular season during that time.
The Swiss forward was originally scouted by the Minnesota Wild but eventually signed for the Red Wings on July 1, 2012 and returned to EV Zug, playing alongside Detroit team-mate Henrik Zetterberg during the NHL lockout months.
Brunner is on a current scoring run of 2 goals in 2 games, finding some confidence after failing to register a point in his first two NHL games. Despite being only 5'11 and 180 pounds, Brunner is a speedy forward with a knack for getting the puck in the back of the net, already becoming a regular among the Red Wings' top 6.
Brunner has also been making headlines throughout the league following this Datsyuk-like penalty shot, scored past Columbus goaltender Sergei Bobrovsky:
Nino Niederreiter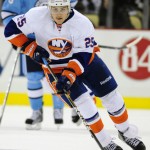 El Nino, who became the highest ever overall Swiss player drafted into the NHL when he was picked 5th in the 2010 Entry Draft, is making headlines not through his great play in the AHL but for putting NHL teams on trade alert after allegedly asking Islanders GM Garth Snow for a transfer after not being invited to training camp following the lockout.
The forwards' anger has some merit as he already played 55 games for the Islanders last season, though only registering 2 goals and 1 assist during that time. Not being invited to training camp must have been unexpected for the player who was highly touted as a junior, scoring 70 points for the Portland Winterhawks in the 2010/11 season.
In response to being questioned about Niederreiter's transfer request, Islanders GM Garth Snow told Newsday;
"All conversations with players remain private, but I will say that Nino has never told me that he's unhappy"
Nino is still currently active for the Bridgeport Sound Tigers and is the current team top scorer with 36 points in 41 games so far this season.
Sven Bärtschi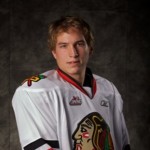 The 20 year-old former Portland Winterhawk made headlines in Alberta by being named in the 23 man squad to start the 2013 NHL season, after having never played an AHL game and only 5 NHL games in 2011/12.
Bärtschi, who is looking like a second-coming of fellow Swiss player Nino Niederreiter, was also picked in the first round of the Entry Draft, at 13th overall in 2011 by the Calgary Flames. Though having not registered a point in his first 4 Calgary games, Bärtschi has been receiving praise for his work ethic and ability to find the puck.
Despite his relatively small 5'11, 187 pound frame, Bärtschi will continue to grow and much will be expected of the Swiss winger playing on an under-performing Calgary team, especially following his 128 point season for the Portland Winterhawks.
Roman Josi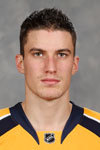 Playing alongside a star defenceman such as Shea Weber is no easy task but Josi is making the most of his opportunity on the Nashville blueline. The 22 year-old former SC Bern player enjoyed a successful spell with his first North American team, the AHL Milwaukee Admirals, two years after being drafted by the Predators at 28th overall in 2008.
Josi became an NHL regular in 2011/12, playing 62 games for Nashville, including 10 playoff games. During this time he scored 5 goals and registered 11 assists from the blueline.
Josi has featured in all five Predators games so far this season, averaging ice-time of 25.54 minutes. Currently on the final year of his entry-level contract, the young Swiss player will be expected to be in line for a pay-rise from his current $1 million deal.
Raphael Diaz
Montreal defenceman Diaz was never drafted into the NHL and signed for the Canadiens on May 13, 2011 for a cap hit of only $900,000. After playing 59 games and registering 16 points in his first NHL season, Diaz was promptly offered a new 2 year, $1.225 million per season deal.
After being a steady defenceman for EV Zug since 2003/4, the breakthrough for Diaz came in 2009/10 when he more than doubled his previous best points tally, improving this again in 2010/11, impressing Montreal scouts with his offensive ability in the process.
Diaz now looks to be an important member of the Canadiens' blueline going forward, already managing to find a place in the Montreal top 4. He also participated in the 2012 NHL All-Star game as a rookie, replacing the injured Adam Larsson in the Challenge Relay.
Besides the Swiss players above, both Islanders captain Mark Streit and Ducks goaltender Jonas Hiller remain important members of their respective teams.
Streit, known as an elite defenceman when healthy, continues to be a scoring threat from the Islanders blueline, having never registered below 36 points since joining the NHL from the ZSC Lions in 2005/6.
Jonas Hiller is firmly set as the Anaheim first choice goaltender, playing a huge 73 games last season, finishing the campaign with a save percentage of .910 and a 2.57 goals against average.