After a week of drills, fast skating and working on the little details, the Washington Capitals' prospects wrapped up Development Camp on Saturday, ending the week-long mini-camp with a scrimmage between the White Team and the Red Team. The White Team came out victorious, and with that, there were a couple of notable standouts from camp all week.
Madison Bowey Proves Impressive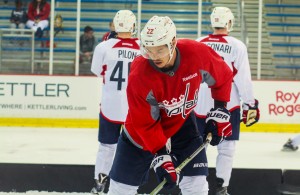 Bowey had a great week at Capitals camp, proving to be one of the best defensive prospects out there. The 2013 second-round draft pick spent his 2015-16 campaign with the Hershey Bears, where he looked to improve in certain areas – including offense. His plus-22 rating at the end of the season, as well as his role in helping the Bears reach the Calder Cup final, made him a standout during camp.
Barry Trotz told reporters he believed that Bowey could be a competitor come training camp, and when speaking to Bowey, he said that he will do what it takes to show the coaches what he is capable of.
No matter where the road takes him come September, Bowey maintained a positive mentality and said that he's "just going to enjoy it, live in the moment and just go with it."
Language Barriers Won't Stop Ilya Samsonov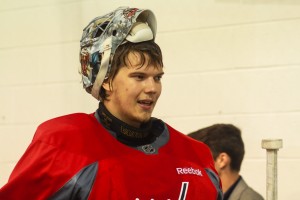 Samsonov was one of the more surprising picks for the Capitals, going in the first round in the 2015 NHL Entry Draft. The 6-foot-4 Russian netminder proved to have a great camp, being able to attend this year due to the fact that it didn't interfere with his time in the KHL. He plays for the Metallurg Magnitogorsk, where he will likely play next year before continuing his career in North America.
The Washington Post had an interesting feature on Samsonov, citing that his experiences at camp were different from the other prospects', due to the fact that he cannot speak English. However, with the help of sign language, interpreters and translations, the language barrier didn't stop him from making a notable appearance at camp.
From watching Samsonov, I noticed how he impressively adjusted to making out English, and the fans would help. When it came to signing autographs, fans would shout "Ilya!" and he would smile and walk over, gear still on and sweat dripping down his face. They would show him paper, and he would know that it meant they wanted an autograph, which he gave happily.
During the drills, he would be alert and know what to do, and proved to be impressive in net. Samsonov wouldn't let that slow him down, and neither would the coaching staff. He will continue to pick up on English, as the Post mentioned – in many interesting ways.
Lucas Johansen Leads Draft Prospects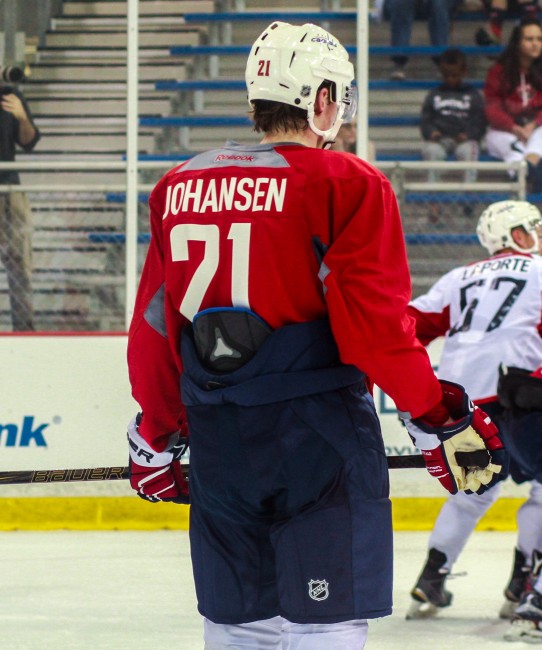 For first-round pick Lucas Johansen, all eyes seemed to be on him. The Kelowna Rockets prospect was one of the most popular players in the locker room, and discussed his time playing with Madison Bowey, as well as more when it came to making an impact, standing out and playing in camp.
He proved to be one of the most notable standouts at the scrimmage, and also wanted to make a good impression at camp. After missing the first day with illness, Johansen cited that it's "not the impression you want to start off with" and how eager he was to get back out there.
Washington's young prospect discussed the organization and skills he has picked up on, but also talked about his time off the ice.
"It's been great just driving around the buss to actually see the city, and just meeting everybody and seeing what Washington's all about has definitely been the funnest part for me," Johansen said.
He also said that he learned from watching his older brother, Ryan (Nashville), in the NHL, and cited that the advice he got from him was to "always learn" and "always enjoy it."
Veterans Continue the Grind
Some of the prospects are veterans when it comes to development camp, and have been coming there for years. One of those is Steven Spinner, who was at camp for the third straight year.
According to Spinner, after coming back for a couple of years, it gets less difficult. The more time you spend at camp, the more accustomed you become.
"You get a little bit more comfortable," Spinner said. "You're used to all the guys, all the coaches and all the staff, and I feel like this one's a lot easier than the last two."
Travis Boyd, who was at his fifth development camp, proved to be a stand-out, after coming off an impressive season in Hershey. The 2011 draft pick and centre had 53 points (21 G, 32 A) in 76 games with the Bears this past season and was among the best players in camp.
Bowey and Riley Barber also attended their fourth straight camp, and of course proved to be strong and accustomed to the drills after returning and coming off strong seasons with Hershey.
Stand-Out Prospects Have Similar Roots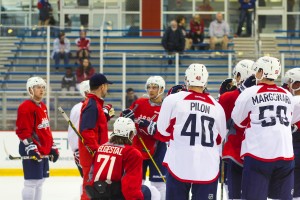 Some of the stand-out players are noticeably products of the WHL. Led by Johansen, other top WHL prospects included Connor Hobbs, who had a great camp to follow an impressive 2015-16 campaign with the Regina Pats, where he scored 41 points (19 G, 22 A) in 58 games.
Two other players that impressed during camp were defenseman Jonas Siegenthaler and left wing Damien Riat. Both hail from the Swiss league, playing for Zurich and Geneve respectively. With strong performances during drills and the scrimmage, both of them hold promising futures in the organization.
The NCAA was also well represented. Mercyhurst goaltender Adam Carlson stood out among goaltenders, and Quinnipiac defenseman Chase Priskie and North Dakota centre Shane Gersich stood out to me as well. College-level players are having a strong impact when it comes to professional hockey, and these guys proved to be strong players in the system.