The Kingston Frontenacs and Sarnia Sting of the Ontario Hockey League have made several trades in recent history. The two teams went head-to-head at the K-Rock center in Kingston on Sunday, and it provided an excellent opportunity to analyze the impact of the trades.
Last season the Frontenacs traded fourth year centreman Charles Sarault for a third, and sixth round draft choice in the 2013, and 2015 drafts respectively.
Prior to the OHL trade deadline this season Sarnia loaded up on two more former Frontenac players, leading scorer and overage team Captain Tyler Brown, and star center Ryan Spooner. Kingston General Manager Doug Gilmour received Jack Nevins and a third round choice for Brown, and former first round selection Ryan Kujawinski in exchange for Spooner.
In his three seasons in Kingston, Sarault produced nine, 16, and 38 point totals. This season in Sarnia, Sarault has 67 points in 48 games and leads the league with 52 assists, a far cry from his modest production in Kingston. During the game, I had a chance to speak with Sarnia Assistant General Manager Mark Glavin. I asked Glavin about Sarault's break out season and if they were surprised, or saw this as a possibility. "We liked him, and that's why we acquired him. Sometimes you just need an opportunity, and he got that here." Sarault played on a line with fellow Frontenac Spooner, and the consensus number one overall pick at the upcoming NHL draft, Nail Yakupov. Sarnia wins this trade and should be commended for identifying the potential. Sarault was not drafted into the NHL, and as a result has the potential to return for one more season of Junior as an over-age player.
Sarnia GM Jacques Beaulieu's acquisition of Tyler Brown will provide the Sting with leadership. The former Frontenac Captain now is an Alternate with Sarnia. Beaulieu acquired Brown for his leadership saying "Brown and I have a relationship because I coached him in London, so I know what he's all about. He's full of character." Brown is precisely the type of character who can help lead a team to a championship. While Kingston parts with their Captain and leader, the last place Frontenacs were in no way going to contend for a championship and felt it best to give Brown the opportunity to win. As an over-age, Brown's junior career will end at the conclusion of this season. Gilmour received 19-year-old Jack Nevins, who is 6'2" and weighs 212 lbs. "Nevins brings us some toughness and grit" Said Coach Todd gill. Nevins has a team leading 72 penalty minutes and will likely be back next season.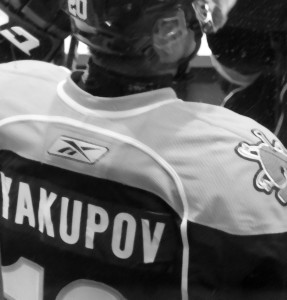 The biggest trade, perhaps in the entire OHL was the Ryan Spooner deal. This will be Spooner's final season in the OHL as he is a second round selection of the Boston Bruins. If Spooner fails to crack the Bruins out of training camp next season he will be assigned to Providence of the American Hockey League. The idea of Spooner, Sarault, and Yakupov playing together on a line is scary. "Were putting Yakupov, Spooner and Sarault together and let them go to work offensively. We think we can score goals with those guys" Said Beaulieu. While the success of these deals for Sarnia hinges mainly on how successful they are in the playoffs this year, for Kingston the measuring stick will be future success. Gilmour began the rebuild last summer when he drafted, the traded Tie Domi's son, Max Domi in a shrewd maneuver. The Spooner trade was a significant transaction for this franchise. When asked how many teams were involved in the Spooner sweepstakes Gilmour replied "six". Gilmour is obviously leaving no stone uncovered as he consulted coach Gill on the Spooner trade, "We were in meetings together but the final decision is his" Said Gill. "I think the Spooner trade everyone thinks we didn't get enough, I think in two years people will be saying that was a great trade." Gill also added "Look at Jenkins, he's 17 and both he and Kujawinski are if not our best player, a couple of them. All the moves Doug made I think will make this club better, not only now but in the future." Since the trade, both Kujawinski and Spooner have scored 10 points in 10 games. Prior to the trade Kujawinski had only six points in 29 games. I asked Gill about Kujawinski's improved play in Kingston and he said "He came from Sarnia playing six minutes a night. Most 16 year olds, that's all they ice time they do get. But here, obviously being in a rebuild, he's going to get more ice time he can probably handle. Next year he's going to have a great year. He's been a real solid player for us. He has all the tools, big, strong, skate, pass; he's going to be an excellent player for a lot of years."
Time will tell how these trades end up paying off for both teams. If Sarnia is able to win a championship, or compete for the memorial cup with their star powered offense they will be pleased. How will they youth developed in Kingston and will all the draft picks acquired be used wisely. It is of course too soon to tell but for now it appears as if both teams got exactly what they wanted to achieve their goals.