With the sting of blowing a 3-0 lead in game six of their 4-2 series loss to the Calgary Flames, the Vancouver Canucks and their fanbase are now looking ahead to the off-season and what could be expected of certain individuals for the 2015-16 season. Here are four major talking points for the Canucks' off-season months.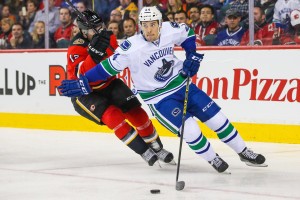 Mobility from the blue line
Of all the concerns Canucks fans may have coming out of their first-round series, a lot of people will tell you that the #1 issue with this hockey club right now is their lack of mobility from the back end. This isn't anything new, as Vancouver has missed a true puck-moving presence ever since the departure of Christian Ehrhoff, but it has never been exploited as much as it was against the Calgary Flames. Their persistent forecheck made it difficult for Canuck defenders to efficiently move out of their own zone, resulting in numerous turnovers and a lack of high-quality scoring chances off the rush. The Canucks have some nice pieces in the pipeline that could fill this role for years to come, including the likes of Adam Clendening, Ben Hutton and Jordan Subban, but for the short-term future, it's a gap that could prove costly over the next couple of seasons.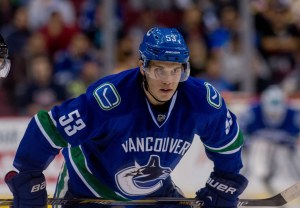 Bo Horvat
While this might be the third consecutive playoff appearance resulting in a first round exit, what makes this one a little easier to take is the emergence of 20-year-old center Bo Horvat. Horvat was advertised as a two-way center with limited offensive upside, but has shown both throughout the second half of the campaign and into the post-season that he has something to offer as far as putting up points goes. Horvat, alongside the Sedins, Radim Vrbata and Jannik Hansen, led the team in playoff points with four, and was consistently showing off his electric skating ability, including a couple of dynamic end-to-end rushes that had Canucks fans salivating over the thought of seeing that for years to come. The core of this hockey team may be nearing the end of the line, but when it comes to Bo Horvat, he's just getting started.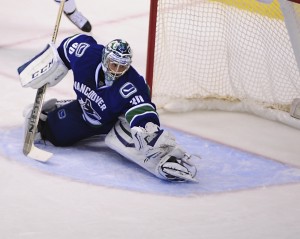 The goaltending
Ah yes. Goaltending. The favorite discussion of every Vancouver Canucks fan. It seems that it's a hot-button topic each and every off-season in Vancouver, and this year promises to be no different. After starting the post-season as the starting goaltender, Eddie Lack was replaced by Ryan Miller in the second period of game four, and never saw game action from that point forward. It raises the question of whether both will be back next season, and you could certainly make a case for dealing either of them. When it comes to Miller, one would have to imagine that the market would be limited for him, especially considering his $6 million caphit, but the Canucks do of course hold the option of retaining salary in the deal, and a $4.5 million Ryan Miller is certainly worth more than a $6 million Ryan Miller, to the extent where Vancouver might be able to get a decent return on him. However, it seems more likely that young Swede Eddie Lack would snag a heftier package, and if the organization is confident that AHL star Jacob Markstrom is ready to be a legitimate NHL backup, it may be worth their time to test the market on Lack. Of course, there's always the possibility that they sell high on Markstrom, who's value is at an all-time high, a scenario made even more possible should the Canucks win the Matt O'Connor sweepstakes.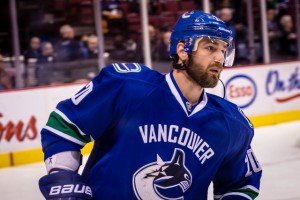 Veterans that could be on their way out
At their recent media availability, President and former captain Trevor Linden said that what he inherited in Vancouver couldn't be fixed in one off-season, and that it would take a couple of years for he and Jim Benning to execute their full plan. What many Canuck fans are hoping is that part of that plan is the inclusion of more young players in the lineup, but for that happen, there needs to be some veterans that find themselves on a different roster by the start of next season. A player that has found himself mentioned a fair bit in this discussion is winger Chris Higgins, who has just finished up his fourth campaign as a Canuck with 12 goals and 36 points in 77 games while playing alongside former Duck centerman Nick Bonino for the vast majority of the season. Other players often brought up when discussing veterans that should be considered as candidates to move out of Vancouver in the summer are forward Alex Burrows and defenders Dan Hamhuis and Kevin Bieksa. Considering that the Canucks do not have a pick in the 2nd or 3rd rounds of the upcoming entry draft and that there's a long list of youngsters pushing for full-time NHL jobs (Jake Virtanen, Hunter Shinkaruk and Nicklas Jensen to name a few), it would definitely worth their while to look a moving a couple of these veteran players.
Markus is a Vancouver Canucks columnist out of Victoria, BC. Markus is also a Staff Writer for Last Word on Hockey, an Editor and Staff Writer for country music website The Shotgun Seat, and founder of This Is Country Music.