During his playing career, Steve Yzerman was known for a lot of qualities. Chief among them was his efficiency on the ice. That trait has been evident in his time as the Vice President and General Manager of the Tampa Bay Lightning, especially during the NHL draft.
Just as he did on the rink for over 20 years as a Hall of Fame player, Yzerman sized up the situation for his team this weekend and proceeded to fill the coffers of his organization with some quality players.
Yzerman and his Director of Scouting, Al Murray were so gosh darn efficient that this past weekend, they drafted two centers, two left wings, two right wings, two defensemen and a goalie. Simply stockpiling at all positions, how efficient is that?
2015 Draft
The players that were selected by the Tampa Bay Lightning were: Mitchell Stephens – 2nd round – Center, Matthew Spencer-2nd-Defense, Dennis Yan-3rd-Left Wing, Anthony Cirelli-3rd-Center, Jonne Tammela-4th-Right Wing, Mathieu Joseph-4th-Right Wing, Ryan Zuhlsdorf-5th-Defense, Kristian Oldham-6th-Goalie and Bokindji Imama-6th-Left Wing
It would probably be a safe bet to say that none of these selections would make the opening game roster for the Lightning this fall. While there may be some players with high upside such as Stephens, Yan and Cirelli, there are also some that will need more than a year or two of seasoning such as Spencer, Joseph, Zuhlsdorf and a couple of fliers in Oldham and Imama.
Grading the Draft
Suffice it to say that what Yzerman and his staff did was fill the organizational pipeline.  Since most, if not all, of the draft picks will take some time before they are ready to make their NHL debuts, it would be ludicrous of me to attempt to grade this draft. Especially on a team that has so much talent on the parent club and that is so young. Steven Stamkos is only 25 years-old as is Alex Killorn, Tyler Johnson, Ondrej Palat and Victor Hedman are 24. Nikita Kucherov is 22 and Jonathan Drouin is only 20. These players are the cornerstones.
If we are all in agreement that it takes most drafted 18 year-old hockey players some time to develop, then instead of grading these nine youngsters selected by the Lightning, I'd rather look at the previous drafts of Yzerman and Murray and grade those selections.
Draft History
After being named V.P. and General Manager of the Tampa Bay Lightning, Yzerman ran his first draft for the franchise in June of 2010. In that draft, there were eight selections and only two of those, Brett Connolly and Radko Gudas saw any playing time in the NHL. This wouldn't be considered a good draft with only 25% of the picks seeing any NHL ice time. In fact, Connolly and Gudas were actually traded this past March in a package deal that brought Tampa Braydon Coburn. Draft Grade: C-
In the 2011 draft, the Yzerman-Murray team struck gold. Drafting Vlad Namestnikov, Nikita Kucherov, Nikita Nesterov and Ondrej Palat with four of the six picks. Not to mention, shortly after the draft, they signed an undrafted Tyler Johnson thus finalizing the Triplets Line. All four draftees saw considerable ice time with the Lightning and all made some impact in Tampa with Kucherov and Palat, becoming almost household names during the last playoff run. The other two picks that haven't yet seen the NHL are goalie, Adam Wilcox and Center, Matthew Peca, both of whom should see significant playing time with the AHL Syracuse Crunch this season. Draft Grade: A+
In the following draft year in 2012, the Lightning had eight selections and of those picks, three have seen ice time with the big club. Led by fourth rounder, Cedric Paquette who became a fixture on the third line this season. Andrei Vasilevskiy was Ben Bishop's backup in net for the second half of the season and Slater KoekKoek saw some ice time in Tampa during the regular season when Coburn and Jason Garrison went down with injuries and played very well. This draft also saw the team select Dylan Blujus, Brian Hart, Tanner Richard, Jake Dotchin and Nikita Gusev. All but Gusev are still signed with the organization and all of these prospects are expected to play in Syracuse this season waiting for their opportunities for a call to the show. Draft Grade: A
Pipeline for the Franchise
Obviously I only took this draft review from 2010 through 2012. Figuring that the average development time for most players is three to four years, reviewing these particular drafts gives us insight into the success of Yzerman, Murray and their entire player development and scouting staffs.
It should be pointed out that some players selected after 2012 have or will begin to make their impact known. Jonathan Drouin comes to mind. As the #1 franchise pick in 2013 and #3 overall, Drouin began to impress last year and despite the time that he was a healthy scratch during the playoffs, is expected to make significant progress with Tampa this season. A couple of other players from that draft will also raise some eyebrows, Adam Erne and Krister Gudlevskis will play for Syracuse this season and could see some games up with the Lightning this year.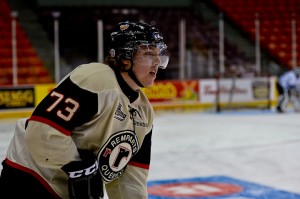 Last season's number one pick. Defenseman, Anthony DeAngelo made some news recently, being named the OHL Defenseman of the Year. There are some in the organization that think DeAngelo has an outside shot at making the Lightning this year. Even if he doesn't, he should play in Syracuse and see some time in the NHL this season.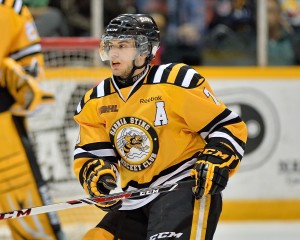 Upshot
Yzerman and the Lightning didn't make any splashy moves this draft weekend. With a young lineup, mostly signed and now playoff experienced, there wasn't a whole lot of moves available for Yzerman. So, he chose to do what he felt was best for the organization and that was fill the pipeline.
The best problem for an NHL franchise to have is depth. Not just with the main team, but depth in the organization. Depth with the AHL team so that if an injury happens, a guy can step up and fill in as necessary. Depth that allows a G.M. to listen to any and all trade offers. Depth so that as the team is jelling in March but may need a player or two at the deadline, the G.M. can pull the trigger on a deal without mortgaging the future of the franchise.
This is what the Tampa Bay Lightning did this weekend in Sunrise. They bolstered the depth they already had in the organization and for that they deserve a passing mark. Time will tell if this particular draft will stand the test of time and bring that potential to fruition in NHL games.