The Dallas Stars have signed goaltender Antti Niemi to a three-year deal with an AAV of $4.5 million, according to Elliotte Friedman.
DAL signs Niemi three years, $4.5M AAV.

— Elliotte Friedman (@FriedgeHNIC) June 29, 2015
The Stars acquired the rights to sign Niemi before free agency opens on Wednesday when they traded the 193rd pick in the draft to the Sharks.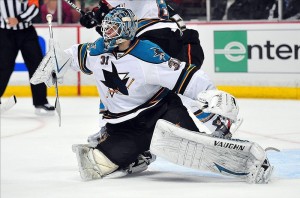 This puts the Stars in a position where they'll have $10.4 million of cap space tied up between Niemi and current goaltender Kari Lehtonen next season. It's a lot. But the Stars feel like this is a workable situation because of the number of young players they're getting at an exception rate because of their age.
Start sifting their depth chart: Jamie Benn at $5.25, Antoine Roussel at $2, Nichushkin at $925K (RFA next summer), Colton Sceviour at $650K, Brett Ritchie at $814K, Patrik Nemeth at $900K, Jyrki Jopkipakka at $900K, Julius Honka at $894K… they've got some good deals in there.
Before anyone starts to get too worked up about GM Jim Nill's approach consider the absolute black hole the Stars have had as a backup consistently over the last two seasons. Two years back they started the season with Dan Ellis in net. He posted a .900 save percentage.
They eventually traded him to the Panthers for Tim Thomas after the Cats acquired Roberto Luongo. Thomas posted a .902.
Last season they decided to pay up and have three goaltenders on a one-way deal in hopes of that fixing their lack of goaltending depth. Behind Lehtonen it was Anders Lindback and Jussi Rynnas. Rynnas only got into two games and had a .841 save percentage. Lindback played more, before he was traded, but posted just an .875 save percentage.
They wound up moving Lindback out in hopes of trying to make the playoffs. They moved him to Buffalo and brought in Jhonas Enroth, who posted a .906 save percentage. Not only did those goaltenders not perform, but their poor play prevented coach Lindy Ruff from turning away from Lehtonen, who had a down year with a .903 save percentage.
The Stars missed the playoffs by seven points. It's easy to see how they believe a quality backup goaltender might have brought in a few more points and changed the look of their season.
Enter Niemi. He should provide balance and a player who can step up if Lehtonen falters again this season, as he did last year. He posted a .914 for the Sharks last season while carrying the majority of the workload despite the possibility for a goalie controversy at the start of the season when it was believed that Alex Stalock would challenge for the starting role. Niemi wound up playing 61 games.
He's durable as well, playing over 60 games in all four of the last full NHL seasons and playing 43 in the 48-game lockout-shortened season.
RELATED: Dallas Stars: Who is Staying, Who is Going?
[catlist categorypage="yes" numberposts=3 excludeposts=this]
Dustin Nelson writes about news and the Minnesota Wild for The Hockey Writers.