The Pittsburgh Penguins have been searching for a top-six winger and they will have to trade to get one. They have been linked to Toronto's Phil Kessel, St. Louis' T. J. Oshie, Edmonton's Nail Yakupov, Carolina's Jeff Skinner and Chicago's Patrick Sharp.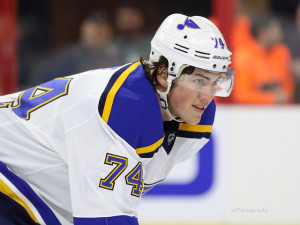 It was quite a surprise that the Penguins did not make a move during the 2015 NHL entry draft, but they were close. There were multiple times that the Penguins were close to acquiring Kessel or Oshie, but every time the other team decide to wait.
The deal that was actually closest to occurring was for the controversial Phil Kessel.
[UPDATE: Penguins Trade for Phil Kessel]
The Offer
The Penguins were willing to send Chris Kunitz, Rob Scuderi, Derrick Pouliot and their 2016 first-round pick to Toronto, but it was not enough for their interests. Additionally, it's unknown if Kunitz would have even accepted a trade to the Maple Leafs, since there is a clause in his contract that allows him to cancel a trade that takes him somewhere he does not want to be.
Now that the Penguins have made it past the entry draft, they have some time to regroup and patiently wait until they find a deal they're comfortable with.
Let's move past that the Penguins have time to re-evaluate options and just discuss the proposed trade to Toronto.
The Fundamental Problem in Pittsburgh
It's clear that the Penguins front office does not understand the reason why their team has annually faltered.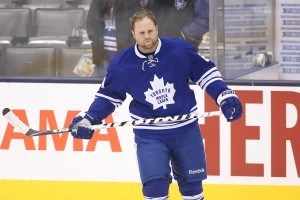 The Pens have the star talent to compete with any team in the league, but that is not enough to win a Stanley Cup. The problem with the Penguins has been having too much money tied up in too few players.
Phil Kessel's contract carries an annual cap hit of $8 million per season through the 2021-22 season. Adding a player like Kessel not only would cost the franchise too many valuable assets, but he would only exacerbate their salary cap issues.
In Sidney Crosby, Evgeni Malkin, Kris Letang, Marc-Andre Fleury and Patric Hornqvist the Penguins have spent 49.65% of the $71.4 million cap. Then if you add David Perron, Pascal Dupuis, Chris Kunitz and Rob Scuderi into that, they have spent over 70% of the cap in just nine players.
Just imagine what adding Phil Kessel's contract would do to those numbers.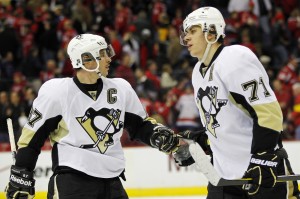 We have been told that Toronto would accept some of Pittsburgh's bad contracts or retain some of his salary in order to make a deal happen, but that isn't the point.
The issue with this deal is that the Penguins would be continuing their obsession with star players and be building a top heavy team again.
Malkin's best friend, and former 40 goal scorer, James Neal was traded during the 2014 NHL entry draft to allow the Penguins to have the flexibility to build a deeper team. Doesn't trading for Phil Kessel just undo the progress made and actually make the situation worse?
Evaluating Kessel as a Hockey Player
Here are his stats throughout his career.

There's no doubt that Kessel would be able to score 40, 45 or maybe even 50 goals as a member of the Pittsburgh Penguins. Throughout his nine-year career, he has never had an elite center to play with and the best NHL teams are built around superstar centers, not wings.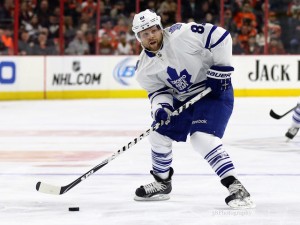 Pittsburgh has the luxury of having Crosby and Malkin on their team so naturally Kessel's production would be inflated. However, there is more to hockey than scoring goals.
The Penguins have proved that you can't always outscore the other team by three goals and expect to win. Sometimes the offensive production dries up and you have to play a tight defensive game.
Kessel's defensive skills are lacking to say the least. He is a -79 skater in his career and he's coming off of his worst season ever as a -34 player.
Not everyone agrees with advanced analytics in the NHL, but there has to be some truth when a player in on an extreme end.
Take a look at Kessel's HERO chart from Own The Puck.
When a players basic plus/minus is that bad and his advanced analytics are that bad, there is truth to the numbers. Kessel isn't a defensive player, he's known to take shifts off and doesn't always give a full effort.
Adding a player like this would only be burden for Crosby who's only recently honed his two-way play and Malkin hasn't been known to be a solid defensive player himself.
All of these factors could be overlooked if Kessel was known as a hard worker, but he isn't. There have been reports throughout the media for years that Kessel doesn't work hard, he's a "locker room cancer" and just has a bad attitude.
Considering all factors, it's a very good thing the Penguins did not execute a trade for Kessel and we can only hope that they do not make a move for him within the upcoming weeks.