Good times are just around the corner for Philadelphia Flyers fans.
If the NHL Draft this weekend was any indication, Ron Hextall has big plans for this team and is making as many moves as he possibly can to clear out the cap
Ivan Provorov
The Flyers had to be absolutely thrilled when their pick at the draft came around and Ivan Provorov was still available.
The 6'1″, 201-pound defenseman is a force to be reckoned with when he is on the ice.
TSN's scouting division had him ranked 5th in this years draft, giving him a 4 of 5 in skating, hands, and shot, and a 5 out of 5 in smarts and compete level. From TSN's Craig Button:
"Ivan understands the game extremely well and is able to use his considerable talents to contribute in any area and every situation. Calm, poised and competitive he is in command when he's on the ice. The best defenceman in this draft and I see him as a number one who will anchor a blue line."
He also had 61 points in 60 games this season. And just incase you doubted his offensive ability…
This kid is going to be good in a Flyer uniform, and he already has the drive and determination to want a spot on this roster.
Hextall is hoping Provorov makes it very difficult on the organization in camp vs. those other prospects and pushes to play now.

— Tim Panaccio (@tpanotchRET) June 27, 2015
The Flyers are top to bottom stacked with defensive prospects. Travis Sanheim, Ivan Provorov Shayne Gostisbehere, Robert Hagg, Samuel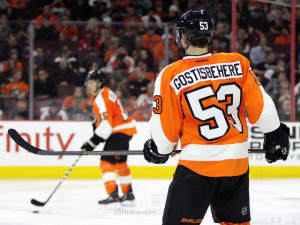 Morin, and Mark Alt are all chomping at the bit to pull that Flyer jersey over their heads. Keep in mind that if even three of those prospects above live up to their potential (which is a strong possibility), the Flyers will possess one of the better defenses in the NHL. Combine that with the fact that Steve Mason is looking better and better each season, and the Flyers have a very bright future ahead of them on the defensive front.
That's a huge relief after the disaster we witnessed this past season.
The Trade
June 23rd. That has been doomsday for the Flyers the past few seasons. In 2011, Richards and Carter were dealt, in 2012 it was James vanRiemsdyk, and in 2014 it was Scott Hartnell. So admittedly, once that day passed, most of us figured the Flyers would be quiet for the rest of the summer. That wouldn't be the case.
The Flyers made waves in the hockey world on Saturday afternoon, right as the draft was ending.
BREAKING: #Flyers have acquired Sam Gagner & a pick from ARI for Nicklas Grossmann & the contract of Chris Pronger → http://t.co/06wlZJm0EU

— Philadelphia Flyers (@NHLFlyers) June 27, 2015
Just stomach that for a second. The Flyers got rid of a contact that essentially carried a cap hit of $5 million a year for a guy who will never play again, that's crazy. Also don't forget they shed another one of those slow, overpaid defensemen in Nicklas Grossmann. Not to mention they got a return on those guys.
The Pronger situation is pretty obvious, the Flyers needed to get rid of that contract, but it seemed to be nearly impossible. Well, now it's done.
The next part of this trade involves Nicklas Grossmann. He, as well, will not be missed. Make no mistake about it, Grossmann was an excellent shot blocked and he excelled in battles along the boards, but that's about where the story ends. He was big and slow. If he was facing a forward streaking down the wing, it was game over.
https://twitter.com/ShawnTHW/status/527263136446185472
The fact that Nicklas Grossmann fetched the Flyers Sam Gagner and a pick is a steal for Ron Hextall and the Flyers, and as I said above, he will not be missed.
The other very interesting aspect to this trade is Sam Gagner.
Gagner is just 25 years old, and has 336 points in 562 career NHL games. Those are not numbers that are very impressive. However, there is another side to that story. Gagner came into the league at 18 years old and spent 7 seasons with the mess that is the Edmonton Oilers. As every knows, despite high draft picks, that team could never get any chemistry together. Gagner was traded twice last year and ended up on the Arizona Coyotes, another awful team. He finished tied for second on the team in scoring with just 41 points.
Buying out Gagner may not be the right option. Gagner only has a cap hit of $3.3 million, which is not too horrible, especially considering the trade for him cleared out over $6 million in the first place, so he wouldn't kill the Flyers cap. The other upside? Despite being a natural center, Gagner has noted that he has benefited from playing the wing, that could be huge coming to Philadelphia considering there is a logjam at the center position. A line of Brayden Schenn centering Wayne Simmonds and Sam Gagner could be pretty dangerous. If you're Dave Hakstol, you may even considering throwing him alongside Claude Giroux and Jakub Voracek, especially since they haven't found a solid winger yet.
Last but not least, if the Flyers do keep Gagner, he himself knows that he has a lot to prove. He is only 25, and as I've noted in some of previous articles, a lot of players don't come into their prime until 25-28 years old. He might be a good fit in Philadelphia, especially if he fits in on the wing.
Regardless of what happens with Ganger, the Flyers still come out of this weekend as huge winners. They bolstered their defensive core, created cap space, and had a very successful draft.
Well done, Ron Hextall, this team is on the right path.
Matt is a contributor for the Philadelphia Flyers at The Hockey Writers. He has previously covered the Flyers for GrandstandU. He enjoys playing hockey and making music in his spare time.