For the Tampa Bay Lightning, the 2016-17 NHL season is past the halfway point. They have played 42 of the 82 scheduled games and have won exactly the same number of games that they have lost. If this team is what their record says it is, they are average.
For a team with so many preseason expectations, they cannot be satisfied with where they find themselves. Of course, there will be some fans that will point to the injuries. Chief among them, they lost their captain, Steven Stamkos. Injured in mid-November, Stammer isn't scheduled to return until late March.
Another lingering injury is that of starting goalie, Ben Bishop who was injured making a fairly routine save against Detroit on Dec. 20. So far, Bishop has missed the last three weeks and is looking at a possible return towards the end of January. Will the disorder in his house lead Lightning GM, Steve Yzerman to make changes?
A Beer with DiOssi
At this critical juncture of a season, over a beer, I had a conversation with the other Lightning contributor to The Hockey Writers, Steven DiOssi about the state of the team. Here's how we see things halfway through this season.
Dan Herrjon: Steven, how are you feeling about the Bolts overall?
Steven DiOssi: It's an interesting question. I think there are some issues with consistency and they've had some problems on the blue line and in their own zone with costly turnovers. The injuries keep coming, which has been another obstacle, but just when they seem to be working their way out of the slump they've been in the past month, they slide back some with inconsistent play.
Will the Real Lightning Ever Show Up?
DH: Yeah, two steps up and one back or one up and two back and they become a very average team.
SD: When you look at the team, they have virtually the same record as the one last year at the midway point of the season, even with all these guys missing with injuries. You have to think that when these injured players come back, it should help jump start the team altogether. But with a player like Steven Stamkos expected to be out until mid-March with his knee injury, the Lightning have to put themselves in a good position to make the playoffs well before then.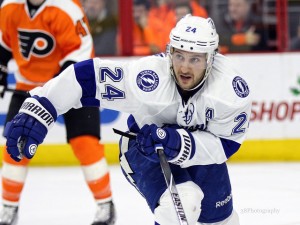 DH: I know the record is virtually the same as last year but they reeled off a nine-game winning streak last February.  Not sure this team can repeat that this year. Without that nine-game win streak, does the team make the playoffs last season?
SD: Yeah, that's what is concerning if you are the Lightning. Last year, there was a seven-game win streak in January and then the other one you mentioned in late February into March. Even with those streaks, they didn't clinch a playoff spot until the 80th game of the season. This year, if they don't string together some victories earlier on in the second half of the season, it's going to be a tough road to earn a playoff spot.
Is This Team Playoff Bound?
DH: Does this season's team have it in them to put together that kind of run to make the playoffs?
SD: I think they still have the ability to make a good playoff run, but staying afloat now and gaining at least a little momentum in January will be a pretty big deal towards earning a playoff berth. It's going to be very tough for them if they don't have a good road trip on that 13-day stretch beginning next week. How do you see things?
DH: Concern is growing with each loss against teams that they should beat. I will say that the depth in the organization is outstanding among the forwards. Even with the injuries, AHL call-ups are doing their part.
Young Blood
SD: I agree, the young players who have been called up have been impressive. With the injuries to Lightning forwards throughout the season, the franchise has gotten the opportunity to evaluate these guys in NHL games and they've performed well. It's been important to have this sort of depth given the number of injuries the Lightning have had at this point in the season.
DH: So, does this team find themselves in the postseason?
SD: I think they do, but in order to earn a playoff berth it's going to ultimately come down to whether or not they can get back to playing consistently and soon. The way the Eastern Conference playoff picture is right now they can't afford to dig themselves into a hole much longer.
Will Yzerman Make a Deal?
DH: So, what is the answer as we head into the second half of the season? Do you see the team making any moves?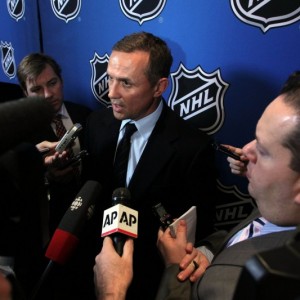 SD: I think it's possible there is some sort of change coming but the issue could be finding someone to trade with given salary cap concerns, NHL expansion, etc. Finding a top-four defenseman is probably the biggest need for the team. I don't believe it was Steve Yzerman's intention when the season opened to trade Ben Bishop, but would he consider moving him if there was an opportunity to land a premier defenseman, given the current situation? He might, once Bishop returns from injury — especially if the team feels confident in Andrei Vasilevskiy in the No. 1 role now and Yzerman thinks it's a move that will turn things around for the team.
Best Intentions
SD: Since the season began, I have thought keeping the Bishop-Vasilevskiy combination together was Yzerman's goal, and I think it still is, but if there's a great offer on the table, he may have to move Bishop. Then again, having that goaltending tandem during a potential playoff run is a major advantage over other teams they would face.
DH: Agree that Yzerman was probably going into this postseason with both Bishop and Vasilevskiy but he may need to pull trigger on a deal.
SD: Since Bishop is pending unrestricted free agency this summer and earns $5.95 million this season, that makes it harder for a potential trade partner who is facing salary cap issues now or wanting to hold onto him past this season, but he's certainly a goaltender teams would be interested in if they have the need and can find a way to make it work. What do you think about the blue line?
Can you Defend the Defense?
DH: That could be a concerning aspect of this team because there doesn't seem to be depth throughout the organization among D-men.  It's why I think Yzerman needs to make a trade for a top 4 defenseman. Do you have any concerns about this team?
SD: I think the team's biggest concern is the state of the defense right now and one Yzerman would like to address with a potential trade. After the top pairing of Victor Hedman and Anton Stralman, there is a drop off and it's causing them to be split up at times to provide some better balance. Jason Garrison has been a major part of the defense in a top-four role the past two seasons, but seems to have lost a step this year. The team has rounded out the top-six between Braydon Coburn, Slater Koekkoek and Nikita Nesterov.
DH: You hit the nail on the head with the drop off in performance with Garrison. I would also include Andrej Sustr in the disappointment category. Braydon Coburn has played well but (coach Jon) Cooper has limited his minutes to less than 15 a game.
Which D-men Step Up?
SD: Coburn plays a pretty reliable game in his current role and I think that as long as he's playing well as  No. 5 defenseman, he will probably stay in that position. You have seen situations with other NHL teams where advanced analytics show that there's a certain amount of playing time where a player's play drops off some, so that could be the reason behind his playing time right now.
DH:  I think Nikita Nesterov is lost on defense. Slater Koekkoek has the skills to help but he needs more games under his belt.
SD: When Nesterov has played forward he seems to be a natural fit at the position, but he's been playing there because of injuries and I don't foresee a situation where one of the team's forwards would be sat for him. I agree that Koekkoek has the ability and at 22-years-old with just 41 games of NHL experience, he will need more time to develop at this level. I think you have seen Koekkoek being played in place of Nesterov because Cooper wants Koekkoek to get that experience now.
Providing a Prognosis
Whatever happens in the second half of the season for the Lightning, one thing is certain. Each game takes on more importance. The Metropolitan Division is playing lights out and that may mean only three teams come from the Atlantic into the playoffs.
As it stands right now, the Lightning are four points behind the Ottawa Senators for that coveted third spot in the Atlantic. One problem is that they would have to leapfrog over both the Toronto Maple Leafs and the Florida Panthers. The team is home for two games this week before a six game road trip out west. By the time the team returns home, whatever postseason chance they have will be more evident.
If they find some passion and consistency in their play, they could be dangerous. If not, the team could be in for some changes in their house.