Ever since the days of Curtis Joseph and Ed Belfour, the Toronto Maple Leafs have struggled to find a goalie that could play to the standards of being an NHL starter. Luckily, their latest gamble on Frederik Andersen appears to have paid off, and while he stumbled to start the season, has quickly turned things around.
Andersen could be Toronto's starting goalie for the next five years and possibly longer if the Leafs re-sign him. That said, the goaltending problem for the Leafs isn't long term — the problem is now.
The lack of confidence in the backup goalies has been clear in just how often Andersen is being played. Sure, some goalies have shown an ability to play an excessive amount of games: the best example being Martin Brodeur. From the 1997-98 season to the 2007-08 season, Brodeur played at least 70 games with the most being 78 games in the 2006-07 season.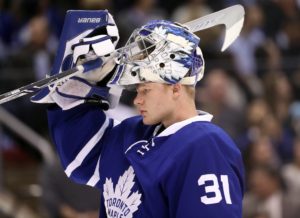 But that was Brodeur and I don't believe that Andersen can play that much for the Leafs. In fact, no goalie could play that many games if they faced as many shots as Andersen has this season. At their current pace, the Leafs risk overplaying Andersen. He will grow more tired, will unlikely be at his best, and it puts him at higher risk of injury. With the Leafs on the verge of a playoff spot, they simply can't lose Andersen.
So, the Leafs need a reliable backup goalie to support Andersen and give Toronto a chance at a win every night. The question now is, can Curtis McElhinney be that goalie?
Third Time's the Charm
In a continued attempt to find the answers, the Leafs have once again claimed a player off waivers. This time it's a goalie.
Leafs have claimed Curtis McElhinney.

— James Mirtle (@mirtle) January 10, 2017
So far the Leafs have tried Jhonas Enroth and Antoine Bibeau in the backup role. Despite Enroth being the best option last summer, he didn't manage to impress anyone in the four games he started. He was quickly waived and now is just swapping bench duties in the NHL and AHL.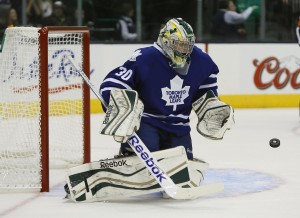 Bibeau was attempt number two. He's only played two games and has looked okay considering the small sample size. The problem is he's only 22 and management doesn't believe he should be given full-time backup duties in the NHL yet. This has resulted in Bibeau going back and forth between the NHL and AHL. This is so that he can get some AHL games in while the Leafs play Andersen over a stretch of games.
There was also Karri Ramo. He was given a professional tryout contract with the Toronto Marlies but hasn't impressed anyone in his three games with the team.
So now, in comes McElhinney as the third goalie to give it a shot as the Leafs backup.
The Countdown Starts
With the way that the Leafs have handled players like Enroth and Seth Griffith, it's only a matter of time until the Leafs waive McElhinney. He has made a career out of being a backup goalie which means he won't be shocked by the Leafs expectations. It just looks unlikely that McElhinney can play to the Leafs' standards.
McElhinney has played seven games and started in five of them for the Columbus Blue Jackets. From that, he has posted a 2.39 goals against average and a .924 save percentage. Now that may seem promising, but keep in mind, he was playing behind the best team in the NHL this season.
Now the Leafs aren't in last place team like they were last season. But, the team is still terrible defensively and heavily relies on outstanding goaltending to stay in games. They are also getting outshot in most games. This is what McElhinney will be coming into and his performance over his career doesn't inspire hope.
In 154 NHL games, McElhinney has a 2.96 goals against average and a .905 save percentage. The real problems start to show when looking through his save percentages over his career. His best year was in 2014-15 with Columbus when he played 32 games and had a .914 save percentage. In the seven seasons that he's played more than 10 games, McElhinney has only had three seasons with a save percentage above .900.
The Leafs have another back-to-back this weekend with the New York Rangers on Friday and the Ottawa Senators on Saturday. McElhinney is bound to play one of those games so that the coaching staff can evaluate him. He needs to get a win as soon as possible to have a chance at staying with the team.
Enroth only started four games with the Leafs before getting waived. Now it's McElhinney's turn. The countdown is on and it's up to McElhinney to put a rest to the Leafs's backup troubles.