On Friday night, prior to their game against the Columbus Blue Jackets, the Tampa Bay Lightning will retire and raise the first number in franchise history. Despite his unceremonious departure from Tampa in 2014, the organization is making the correct decision by making Martin St. Louis' #26 the first ever to be retired and hung in the Amalie Arena rafters.
It is fitting. It is the right move because in the 24 seasons the Lightning have been playing in the NHL, St. Louis is the best player to ever don the Bolt jersey. That is not to take away a thing from Vincent Lecavalier or Steven Stamkos, who are in that conversation.
Both Lecavalier and Stamkos were drafted number one in their respective draft years. Not just number one by the team but overall number one in the NHL in their draft years. Expectations were already there for both Vinny and Stammer. In fact, it is safe to say that the only person on the planet who had any expectations for Marty was St. Louis himself.
[irp]
No Expectations
You see, St. Louis was undrafted. There isn't a more telling "thanks, but no thanks" to a player from the NHL than not being drafted. The message was that he wasn't good enough. Thank goodness for those of us who enjoyed his 13 seasons with the Lightning, that Marty turned a blind eye and a deaf ear to that sentiment.
Playing for Cleveland in the International Hockey League, St. Louis was offered a deal with the Calgary Flames and finally made the NHL in 1998. Bouncing up and down between the NHL and the AHL for a couple seasons, Calgary ended up buying out his contract.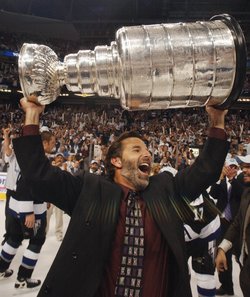 The Flames' short-sightedness turned into a long-term benefit for the Lightning, who signed St. Louis to a deal in 2000. A season later, Tampa Bay hired John Tortorella as their coach, and St. Louis finally had a coach who believed unconditionally in the skills of this 5-foot-8 forward.
The confidence Torts showed in Marty was repaid with an incredible work ethic that turned St. Louis into a future Hall of Famer. In his 13 seasons with Tampa Bay, his resume is chock full of achievements that most hockey players only dream of accomplishing.
Filling the Trophy Room
He played in six All-Star games and was a First Team NHL All-Star in the 2003-04 season. St. Louis was named to the NHL Second Team in four other seasons. Marty won the Art Ross Trophy (NHL point leader) in that same magical Lightning season.
Amazingly enough, he won his second Art Ross Trophy nine seasons later. Only two players in NHL history won their first and last Art Ross Trophy more seasons apart than St. Louis. That is a longer spread than anyone in NHL history not named Gordie Howe or Wayne Gretzky.
As tenacious as he was as a player, St. Louis won the Lady Byng Trophy for the league's most gentlemanly player on three different occasions. There is also a Lester B. Pearson Award (for the most outstanding player voted on by players) and a Hart Trophy (MVP) on his mantle.
From a franchise standpoint, Marty is second in games played with 972. Only Lecavalier, with 1,037, played in more games for the team. St. Louis is the team's all-time leader in points with 953 and number one in assists with 588 helpers. St. Louis is second behind Lecavalier in goals with 365.
[irp]
Stanley Gets a Tan
As a Stanley Cup champion, Marty was an integral part of the only Cup in Tampa Bay's history. What Lighting fan will ever forget the game-winning Game 6 goal in the second overtime? The Lightning were down three games to two and facing an inglorious end to their season when Marty snapped a shot past Calgary's Miikka Kiprusoff.
That goal sent that series to Game 7 in Tampa, giving his team the chance to win the Stanley Cup. That championship helped build the Hockey in Paradise reputation now enjoyed by all of us in the greater Tampa Bay area.
As an undrafted player, none of this was supposed to happen for St. Louis. He defied the odds and he didn't listen to the naysayers. He simply worked his butt off year in and year out for 16 NHL seasons. For those who may not know, his off-season workouts were legendary.
What it All Means
Perhaps the reason that fans feel so strongly about their favorite sports teams is that it is human nature to want to be a part of something bigger than oneself. When one's favorite team wins a championship, as the Lightning did in 2004, there is something that remains etched in people's minds forever.
St. Louis played such a big role in that wonderful Lightning season. For that and all the games, goals, assists and most importantly, the memories he gave to all Lightning fans for well over a decade, raising his number is the least the team can do for the best player this franchise has ever had.
It will be good to see Marty along with Vinny, Stammer, Dave Andreychuk and Fredrik Modin among others in Amalie Arena. Those memories will come back full blast to all the Lightning faithful Friday evening. Once the song by The Kingsmen, Louie Louie, begins playing it'll take most of us back to our favorite Marty St. Louis moments with the Tampa Bay Lightning.
There are so many to choose from, and that is yet another reason why retiring 26 is the right call by the Lighting.
Born in Chicago, Illinois. Grew up playing and loving sports. Spent most of my formative years playing, debating, arguing and talking sports. for the last couple of years I have written about hockey. I am currently a Tampa Bay Lightning contributor for The Hockey Writers. I know that I may not always be right, but I am passionate about hockey and it is damn hard to hide that passion in my writing.