All it took was Minnesota's Jared Spurgeon shoving Gustav Nyquist into the boards and the Detroit forward retaliating for the internet to blow up. In particular, Twitter exploded when Nyquist waved his stick in the direction of Spurgeon – catching the Wild defenceman under the visor and in the face.
No, Nyquist hasn't been suspended in his NHL career. No, he's never received a major penalty in his NHL career. But this latest incident will definitely require resolution from the league's Department of Player Safety.
For those who haven't seen it, here's how the play unfolded.
Nyquist: Lapse in Judgement?
Spurgeon did bump Nyquist into the boards. While the Detroit forward went in kind of awkwardly, he bounced right back up and fired back almost immediately. He turned, stick raised to shoulder level, and caught Spurgeon in the cheek with the blade.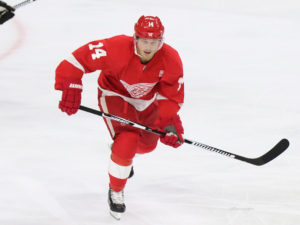 According to TSN's Frank Seravalli, Nyquist told reporters after the game that he had no intention of high-sticking Spurgeon. In fact, you could see his regret right away following the incident.
Nyquist was handed a four-minute double minor on the play, which incensed the Wild bench and coach Bruch Boudreau. A number of those discussing the incident on Twitter were figuratively up in arms when Nyquist was allowed to remain in the game. However, there isn't really a rule in the league's book that allows for a match penalty for high-sticking. But, as Seravalli explains, there are ways around that particular call.
"Nyquist could – and should – have been assessed a match penalty on the play for a high-stick which 'attempts to or deliberately injures an opponent while carrying or holding any part of his stick above the shoulders of the opponent,' according to Rule 60.4," writes Seravalli.
Even if Nyquist didn't intentionally hit Spurgeon in the face, his lack of control with his stick is reason enough for the DoPS to take another look at this play and subsequent action. Whether it was a lapse in judgement or not, this will be a good test to see how the DoPS sees actions like this from a player who isn't considered a repeat offender under league rules.
What Should the DoPS Do?
Realistically, the high-stick was dangerous enough that the DoPS should be handing down a lengthy penalty to Nyquist. The fact that his stick was intentionally swung towards Spurgeon shows a lapse in judgement and should be disciplined accordingly.
How long will the DoPS suspend #RedWings Gustav Nyquist? #THW #NHL

— Tape2Tape (@Tape2TapeTHW) February 13, 2017
We've seen it so many times before. Sticks can be used properly or they can used as weapons. Just ask Marty McSorely and Donald Brashear. That being said, the DoPS will look at Nyquist's history. Aside from a $2,000 fine for diving back in December 2014, he has no history of poor judgement on the ice.
On top of that, Spurgeon did return to the ice just 2:34 after the incident and that will also play into the decision of disciplinary committee.
In saying that, the DoPS can't simply fine Nyquist either. His decision to use his stick recklessly and swing it without concern for the repercussions should be penalized.
A number of fans are calling for an eight or 10 game suspension. However, with the history of how the DoPS has handled other on-ice miscues like Brad Marchand's slew foots, don't be surprised to see a three or four game ban by the league.
UPDATE (as of 8:00 p.m. February 12): Nyquist has been offered an in-person hearing which allows the league to hand him a suspension of five or more games.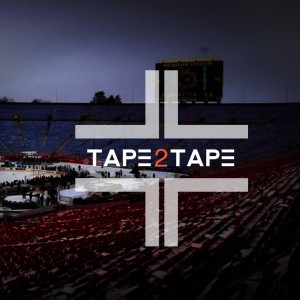 Have some thoughts about the column? Let me know on Twitter at @AndrewGForbes or @Tape2TapeTHW.
Tape2Tape is a column looking at some of the biggest stories from around the world of hockey. Discussing different topics, it focuses on delivering some opinion to hockey's biggest fans. Whether you agree or disagree, we would love to hear your thoughts.