The Detroit Red Wings always seem to find the gems late in the NHL draft – a skill they've been praised for over their storied history. The Pittsburgh Penguins draft history, however, hasn't really been analyzed in-depth – until now.
It was The Hockey Writers' editor-in-chief, Bruce Hollingdrake, that brought an interesting stat to my attention. No player drafted by Pittsburgh since 2007 has scored more than 15 goals for the Penguins.
https://twitter.com/GregTrietley/status/466434478517534722
https://twitter.com/GregTrietley/status/466435662502432769
https://twitter.com/GregTrietley/status/466436983548837888
Now, unless the Pens trade Olli Maatta and Beau Bennett in the coming months, this trend will likely be broken at some point next season. But given that it's been roughly seven years since Pittsburgh's drafted a sure scorer, it's no wonder the team has struggled come playoff time.
As a result, the pressure for success has landed on guys like Sidney Crosby, Evgeni Malkin, and James Neal. While they are – without a doubt – the star players on a talented Pens group, eventually the team will have to find them some secondary support.
What brings their drafting into question even more, is the fact that only five players drafted by the Penguins since 2007 have played in more than 10 games for the team – an inexcusable stat for members of the Penguins' front office.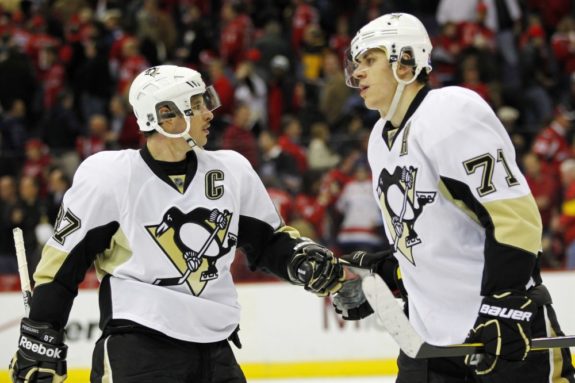 There's no question that Pittsburgh drafted arguably two of the top players in the league in consecutive years with Malkin (second overall in 2004) and Crosby (first overall in 2005). Since then, however, the team's first-round picks have either been moved or haven't had a full opportunity to develop (yet).
In 2007, Angelo Esposito was taken 20th overall by the Penguins. He spent the 2013-14 season play with Bolzano HC in Austria. Their first pick in 2009 left them with Simon Despres at 30th overall. Now he's recorded 16 points (3g-13a) in 85 games with the Pens. While he's had his literal ups and downs with the franchise, he's one of the few Pittsburgh picks that has shown some sign of success at the NHL level.
Beau Bennett was drafted 20th overall in 2010, followed by Joe Morrow at 23rd in 2011. While Bennett's played a part in the Penguins lineup since 2012-13, Morrow was moved by the team and currently plays for the Providence Bruins of the American Hockey League.
Their only other first-round picks came in 2012 when they took Derrick Pouliot with the eighth overall pick and Olli Maatta with the 22nd overall pick. While Pouliot remains a member of the WHL's Portland Winterhawks, Maatta has had a better year than anyone could've expected with a 29-point rookie season and an Olympic appearance for Finland.
As I mentioned, Maatta and Bennett could end this terrible trend of drafting for the Penguins if they can come out and stick with the big club in 2014-15, but something has to change for the Pittsburgh franchise. Aside from their no-doubter pick in 2005 of Sidney Crosby, the team has struggled when it comes to picking NHL-calibre players. Are Maatta and Bennett the answer? Or will Ray Shero have to go before their drafting turns around? Either way, the Penguins are in control of their own fortunes.
Thoughts and Shots
'Konniving' KHL
Sneaky, sneaky – that's the one single word that I can use right now to describe Russia's Kontinental Hockey League. I mean, we all know that the likes of Taylor Hall and Nathan MacKinnon were never going to play in the KHL even though they were drafted by teams in that league.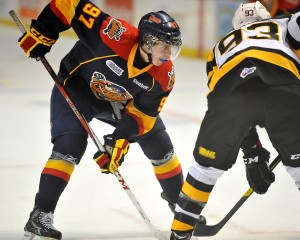 And so the saga continued when Croatian club, Medvescak Zagreb, drafted 17-year-old OHL phenom Connor McDavid in the second round, 77th overall in the KHL draft. But, as TSN reports, don't expect McDavid to head overseas.
"It was pretty cool honestly to get drafted over there, but by no means is that the end goal at all," said the Erie Otters forward.
Instead, McDavid will look to continue improving his hockey skills and size heading into his draft year and push to remain the front runner for first overall in the 2015 NHL Entry Draft. What were you thinking Medvescak, you had to know you'd be wasting a pick.
Leafs Don't Like Carnivals
Trotz, Muller, Tortorella, and Oates are just some of the names that teams have made available by relieving them of their coaching duties. The Toronto Maple Leafs, however, decided to stay off the coach carousel and stick with the what they already had.
Many expected coach Randy Carlyle to lose his job behind the Leafs bench after a tumultuous end to 2013-14, but the team responded by signing the former Cup winner with a 2-year extension. They fired his assistant coaches, but I can only assume that he will be on a tight leash heading into next season.
Something has to change with the Leafs. Along with giving up the most shots per game, they are near the bottom of the NHL in shots for per game. That's certainly not an equation for winning. Heck, even I questioned Carlyle's future with the team in an earlier article – really doubting that he'd be back.
I said he needed to change the way he approached his game plan – that he needed to have his defensive zone coverage focus more on the point shots. I stand by that. But the team needs to find some help this offseason in the form of another top-six forward or a top-four defenceman. Otherwise, don't expect Carlyle to stick around for too long.
Playoff Obituaries
Goodbye and so long to the Pittsburgh Penguins and Minnesota Wild. These two franchises made it this far, but will bow out of the second round of the Stanley Cup Playoffs.
Pittsburgh has left me speechless. Up 3-1 in their series against the New York Rangers, the Penguins lost Game 6 (3-1) and followed that up with a loss at home in Game 7 (2-1). Henrik Lundqvist played so well, and the Pens offensive talent didn't. It's as simple as that. But with more, here's The Hockey Writers' Jason Bisnoff with his Rangers' take.
As for the Wild, what a way to lose. While many waited and waited to blame Ilya Bryzgalov for a terrible game, he literally kept Minnesota in the playoffs at times with his goaltending. But who can ever stop Patrick Kane in the playoffs in overtime.
He has four career overtime winners in the playoffs including last night's ridiculous bounce and last year's Cup winner. There's no doubt that this season was a success for Minnesota. Of course they want more – every team does. But they took a step forward and, hey, get rid of Heatley and they might be that much better.
But there is no question in my mind, these have been the best NHL playoffs in some time. And there's even more to come. Until next time, from Tape2Tape.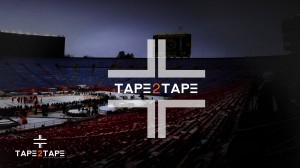 Have some thoughts about this week's column, let me know at @AndrewGForbes on Twitter or on Google+.
Tape2Tape is a column looking at some of the biggest story lines from around the world of hockey. It discusses a few different topics, with focus put on one major story. Agree or disagree, writer – Andrew Forbes – would love to hear what you have to say.