With less than two weeks left in the 2013-14 NHL regular season, the Toronto Maple Leafs and their fans will have to settle for another year without playoff hockey. For a franchise that just recently found their way back into the postseason last year, the Leafs looked like they were going to make it back-to-back playoff births – until their eight-game losing streak in March.
The losing streak not only forced the Leafs out of a playoff spot, but it revealed holes in their system and weaknesses that will need addressing over the offseason. In fact, it raised questions that general manager Dave Nonis will have to answer to if his team wants to find their way back to the NHL playoffs next season.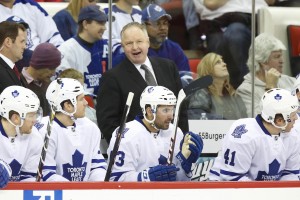 Will the Maple Leafs fire Randy Carlyle?
Arguably one of the biggest questions surrounding the blue and white is whether or not head coach Randy Carlyle will be back as the team's bench boss in 2014-15. After all, he's been highly criticized over the past few months for many on and off-ice issues with the team.
While he can't exactly be blamed for the team's lack of intensity on the ice, his defensive system has created a high volume of frustration among fans of the team. It's the same system that led to their demise in game seven of the 2012-13 playoffs against Boston – leaving the points open and giving up far too many shots.
Now don't get me wrong. In no way am I saying that Carlyle is not a suitable coach. He won a Stanley Cup as head coach of the Anaheim Ducks in 2006-07 and made the playoffs in five of his seven seasons with the team. But like the team's he's coaching for, the NHL has changed. It's a different game with much different players and his system needs to be altered.
In two-plus seasons with the Maple Leafs, Carlyle has a 70-60-16 record. He's made the playoffs once, during his tenure. Now it certainly seems like he'll be the scapegoat for a disappointing season – but does he deserve to lose his job?
I'm not the one to answer that. In fact, none of us really are. But Carlyle has proven his success on and off the ice. As a player, he was a Norris trophy winner. Perhaps it's the inexperience of the Maple Leafs or they lack of determination to compete as a team, but whatever the case, Carlyle won't be the first or last coach to lose his job because of the lack of success from a young team. General manager Dave Nonis will certainly have a tough decision to make this offseason.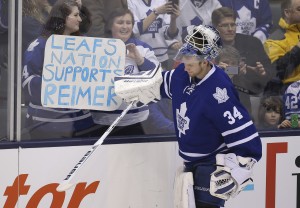 Will he stay or will he go?
It's certainly been a tough ride this season for Maple Leafs' goaltender James Reimer. One year after shouldering his team to a game seven loss against the eventual Eastern Conference champion Boston Bruins, Reimer's spent most of this season at the end of the team's bench.
Forced in on multiple occasions to man the net while Jonathan Bernier sat out with injury, Reimer's been vilified in the news and on social media for his play.
Following this season, Reimer will become a restricted free agent, which is key to answering this question. While many assume the goaltender would love to get a fresh start somewhere other than Toronto, the team will have the final say if another franchise makes a bid for his services.
No goaltender wants to be yanked from the starting role and forced into the backup job. Reimer is obviously no different. While he's been forced into that role, he's maintained a good attitude amongst his teammates congratulating and encouraging them while on the ice and when he's been on the bench.
Reimer on if he'll ask for trade: "Let's wait a couple of days before we talk about that. Obviously, it's a fair question."

— Mark Masters (@markhmasters) April 9, 2014
So the question remains, will Reimer return to the blue and white next season? It would certainly be nice for fans and management to know that they have an experienced backup or the ability to run a 1A-1B goalie system if the situation calls for it.
It won't be the ideal job for a young player looking to take on the starting role, but it could be just what the Maple Leafs need – a leadership role on and off the ice – to take the next step and find their way back to the playoffs.
Where lies the leadership?
He's recorded 31 points (8g-23a) in the 78 games he's played this season. He has his best plus-minus rating since coming over to the Maple Leafs from Calgary. Still, Dion Phaneuf has been called out for his leadership on a young, inexperienced Maple Leafs squad.
Phaneuf actually called in to our station to respond to @timandsid. Gotta say that's a smart move by the captain to respond to the criticism

— David Alter (@dalter) March 26, 2014
Most recently, he was criticized for not talking to the media following a Leafs' loss. Questioned for his effort on the ice and leadership off the ice, it was one of the less talkative Leafs that commented on Phaneuf's leadership.
"Obviously there's a lot of pressure for Dion, right, because you guys, every day you want to hear what he has to say," said Phil Kessel in an article by National Post reporter Michael Traikos. Dion's a fun guy in the room, everyone loves him here. We all support him."
In the end, that's what a team wants. Someone who supports them and someone they can get behind. In Toronto, that will be the case for some time with Phaneuf inked to a long-term deal. Whether or not fans like Phaneuf wearing the 'C', it's the young players who will have something to say about it.
"He's a great captain, a great guy to be around," said first-year defenceman Morgan Rielly in the Traikos article. "He's always positive, trying to get the guys going. I personally really enjoy playing with him. He's been a huge influence on me. He's always trying to help me out."
So don't expect another captain in the near future for the Leafs. In fact, as the team becomes more experienced, so too will Phaneuf as a leader of the historic NHL franchise in this extremely impatient market.
Will the Leafs pay for experience?
When the Leafs went out to get Dave Bolland at this year's draft, they were trading for experience and veteran leadership. He's a two-time Stanley Cup winner and plays with the grit needed to win championships.
There's no question that he's had a season to forget. He suffered an freak injury only 15 games into his first season with the Leafs and only recently returned to the lineup.
While he's put up 12 points (8g-4a) in 23 games this season, his future with the team remains unknown. Bolland's contract – which was signed in 2009 with the Chicago Blackhawks – expires at the end of this season and he'll be looking for a pay raise.
Just to be clear, I have nothing against Bolland. My point is that talk of him somehow being this team's identity (or worth $30M) is crazy.

— Down Goes Brown (@DownGoesBrown) April 6, 2014
Even with his lack of appearances this year, his experience and his forechecking ability will be an asset on the open market. But will the Maple Leafs be willing to pay for this sort of leadership in the dressing room?
If they are going to resign the 27-year old veteran they'll have to realize that money will be tight. With Bolland looking for close to $5-million per year and a long-term deal, it might be something the Leafs aren't ready to commit to – and something they shouldn't even consider unless he's willing to change his stance.
How can the team improve overall?
For a team that gave up the third most goals against so far this season (251), you'd think that goaltending was their first step to improving. Wrong. What the Maple Leafs will need to look at this offseason is cementing their blue line – a group that certainly struggled all season in giving the opposition far too many opportunities.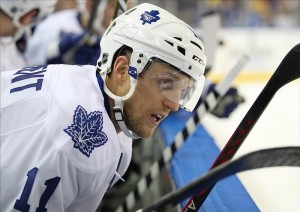 Phaneuf might be a good leader – as was alluded to earlier – but he needs help when it comes to fighting off the opposition's top lines. On most NHL franchises, Phaneuf would slot in at the three or four position. What the Leafs need is a top-two defender.
On top of that, the Leafs need to consider resigning penalty kill specialist Jay McClement. A free agent at season's end, he's a cheap solution for something the team has struggled with over the past few seasons – killing penalties.
Other than that, the team needs experience. The Leafs are filled with youth and inexperience – Bernier, Reimer, Rielly, Jake Gardiner, and Nazem Kadri – all of whom need some more time to develop. They need to build from within their organization from good drafting to developing their young players – the way the Detroit Red Wings have finding their way to 23 straight playoff seasons.
With all of that in mind, Dave Nonis and his management team look to have a busy offseason in the coming months.
Questions or comments, leave them below or follow Andrew on Twitter @AndrewGForbes or Google+.