Who Is Mikhail Grabovski?
Mikhail Grabovski, aka "Grabo," is a centreman who plays for the Washington Capitals.  He is a 2004 fifth round draft choice of the Montreal Canadiens.  He was signed by the Washington Capitals last summer as an unrestricted free agent after he was bought out by the Toronto Maple Leafs.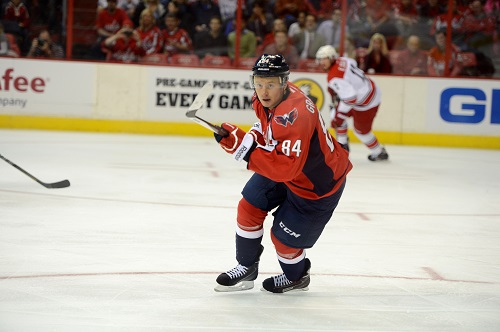 Grabovski, 30, is a speedy centre who can play in a top six role for any club.  He is a finesse player who does not mind getting into the corners and in the dirty areas of the hockey rink.  He has a sneaky release and pretty good hockey-IQ.
He is coming off an expiring one year deal that pays him $3 million dollars.  The Washington Capitals brought him in originally to play the second line centre position.  Grabovski has brought some much needed secondary scoring to the Capitals lineup.  Grabovski can be used as a centre or winger, and he can play on the powerplay and penalty killing units.
Let's take a look at his career statistics:
Grabovski Statistics:
Courtesy: hockeyDB
NHL Comparables/Cap Hits (Capgeek):
Tyler Bozak (TOR): $4.2M
Tomas Plekanec (MTL): $5M
Mike Fisher (NSH): $4.2M
Valtteri Filppula (TB): $5M
Travis Zajac (NJ): $5.75M
My comparables are ranked as 2nd line centres around the NHL.  They are all in the 28-33 age range.  The average for all of these contracts is $4.83 million dollars.
Grabovski is due for a significant raise and extension during the summer.  He has only played 55 games for the Capitals this season due to some ankle injuries.  He has registered 13 goals and 35 points and has a +7 rating on a mediocre Capitals team.
What Should the Caps Offer?
Term: 3-4 years
Dollars: $4.5-5M
Top Dollar (not a penny more): $5.5M
Analysis:
Grabovski in an integral piece for the Capitals future.  With limited depth in the pipeline at centre, the Capitals should try and lock him up for a little while.
Grabovski has been a consistent 20+ goal scorer and 50 point producer when he has been healthy.  He has had a turbulent relationship with previous coaches in the past, but he seems to enjoy playing with Alex Ovechkin and the Capitals.  His style of play fits the mold of how the Washington Capitals want to play.  The second line centre position has haunted Washington for several seasons up until this season.  Grabovski fills a slot in the lineup that until now Washington has had difficulty filling.  It looks as if the Capitals will have plenty of room to spend for next season, so there should be no issues getting this contract done.  Now, if only they can fix the defensive core…
Thanks for tuning in!