The 2014 NHL Entry Draft in Philadelphia is still hours away, but that hasn't stopped Canucks' GM Jim Benning from getting a head start of the general manager duties. Everyone knew that Benning was coming into a tough situation in Vancouver when he took the job of rebuilding what Mike Gillis had left behind.
From the Luongo-Schneider debacle to the 'Kesler wants out' rumours and more, Benning didn't have much choice but to choose the path of rebuilding. Now fans in Vancouver, rest easy. Benning's had the chance to work in a winning environment in Boston for the past number of years. So one can only hope that his experience there might follow him to his new home with the Canucks.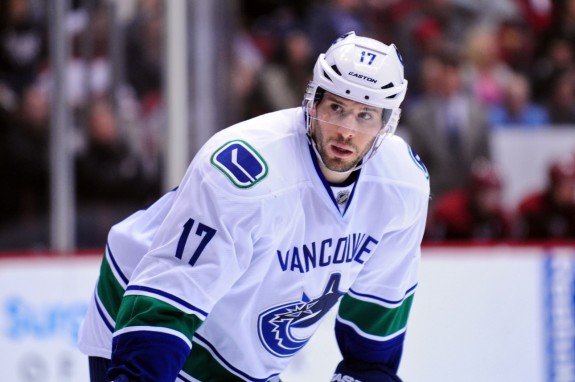 Let The Rebuild Begin
One thing is for sure though, Benning didn't waste any time in making the big deal. You know, that one that people will look back on and question for his entire tenure with the franchise.
Kesler on Vancouver: 'last year, that season was tough on all players that played for the Canucks…that season was painful to be honest.'

— Helene Elliott (@helenenothelen) June 27, 2014
Heading into the draft on Friday, the first-time NHL general manager pulled the trigger on a deal that sent that so-called unhappy Canuck packing. He dealt Kesler and the team's 2015 third-round pick to the Anaheim Ducks that saw the Canucks receive forward Nick Bonino, defenceman Luca Sbisa and Anaheim's 2014 first- and third-round picks.
In Kesler, the 'Nucks gave up a 29-year old who put up 43 points (25g-18a) in 77 games in 2013-14. Kesler has two years remaining on the six-year deal he signed back in 2010 with roughly $10-million still owed to him.
BREAKING: Canucks trade C Ryan Kesler to Ducks. Vancouver receives Nick Bonino, Luca Sbisa, and 24th overall pick in Friday's draft.

— SportsCenter (@SportsCenter) June 27, 2014
In return, Benning got back 26-year old Bonino who recorded 49 points (22g-27a) in 77 games last season and added eight points (4g-4a) in 13 playoffs games. Sbisa, 24, only played in 30 games in 2013-14 and recorded six points (1g-5a). Bonino recently signed a three-year deal worth $5.7-million, while Sbisa still has one year left on his deal with a cap hit of close to $2.2-million.
Benning also moved Jason Garrison, who waved his no-trade clause, along with the rights to forward Jeff Costello and the Canucks 2015 seventh-round pick to the Tampa Bay Lightning for Tampa's second round pick in this year's draft (2014). Finally, with the 85th overall pick in this year's draft (acquired in the Kesler deal), Benning acquired Derek Dorsett from the New York Rangers. Dorsett's 2014-15 cap hit is slightly higher than $1.6-million.
Not only did the Canucks get younger with these deals, but they opened up some cap space heading into July 1. But what does that mean for the Sedin twins?
Should They Stay or Should They Go?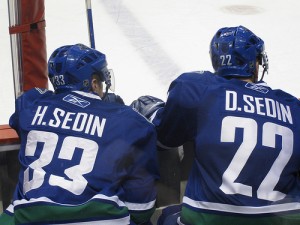 With Friday's Kesler trade, Benning's statement is simple. The Canucks are prepared to rebuild and find a way of making things happen with a younger, less experienced team. So what should be the plan for the Sedin brothers who are now 33 years old and have yet to win hockey's Holy Grail?
Henrik and Daniel just signed matching four-year deals worth $28-million that keeps them in Vancouver until the end of the 2017-18 season. Oh, and did I mention that both contracts have matching no-movement clauses?
Surely, the twins want to have another crack at the big trophy – the one that eluded them in that heartbreaking series loss to the Boston Bruins. But the next four years seem hopeless for Vancouver fans – at least that's the way it seems at this present time.
Certainly the outlook can change with the addition of a big-name free agent or some great drafting, however, I'm not sure that's enough to keep the Sedins in Canuck uniforms. Maybe Henrik and Daniel will be the next Kesler in Vancouver – wanting out. It's far to early to make any assumptions or start any kind of rumour (besides that's not what I'm here to do). But one thing is for sure.
The Kesler trade, along with another minor move by Benning, have many thinking that this is a new beginning for the Vancouver Canucks – one that could take a while to get back to the glory days. Don't hold your breath Vancouver, this could be a long and painful rebuild.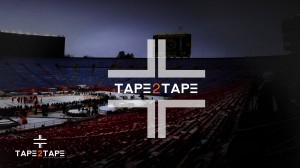 Have some thoughts about this week's column, let me know at @AndrewGForbes or @Tape2TapeTHW on Twitter.
Tape2Tape is a column looking at some of the biggest stories from around the world of hockey. Discussing different topics, it focuses on one major story each week. Agree or disagree, writer – Andrew Forbes – would love to hear what you have to say.