In 2014-15, the NHL set it's salary cap at $69-million – but any hockey fan already has that number engrained in their head. Instead, there's a larger question – not just for this season – that surrounds the discussion of the NHL's cap era. Will there ever be a player that commands a max contract under the NHL's Collective Bargaining Agreement?
According to the NHL, "no player may be eligible to contract for or receive in excess of 20% of the Club's upper limit in total annual compensation (NHL salary plus signing, roster, reporting and all performance bonuses)." In other words, with this year's $69-million cap, the maximum a player signed this season can earn is $13.8-million with bonuses included.
With all these numbers aside, will there ever be a player that reaches that 20% plateau? Personally, I think it's safe to assume that there will never be a max contract in the NHL.
Top 5 Salaries
According to CapGeek, Nashville's Shea Weber currently has the highest salary heading into next season. He, along with Sidney Crosby, are the only two that will come in over $12-million. Meanwhile, Zach Parise, Ryan Suter, and Henrik Lundqvist will bottom out the five highest paid players in 2014-15 – each earning $11-million.
Shea Weber (NSH) – $14,000,000
Sidney Crosby (PIT) – $12,000,000
Zach Parise (MIN) – $11,000,000
Ryan Suter (MIN) – $11,000,000
Henrik Lundqvist (NYR) – $11,000,000
Now, as it's explained, a players salary for the entirety of their contract cannot exceed the maximum player compensation of the year that they signed the contract. In other words, Shea Weber signed his contract in 2012 when the cap was $70.2-million and the player maximum was just over $14-million. Crosby, on the other hand, signed his in 2013 when the cap was $64.3-million – therefore leaving player maximums just shy of $13-million. So while Weber will be able to enjoy his higher salary, players that signed this offseason won't be able to exceed $13.8-million.
Nonetheless, if the cap were to rise to $80-million in the next few years, players would be able to sign for well over $14-million, while Weber is unable to re-negotiate the terms of his long contract – remaining at $14-million for the remainder of his deal.
Now, assuming the salary cap will continue to increase over the next few seasons, player salaries will likely spike as well. However, with arguably the best players in the game locked up long term, their salaries won't change anytime soon. By the time their contracts end they will likey be past their prime – barring a miracle – and won't command the same kind of intrigue on the free agent market. There goes their bargaining chip, and there goes their chances of becoming the first max salaried players.
So who's next – Nathan MacKinnon? Seth Jones? Or will Connor McDavid become the first max player?
The Best of the Next… Generation
Last season, Nathan MacKinnon led all NHL rookies with 63 points. He was followed by Lightning forwards Ondrej Palat (59) and Tyler Johnson (50) and Boston's unsigned defenceman Torey Krug (40).
Currently, MacKinnon is still fulfilling his entry-level contract with the Colorado Avalanche – his salary coming in at just under $1-million mark (thanks to his performance and signing bonuses). Palat and Johnson, however, just signed identical three-year contracts.
Tyler Johnson finished tied w/Nathan MacKinnon for 1st in goals (24) among rookies. Reward: 3-year contract w/#TBLightning. Well deserved.

— Pete Jensen 🏒 (@NHLJensen) May 23, 2014
Both Lightning sophomores will enter 2014-15 with salaries of $2.8-million which will max out at $4-million in 2016-17. On the other hand, Boston has yet to sign Krug. However you'd have to consider the Bruins crazy if they even considered the max with the young defenceman.
For MacKinnon – who is expected to have a good, or rather great, NHL career – a max contract might still be out of the question. While he did finish fourth on the Avalanche in scoring during his rookie campaign, the three that finished ahead of him (Matt Duchene, Gabriel Landeskog and Ryan O'Reilly) all are being paid under $6-million this coming season.
When MacKinnon's entry-level contract expires in 2015-16, he'll likely get a nice raise that will remain in the $6- to $7-million range. At that time, assuming the league's revenue continues to increase, the league's cap will also be much larger than the $69-million it sits at for this upcoming season. Whatever the case, he will certainly not be paid the nearly $14-million it would take to meet the max contract.
Will There Be a Max Player in the NHL?
The easy answer is no. There simply isn't anyone worth that kind of money. As we all saw this past offseason, some NHL clubs decided to spend feverishly – paying some players far more than they people expected. Still, nobody was handed anything close to a max contract.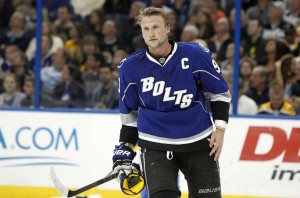 Now, Subban's $7-million contract could be the first in a new movement of larger contracts – after all, he does have a higher cap hit than Crosby and he'll max out at $11-million during years three and four of his eight-year deal. But assuming Steven Stamkos will be the only superstar up for a new contract in the next five years, there will be no max contract anytime soon.
Stamkos' contract will end in July 2016 – at which time the Lightning forward will be 26 years old. Currently he has two years left on his deal at $8-million and $5.5-million. At $8-million, he will be 11.5% of Tampa Bay's overall salary cap this coming season. When he becomes a free agent following the 2015-16 season, he'll certainly be the only possible candidate for a max contract.
Like the others however, even though he'll see a raise, Stamkos won't become the first max contract in the NHL. Why? It's because 20% of a team's salary is just too much to lock up in a single player.
Take Chicago, for example, who will pay both Patrick Kane and Jonathan Toews $13.8-million in 2015-16. For argument sake, let's say the cap jumps to $72-million. Chicago will have just over 38% of their cap locked up in two players. If they were to give even one of these players the max (of a $72-million cap), they would then have over 39% of their cap locked up in these two forwards.
So will there ever be a max contract in the NHL. No. It's far too much to devote to one player who may be injured during any given season or might have an off year. If Crosby, Malkin, and Ovechkin aren't worth 20% of a team's cap, it's safe to say that no player will ever be worth the maximum compensation. Not even Steven Stamkos.
Thoughts and Shots
The newest dual-sport athlete is… Henrik Lundqvist? Don't worry Ranger fans, he isn't joining the ATP tour yet. But he's decided to train for the upcoming season by playing a little tennis. (CBC.ca)
Well, looks like Robin Lehner will have to wait at least a few more years before he earns that number one role in Ottawa. The Senators signed Craig Anderson to a new three-year extension that will run until the end of the 2017-18 season. (NHL.com)
Hey Jamaica, we've got a hockey team. It looks like Jamaica will be building an Olympic hockey team. Tryouts will be held in Canada and the Jamaican Olympic Ice Hockey Federation (JOIHF) will team up with former NHLer, Graeme Townshend. (theScore)
Jamaica is building its first Olympic hockey team, holding tryouts in Canada. http://t.co/IJff2UiFGe pic.twitter.com/OCveiIOkhm

— theScore (@theScore) August 23, 2014
Former Penguin and Russian national player, Aleksey Morozov, is officially retiring from hockey after spending the last nine seasons in the KHL. (Pens Labyrinth)
Is Hockey Canada staying away from the so-called 'cocky' players? Otherwise what other excuse do they have for not inviting Joshua Ho-Sang to the junior training camp? Maybe, they're forcing him to mature, or maybe he's just not a fit on the team. But is it too much to play the race card? (Montreal Gazette)
The Red Wings might have a tougher time extending their playoff streak this year and they'll be without the leadership of Nicklas Lidstrom. After retiring, the 44-year old won't be back to help with Mike Babcock's coaching team. He might return to the NHL in the future, but it won't be this year. (Kuklas Korner)
Time to get exciting Washington. Even if Ovechkin continues to dip into those minus numbers, at least the Capitals will be an exciting offensive team. Jakub Vrana will only add to that if he can score some of these in D.C. (Russian Machine Never Breaks)
This could be it for Edmonton prospect Tyler Pitlick. After being the 31st pick in 2010, he's played in 10 regular season games for the Oilers with one goal to show for it. If he doesn't make the team out of camp, could this be the end of the line for Pitlick in Edmonton? (Edmonton Journal)
No one knows how a player will come back from a concussion, but first-overall pick Aaron Ekblad says he's ready to go after suffering the injury at Canada's junior development camp.
"I had that little setback, so I'm just trying to get back into normal paces," says Aaron Ekblad.
But we'll see if Ekblad has any ill effects after the injury. Furthermore, will the Panthers let their prized prospect play again for Canada in the World Junior Championships? All we know is that Ekblad seems to be ready to get back to work in the hopes of joining his NHL franchise this season. (Toronto Star)
The Bruins are in a bad, bad spot. They lost back-up goalie Chad Johnson. They let Shawn Thornton walk and now they're having trouble clearing up spaces for their RFAs, like Torey Krug. So will they trade someone to get these RFAs signed? If they want to have a chance, they better. (Boston Globe)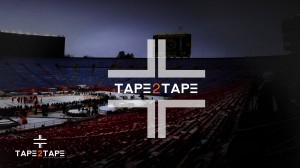 Have some thoughts about this week's column, let me know at @AndrewGForbes or @Tape2TapeTHW on Twitter.
Tape2Tape is a column looking at some of the biggest stories from around the world of hockey. Discussing different topics, it focuses on one major story each week. Agree or disagree, writer – Andrew Forbes – would love to hear what you have to say.