Austria goes into the qualifying round of Sochi Olympics psychologically and physically fit. Many factors have been in play to achieve this result. To them belongs belief in the team of the fans in their home country, well-planned preparation strategy put into place by coach Manny Viveiros, support of the team by country officials. So, Austrian Sports and Defense Minister Gerald Klug visited the team's locker-room before a friendly against Slovenia.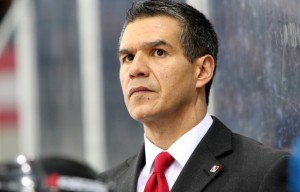 The minister brought the team a national flag with the inscription "We are winners" (Germ. – Wir sind Sieger) with the intention of increasing the self-esteem of each and every player and of the team in general. This result has also been achieved by the 4:1 win in the last friendly game played in Sochi against Slovenia.
Coach Viveiros is well aware that other teams are considered to be favorites in the games against Austria. Still, he firmly believes that any game brings good chances for both participating teams and that is definitely what he preaches to his players. He also said that the nation will be proud of the team's performance at the Olympics no matter what.

Austria's national colors
 People on the Danube shall certainly be proud if their team draws the game with Finland, fights bravely against Canada and scores a few goals and then wins against Norway. There is no time left for waiting. The future has come for Vanek & Co.
Hockey has taught me what passion is about and it continues to do so. That is why I have a strong intention to live my passion for the game.