In addition to balancing the various roles and needs of the 2014 Olympic hockey team's roster, Hockey Canada's management will be required to balance 25 individuals with various comfort levels with their new-found teammates. With the Olympic tournament featuring many games against high-level international opposition in a rapid-fire fashion, the challenge will be to select a roster of players that can gel right away.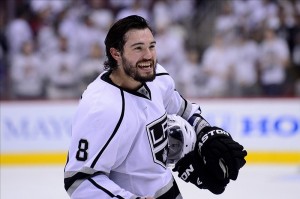 While the Olympic rosters fielded by many other teams in the 2014 tournament will be close to identical to past World Championship entries, Team Canada's roster will likely be cobbled together from several different recent events – including undoubtedly several hold-overs from the 2010 gold-medal-winning team. One such likely holder is Los Angeles Kings blueliner Drew Doughty, who noted that the fact that the tournament is overseas is going to be a hurdle for players to overcome.
"It's going to be different, that's for sure. We're not going to have the same kind of food, the same kind of, just being in an English-speaking place. It's going to be tough. It's going to be a lot harder for the guys to be comfortable, but that's just another aspect you've got to deal with," said Doughty.
Doughty added that the location of the Olympics in Russia also means that players will be spending more time with teammates than they would in a North American tournament. As a result, creating chemistry with future teammates at the orientation camp goes a long way to creating some comfort zones for the team when they head to Sochi in February.
"I think so because, for the most part, when we're in Sochi we're not going to have anybody else there. In Vancouver, a lot of guys had many people from their families coming down because it's in Canada. It's just going to be us, so creating that chemistry now and getting to know guys now is going to make it a more enjoyable time over there in Sochi," said Doughty.
The expected youth movement at the 2014 Olympics for Canada may actually be fueled by newfound chemistry, particularly in fairly recent international competitions. Several prospective members of Team Canada played together at the 2008 World Junior Championships (including Doughty, Karl Alzner, P.K. Subban, Claude Giroux, Brad Marchand, Steven Stamkos and John Tavares), the 2009 World Hockey Championships (Doughty, Stamkos, Shea Weber, Marc-Edouard Vlasic, Martin St. Louis and James Neal) and the 2010 Olympics. Weber wasn't sure if it's more difficult to adapt to different ice surfaces or different teammates, but noted that everyone at camp seemed up to the challenge.
"That's a good question. Guys have done it before in World Juniors and World Championships and they've succeeded, so it's a good thing they have these camps so everyone's pretty familiar with each other and we've all played with each other at one time or another, so I think it's going to be a fun experience if I get the chance," said Weber
On the final day of the orientation camp, Team Canada architect Steve Yzerman held court with the throng of media and mentioned, among other things, that player performances in the NHL will definitely play a part in cementing roster positions for the Olympics. No matter what the decisions are based on, Hockey Canada has a lot of tough calls to make in the near future.
"These are all really good players. You have to make decisions based on something. Watching guys and they're not playing well, but other guys for the same role that are really playing well? You've got to base your decision on something." said Yzerman, noting that every decision will be scrutinized. "In 2010 we won. Could you have put six or seven different guys on that team and won? Probably. Maybe. I don't know. We'll beat [the decisions] to death and talk about it and try to put the best team together. There will be a logic behind our decisions, whether it looks like it or not."
Team Canada's roster for the 2014 Winter Olympics is expected to be finalized in late December. The Olympic men's hockey competition runs February 12-23, 2014.