With the start of training camp fast approaching, the Providence Bruins are preparing to welcome a lot of new faces to the team.  Last year's team was eliminated in the Conference Semi-Finals, but with the offseason additions, this year's squad will have rather lofty expectations.  Some arrived as free agents, some via trade, and some were drafted by the Bruins and will be embarking on their first full, professional season.  While it is tough to say which players will succeed in their attempt to earn a job with the big club, there are plenty of players that will almost certainly start this season in Providence.  Among this group, there are four players making the jump from the Ontario Hockey League (OHL) to the American Hockey League (AHL), including 2012 first round draft pick Malcolm Subban.  Joining Subban in Providence will be Seth Griffith, Alexander Khokhlachev, and Anthony Camara.  All four players have made multiple appearances at the Boston Bruins development camp, and some have even had a brief stint with the Providence Bruins.  As they begin their pro careers, we take a look at what to expect this year, as well in years to come with the Boston Bruins.
Malcolm Subban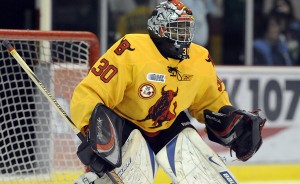 This group is highlighted by goaltender, and 2012 first round pick, Malcolm Subban.  Subban has spent the last three seasons with the Belleville Bulls of the OHL, the most impressive of which was the 2012-2013 season when he led the league in save percentage and goals against average.  He is not the most polished of prospects, but he is an extremely athletic goaltender and possesses a great deal of skill.  He started playing goalie at the age of 12, which seems young to most people, but is actually rather late for a player with professional aspirations.   Although additional playing time would be beneficial, the organization may prefer to ease Subban into the AHL, having him split starts with either Niklas Svedberg or Chad Johnson this season.  As is the case with most rookies, there will almost certainly be an adjustment period for Subban in the AHL.  The higher level of competition will be a good test for him, as he looks to sharpen his technique, and develop more consistency in the process.  Subban has the potential to become a top starter in the NHL long-term, although it remains to be seen whether or not he can achieve that status with the Bruins organization.
Alexander Khokhlachev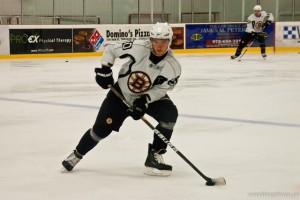 At the moment, the Bruins don't have many prospects that possess top-end goal scoring abilities.  Alexander Khokhlachev is one of the exceptions.  The highly-skilled Russian winger got his first crack at the AHL at the end of last season, recording three points in 11 regular season games.  Last season featured a lot of change, seeing Khokhlachev split his season between Russia's Kontinental Hockey League (KHL), the OHL, and the AHL, making a cameo for Russia in the Under-20 World Junior Championships.  For a player that has produced at a high level in each of his three seasons in North America, his underwhelming performance in the AHL will likely prove to be the outlier.  Khokhlachev will likely be a top-six forward for Providence this season, seeing big minutes on the power play and being near the top of the team in points.  In the coming seasons, he will look to improve his skating and the defensive side of his game.  His offensive game is already near NHL ready, and with some development, he could carve out a spot on one of the scoring lines for the Boston Bruins in the very near future.
Seth Griffith
Seth Griffith was drafted by the Boston Bruins in the fifth round of 2012 entry draft.  It was Griffith's second year of draft eligibility, meaning that he was passed over completely in the 2011 draft.  Griffith does not possess great size or speed, but he has excellent vision.  Despite the reasons why he shouldn't succeed, Griffith has put up stellar numbers over the last two seasons for the London Knights.  In Providence, Griffith may be reunited with his former linemate, Jared Knight.  The chemistry between Griffith and Knight was on display in London, as they helped lead the team to the 2012 Memorial Cup Championship game.  If they can re-establish that connection in Providence, Griffith could make a major splash in his rookie campaign.  Griffith will likely slot in as the second or third line center for Providence this season, though his spot could change drastically depending on who breaks camp with Boston.  As for his NHL aspirations, Griffith could develop into an above-average third line player, with an outside shot at becoming a top-six forward.
Anthony Camara
Anthony Camara made headlines for a number of different reasons last season.  The good news was that he far surpassed his career best totals for goals, assists and points in the OHL.  What makes this more impressive is that he played fewer games last year than in any of his other seasons in the OHL.  The bad news is that he played fewer games because he was serving multiple suspensions throughout the year.  Camara plays a very physical game, which makes him a great fit for this organization, but a big part of his development will be learning to harness that physicality.  With his improved offensive output, Camara has given fans hope that he can develop into a solid third line winger for the Bruins.  This season, Camara will start as a bottom six forward for the Providence Bruins.  He will have the chance to earn a bigger role, but it will depend on his ability to maintain his level of play, while improving his discipline.  In the long run, Camara could be the Boston's replacement for Shawn Thornton, providing more offense and comparable physicality.
Be sure to tune in for the Providence Bruins opener against the Saint John's IceCaps on October 4th, as well as the home opener against the Manchester Monarchs on October 11th.  Follow me on twitter @kirkvance for updates throughout the season.