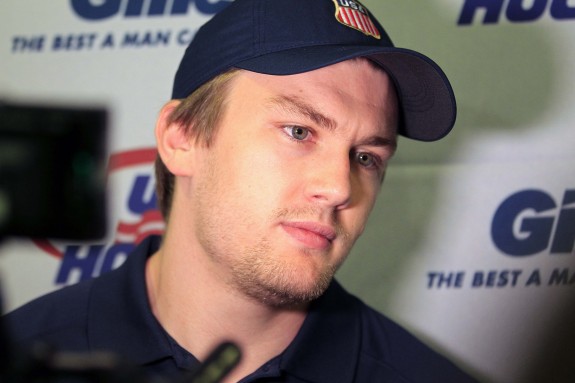 It's been three and a half years since the United States and Canada battled on the sport's biggest stage.  Families tuned into their TV's with 28 million pairs of eyes watching every second of what would become the most watched hockey game in history.  The mighty Team Canada vs. the underdog Team USA would become a game of epic proportions.  Anyone who is a hockey fan knows where they were and what they were doing that day when Zach Parise tied it in the 3rd and Sidney Crosby ripped Americans hearts out with his game-winning overtime goal.
I recently attended the 2013 U.S. Men's National Team Orientation Camp in Washington, D.C.  Of the 48 invitees, 16 were returning members from the U.S. team that won silver in Vancouver.  There were a few players (Paul Martin and Kyle Okposo) who were cut from the team right before the trip, but there were also fresh new faces looking to crack the lineup and earn a spot in Sochi.  Some of the players from camp gave a look into their lives on a day they won't soon forget.
Seth Jones:
I was at my house in Dallas with my brothers and my mom.  It was a fantastic game.  My mom was screaming the entire time which was annoying.  It was unbelievable and when USA scored the goal to tie it up in the 3rd it was awesome.  Unfortunately, Crosby had to put a dagger into your heart, but it was an awesome game.
Jacob Trouba:
I was with my parents and brothers at home in the living room watching.  It was obviously a pretty special Olympics for the US.  We didn't get to what we wanted and I think everyone realizes that and there is a sense that we let something slip away.  It's a pretty special opportunity [being here at camp] and I think I've learned you never know how many times you're going to get to do this – it might only be once, it might be never – make the most of it.
James van Riemsdyk:
I had one of my buddies visiting me in town and I had to drive him to the airport right when the game was supposed to end and it went to overtime and I was like, "You know what?  You're taking a cab."  I think he ended up missing his flight.
It was an exciting tournament to watch and an exciting game, but we came up a little bit short.  It's the pinnacle of athletics – not just for hockey – and would be a huge honor to be able to represent your country on this stage.  Everyone who's done it in the past has said how big of a thrill it was to do that.
Max Pacioretty:
We were getting ready for a game in Hamilton and we had the game on the TV in the locker room.  They made an exception for letting us watch it.  When USA scored to tie it up I remember a lot of jokes flying back and forth and a couple bets as well.  I think the emotions of having them lose by a goal and then having to tie my skates and get out there for a game was something I've never really seen or dealt with before.  But it was a lot of fun watching that game.
Cory Schneider:
I was in the minors with Winnipeg and we were coming back from a road trip so I only caught the last part of it, unfortunately.  I was pulling for the US, obviously.  When Canada won, watching how much it meant to them was pretty amazing.  Being in Winnipeg it was almost like a relief they didn't lose.  I think it would've been a great thing for USA Hockey had they won, however the run that they went on and the attention they grew and the fact they were a goal away from winning the gold did a lot of good for the game in the US as well.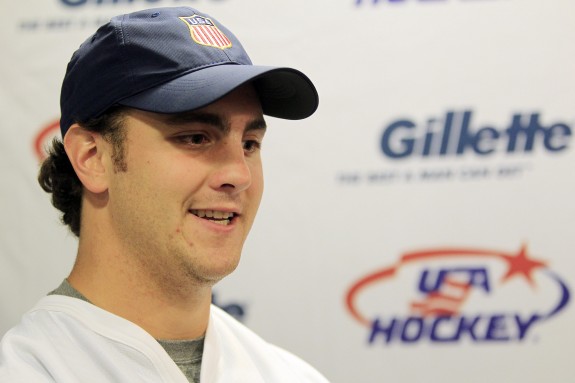 Kevin Shattenkirk:
We were on the bus in Maine, actually.  We had just finished a game at the University of Maine and by the time we had come out of the game and gotten on the bus, Parise had just scored the goal to go into overtime.  We didn't have any video of it so we were trying to get updates of it the best we could.  Then we heard the goal and it was a little quieter bus after that, except for some of us who were in our face.  That wasn't the best.
Jimmy Howard:
We were sitting at Elway's in Denver watching the game.  They had a section they blocked off for us  and a couple TV's in there.  I remember being really excited watching it and having close ties with several guys that I've played with before.  It was very emotional and it was fun getting at it with some of the Canadians on the team.
Cam Fowler:
I was playing in Windsor and we were coming back from a game in Sudbury so we had a 7-hour bus ride and we stopped at a restaurant and watched the game.  I was only one of a couple Americans on the team so it was a heartbreaker that's for sure.  It was a great game though.
Justin Faulk:
I was playing a hockey game in Sioux City, actually.  In the middle of the game, they stopped it and put it on the big screen on the jumbotron, which was weird.  I didn't really like the fact they stopped the game to watch it, but it was fun to see – obviously not fun that they lost.  I was with all Americans so I couldn't really put a friendly wager on it.
Craig Anderson:
I was in Colorado.  My wife and I were watching the game.  It was one of those things where you're on the edge of your seat the whole time and you had so many mixed emotions going through that you were excited for all the guys that you knew.  I was playing with Paul Stastny at the time and was excited to see him out there.
You wanna be there and you want to be part of that.  I played the season and I played really well, but at the end of the day I could look myself in the mirror and say I did everything I did and it just wasn't my time.  I was excited for the guys when they brought back silver.  It was just a cool experience to be in America at that time and watch that on the main stage.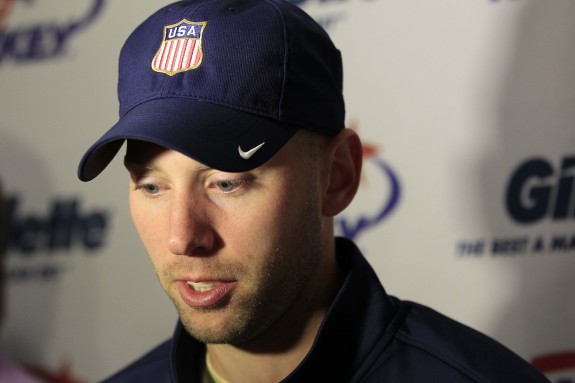 To be honest with you, I was a little heartbroken seeing the goal go in on Ryan [Miller].  As a goalie, you've been there, you know what it feels like and you never want to be on the losing end of a sudden death game it's over.  That last shot stays with you for a while and there is no way to change it because there is not another 10 minutes left in the game or you don't have the opportunity to make that big save and it's over.   That's probably one of the hardest things to watch as a goalie.
Kyle Okposo:
I was watching it in Minnesota.  It was a roller coaster.  I was so into the game I felt like I was there.  I was at the camp and didn't make the team but would've loved to have been there, but they had a damn good team and it was a roller coaster ride for that game for me.
*************
What are your memories from that game?
Follow Shawn Reznik on Twitter: @ShawnTHW