It's been a tumultuous few years for defenseman Christian Ehrhoff. He's played for three teams in the last three seasons, been bought out, and Wednesday the Los Angeles Kings waived him.
While his offensive game isn't at the heights it was in Vancouver and he's not a top pairing guy, he's still quite useful on the power play and isn't getting run over in terms of possession. There are a number of teams — like those below — who could benefit from acquiring Ehrhoff for what amounts to nothing.
Detroit Red Wings
The Red Wings currently have Niklas Kronwall and Drew Miller on long-term injured reserve and could use a hand on the blue line. They've had to recall Jakub Kindl to the NHL and they're obviously unhappy with his play.
Kronwall is a left shot, making Ehrhoff a logical replacement on the left side. He can't replace Kronwall in terms of impact, but he'd be an improvement in another pairing and could boost Detroit's 16th ranked power play heading into the postseason.
Florida Panthers
Florida is poised to make a serious run this season and Ehrhoff could help in that endeavor.
They're currently battling through a couple blue line injuries with Willie Mitchell and Alex Gudbranson on injured reserve. But even when they're out of the weeds there, Ehrhoff could replace Steven Kampfer on the third pairing without effecting the cap too much. Kampfer is still on a two-way deal for the rest of this season (his deal becomes one-way next year).
They're also struggling on the power play with a 24th ranked 17.3% success rate. Ehrhoff is an upgrade over Kampfer at evens and his ability on the power play helps give them some improvement — even if it's slight — heading into a postseason where they could do some damage.
Minnesota Wild
Yes, this strains the cap and doesn't make a ton of sense on the surface, but hear me out.
Ehrhoff could take Mike Rielly's spot on the third pairing for now, pushing Nate Prosser back to the right side like last year. His power play ability could help Minnesota's stagnant special teams and it won't kill them at evens when Jonas Brodin returns from IR.
The biggest boon here though is that the Wild are falling apart and they need to do something. But making a desperation trade will look especially foolish if they miss the playoffs. Ehrhoff provides a sort of trade deadline boost without the risk. His contract expires this summer, they improve now and don't give up any prospects or picks.
New York Rangers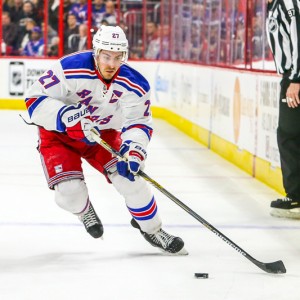 This making sense for the Rangers may depend on what the status of concussed defenseman Ryan McDonagh is. Ehrhoff could help them fight through injury to their best defenseman.
Ehrhoff has a relationship here too, having played the best years of his career under Rangers coach Alain Vigneault back in Vancouver.
Importantly, Ehrhoff could provide an elegant solution to their Keith Yandle problem. Ehrhoff, like Yandle, is a puck-moving, left-shot defenseman. The Rangers don't want to (or can't) retain Yandle in the summer when he becomes a UFA. Claiming Ehrhoff allows them to trade Yandle without having a huge impact on the quality of the on-ice product heading into the playoffs.
Swap Ehrhoff for Yandle on the roster, turn Yandle into a pick or prospect, open up a little cap space, hit the postseason no worse for the wear.
Ottawa Senators
Wouldn't this be something? Ottawa completely remakes the left side of its defensive depth chart in just a couple of days, trading for Dion Phaneuf and claiming Christian Ehrhoff. Suddenly, there's more offense on the blue line than just Erik Karlsson and things aren't quite as ugly as they seemed just a week ago.
In terms of the depth chart, they could use Ehrhoff on the left side, but also have some versatility with Phaneuf being a leftie who prefers the right side.
Vancouver Canucks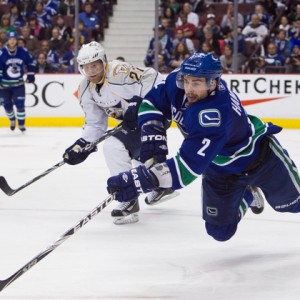 Vancouver is another team where finding Ehrhoff on waivers could be serendipitous. Amid ongoing questions about what they'll do with pending UFA Dan Hamhuis, GM Jim Benning has said they need to better understand where they stand with regards to the postseason.
Enter: Christian Ehrhoff.
Ehrhoff helps them now if they want to make the playoffs with news coming in on Wednesday that left-shot defenseman Alexander Edler has been flown back home for medical evaluation. Preliminary estimates say he'll be sidelined three to four weeks. Ehrhoff gives the team an instant replacement to make a push for the postseason.
If it doesn't look like they'll make the postseason and need to become sellers, Ehrhoff can replace left-shot Hamhuis when they trade him away and Edler is healthy. They've found their solution for either situation.
The cap situation is tricky, but if either Edler or Brandon Sutter (broken jaw) wind up on long-term IR for even the minimum amount of time, they've found their solution. Ehrhoff only costs $483,871 against the cap for the remainder of the season, according to Cap Friendly.
Possibilities: Arizona Coyotes, Chicago Blackhawks, Dallas Stars, New Jersey Devils, Pittsburgh Penguins, San Jose Sharks.