It seems that everywhere you go, there is always someone who has one of those names that makes you think, "Wow, that's an awesome name!" Sometimes it's the kid who sits in front of you in school, or is in the cubicle next to you at work, and sometimes it's even your next-door neighbour. However, the odds of the names you're about to read being one of those people are, well, let's say they aren't very good. Lucky for you, there's one potential problem for you that you don't even have to worry about: you don't have to pronounce these names on a regular basis! With that in mind, here are the ten best/coolest names in the National Hockey League:
Up front, it should be noted that honourable mentions who almost made this final top ten include Dustin Byfuglien, Carlo Colaiacovo, Petteri Nokelainen, and Lubomir Visnovsky.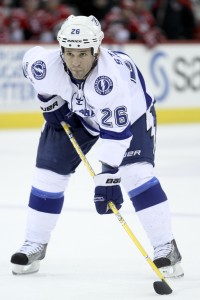 10. Martin St. Louis (Tampa Bay Lightning)
Now this may not be the coolest looking name on the list. And it probably isn't the hardest to say properly either. But, when you say it properly, it just sounds awesome. At 5'8″, 176 pounds soaking wet, St. Louis has had to overcome tremendous odds just to play in the NHL. The native of Laval, Quebec, has won numerous awards over his pro career, with six great ones coming in the 2003-2004 season alone. In that one season, he was a First-Team All Star, won the Bud Light Plus/Minus award, the Lester B. Pearson, the Art Ross Trophy, the Hart Trophy, and the Stanley Cup. He has also won two Lady Byng Awards. When he was growing up, there weren't many people who saw that coming. St. Louis is now 36 years old, and is nearing the end of his playing career. However, to me, the name has some great flow to it when you say it aloud, meaning he's a solid fit to start this list.
9. Nikolai Khabibulin (Edmonton Oilers)

Coincidentally, Khabibulin also won the Cup with the Tampa Bay Lightning in 2003-2004. Before that, he also won an Olympic gold medal in 1992. The 39 year-old veteran goaltender is a four-time NHL All Star as well.  Just to make his name sound even better, you now know that his middle name is Ivanovich. Put it all together, and you have Nikolai Ivanovich Khabibulin.  Cool name right? I thought so too.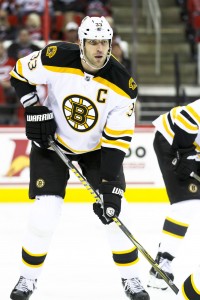 8. Zdeno Chara (Boston Bruins)
Tallest player in NHL history? Check. The league's number one shut-down defenseman? Check. One thousand career games played? An awesome name? Check, and check. Zdeno Chara is a beast on the ice, and in the last few years, has become arguably the best blueliner in the league. At 6'9″, 255 pounds, Chara is a massive presence on the blueline. The native of Slovakia also won the Norris Trophy in the 2008-2009 season with the Bruins. His first name is the leading factor as to why he made this list; who else do you know that is named Zdeno? Most of us probably can't answer that. Besides having a cool name, Chara is also known for a very interesting fact: he speaks seven languages! Big "Z" is fluent in Slovak, Czech, Polish, Swedish, Russian, German, and English.
7. Alexei Ponikarovsky (New Jersey Devils)
His real name isn't actually Alexei. It's Oleksiy Volodymyrovych Ponikarovsky. You can't deny that it's a huge name, but it's also pretty cool. A native of Kiev, Ukraine, the 31-year-old Ponikarovsky was just recently traded to the Devils from the Carolina Hurricanes. At 6'4″, 220 pounds, "Poni" is one of the larger wingers in the league, and just passed the 600 career game mark last week.
6. Sergei Bobrovsky (Philadelphia Flyers)
Just listen to someone such as Doc Emerick from NBC Sports pronounce Bobrovsky's name, and you'll hear exactly where I'm coming from. With a name like Bobrovsky, colour commentators and fans from around the world just love to say his name aloud. With him being a goaltender, that happens pretty often. He came to the Flyers as an undrafted free agent, and is a native of Novokuznetsk, Russia. Though Ilya Bryzgalov (who came very close to making this final list) is the Flyer's starter, Bobrovsky has the potential to be a full-time starting goalie in the NHL someday.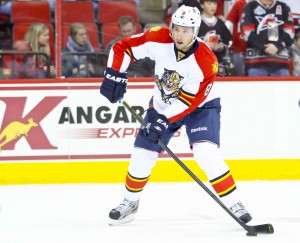 5. Wojtek Wolski (Florida Panthers)
The key to this name is pronouncing it correctly. If you say it as Voy-tek Voll-skee, congratulations, because you're doing it right. The native of Zabrze, Poland, is currently in his seventh professional season, and is with his fourth NHL team. Before coming to the pros, Wolski tore it up in major junior while playing for the Brampton Battalion of the Ontario Hockey League. A first-round selection in 2004 by the Colorado Avalanche, Wolski is still trying to prove he can live up to the expectations that come with being a top pick.
4. Rob Klinkhammer (Binghamton/Ottawa Senators)
Now Rob Klinkhammer may not be a full-time Ottawa Senator at the moment, but he has played nine games for them this season. With a name like Klinkhammer, it's hard to keep him off this list. He's a 6'3″, 214 pound left winger from Lethbridge, Alberta, who has 35 points in 35 games for Binghamton this year. Though he may not be the biggest name on this list (in more ways than one), after going through my original list of over 100 names, Klinkhammer just had to be in the top ten.
3. Teemu Hartikainen (Oklahoma City Barons/Edmonton Oilers)
Like Klinkhammer, Hartikainen is not a full-time NHL player. However, once again, with a name like Teemu Hartikainen, he can't be held off this list. The Kuopio, Finland native has played 10 games with the Oilers this season, recording three assists in the process. In 48 AHL games so far, the 6'1″, 215 pound Hartikainen has 30 points. You may recognize his name from the 2009 World Juniors, where he led Team Finland in points with nine of them in six tournament games.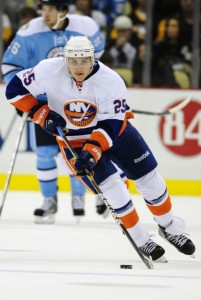 2. Nino Niederreiter (New York Islanders)
For some reason, Niederreiter just hasn't been able to put up very good numbers in the NHL yet. Regardless, he has still played 48 games with the Islanders this season, and also has one of the best names in the league. A native of Chur, Switzerland, Niederreiter was the Isles fifth overall pick in the 2010 NHL Entry Draft, and is the highest drafted Swiss player in NHL history. With only one point to his credit this season, he clearly hasn't performed as well as he had hoped. With the American Hockey League's Bridgeport Sound Tigers, he has four points in six games. "I'm proud to be an Islander and I'm proud of myself that I stayed here the whole season," he said in a quote obtained from Newsday. "I just have to do my best to stay in the lineup, work hard and do what the coaches ask. That's all I can do." Don't worry Nino, with your major-junior accomplishments, and with a name like yours, you have a lot to be proud of.
1. Cal Clutterbuck (Minnesota Wild)
A round of applause for Calvin Shane Clutterbuck, as he has the best name in the National Hockey League. Yes, it's mostly because of his surname, but seriously, this is a real hockey player's name. Say it aloud, hockey fans, because it sounds pretty good. As Don Cherry says, it's "the prototypical hockey player name." The native of Welland, Ontario may mostly be known for his name, but, as you may have noticed, he's also a pretty good hockey player. Clutterbuck broke the NHL record for hits in the 2008–09 season with 356, and, just to make Cherry even prouder, almost all of them are clean checks. Congrats Cal, you (and your parents) really earned the right to say that you have the best name in the NHL.
That rounds out The 10 Best Names In The NHL. Hopefully you enjoyed it. I always love feedback, so feel free to comment below or send me an e-mail if you have any questions.
________________________________________________
Follow me on Twitter: @DavidOConnor95    "Like" my page on Facebook: David O'Connor