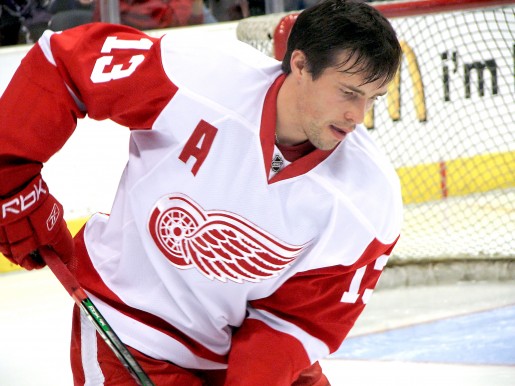 Pavel Datsyuk is one of the greatest two-way forwards the National Hockey League has ever had. And this is someone who was selected 171st overall in the 1998 NHL Entry Draft.
The Detroit Red Wings star is known for both his dirty dangles and his masterful ability to cause turnovers. Datsyuk has scored more than a few goals in his eleven-year NHL career by sneaking up on opponents and swiftly picking pockets. As the 34-year-old Datsyuk is reportedly nearing the end of his playing career, now is a perfect time to look back on the 170 men drafted before one of the league's all-time best defensive forwards.
And with Datsyuk's recent ankle-breaking move on San Jose Sharks forward Logan Couture, this is also a great opportunity to display exactly what late sixth round picks can turn into.
Maxim Linnik. Jomar Cruz. Alexander Zevakhin. Tomek Valtonen. Remember them? They were all second round picks in the 1998 draft. Valtonen was actually chosen by the Red Wings. He has since moved on to coaching in his native Finland, and like many other players drafted each year, never panned out in the NHL. But that's just the way life in pro sports works: some make it, most don't. Nevertheless, let's take a look at some current, notable NHLers whose names were called before Datsyuk's.
Vincent Lecavalier
Lecavalier was chosen first overall in the 1998 draft by the Tampa Bay Lightning. The Quebec native has been a core member of the Lightning for over a decade, and played a key role in their 2004 Stanley Cup championship win. Alongside Martin St. Louis and Steven Stamkos, Lecavalier is a face of the franchise. Datsyuk has the edge these days, but back in 2004, Lecavalier was a force to be reckoned with.
Alex Tanguay
Tanguay was picked twelfth overall by Colorado Avalanche with one of their four first round positions. He's currently a veteran on a rebuilding Calgary Flames club, but has experienced his fair share of winning.
"My first few years in the league, I thought this was easy having a chance to win a Stanley Cup year in and year out," Tanguay said recently. "And it's certainly not that way."
Simon Gagne
Gagne went twenty-second overall to the Philadelphia Flyers. Having travelled to sunny parts of the continent in recent years, Gagne has returned to his original team.
"If I go back to when I was maybe the age of Sean [Couturier], [the trade deadline] did affect me maybe a little bit at first," Gagne said on April 3 of young players being moved. "But after that you understand your name will come up a lot in the next couple of years, because you're a prospect and you're a young player that other teams want when teams are making trades. So on the other side, you can look at it as a positive sign, that it means other teams are looking at you and like what they see. But the only thing you can do is go on the ice."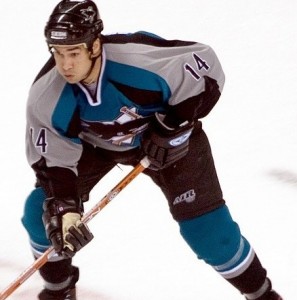 Scott Gomez
For the sake of Montreal Canadiens fans reading, we'll move on quickly. Gomez was the last pick in the first round, taken with the second of back-to-back picks by the New Jersey Devils. Even though recent memories of Gomez aren't great, he was a young star on the Devils' 2003 Stanley Cup-winning team.
Jonathan Cheechoo
Once upon a time, Cheechoo was a former second rounder shining alongside Mike Ricci in San Jose. After winning the 2005-2006 Maurice "Rocket" Richard Trophy and being an All-Star the following season, Cheechoo was looking like a player who would make a career out of scoring big goals. Cheechoo set multiple records in a Sharks uniform:
San Jose Sharks' franchise record for goals in a season (56) – 2005–06
San Jose Sharks' franchise record for power play goals in a season (24) – 2005–06
San Jose Sharks' franchise record for hat tricks in a season (5) – 2005–06
Now playing in the American Hockey League for the Oklahoma City Barons, Cheechoo had his day, but was never able to consistently display his talent. Such is life.
Mike Ribeiro
Mike Ribeiro used to be criticized for his immaturity. Early in his career, he was more focused on "living the life" than "living the dream." Now 33, Ribeiro has grown into a leader for the Washington Capitals.
"It starts with better decisions," Ribeiro told NHL.com. "Instead of after a game going to have beer with the boys, I'll go home. Instead of going to bed at four in the morning, I'll go to bed at 12 at night. I eat better, I take better care of my body … I'm just more focused not on myself, but on being there for my family and helping my team win."
Brad Richards
Bradley Glenn Richards doesn't exactly sound like the name of a skilled star, but that's exactly who the New York Rangers currently have on Broadway. Then again, it shouldn't come as a surprise from a guy who had 115 points his first year playing for the QMJHL's Rimouski Oceanic.
Richards is currently surrounded by buyout and trade talk, but fans in Tampa Bay will never forget all his accomplishments earned wearing a Lightning uniform.
Fans give Rangers forward and former Bolt Brad Richards a special round of applause as he is honored on LightningVision #20YearsOfThunder

— Tampa Bay Lightning (@TBLightning) February 3, 2013
Andrei Markov
Backhand Shelf writer Cam Charron believes Markov has never received enough credit for the Montreal Canadiens success. And he's probably right.
"I'm looking at his defensive partner Andrei Markov, who has never gotten his due thanks to an abundance of injuries throughout his career," Charron wrote. "He's played a single 82-game season, back in 2008, which happened to be the year the Montreal Canadiens came out of nowhere to win the Eastern Conference in the regular season.

Of course, correlation doesn't imply causation, but one major difference about the Habs this year as opposed to the Habs last year is a healthy Andrei Markov. The 34-year-old has played just 65 games over the last three seasons and 20 games in the last two and a lot of folk writing off the Habs were probably writing off Markov's health. There he is, leading Habs' blue liners in minutes…"
From the first pick in 1998, Lecavalier, to the last one, Sergei Skrobot, Datsyuk found himself nearly right in the middle.
Apparently it's fitting. After all, they do say middle youngsters are the most successful.
Results from the 1998 NHL Entry Draft's first round can be found below in a table published on Wikipedia. Note that the Colorado Avalanche and New Jersey Devils had multiple first round selections.
All remaining picks can be found by clicking here.
___________________________________________
David O'Connor is a managing editor with the Sunbelt Hockey Journal. His writing has been on the Los Angeles Times' website, among other places. O'Connor also does some scouting work for the local Junior B hockey club. Please feel free to contact him at davidoconnorhockey@gmail.com.