By Mike Miccoli
Talk to hockey players and they'll tell you: the regular season is arduous. Look at them after a run deep into the postseason and you can see it in their faces, too. You see the dark circles under their eyes, their untamed facial hair, and the general bumps and bruises reminiscent to those who have gone through battle and lived to tell the tale.
Playoffs are hell.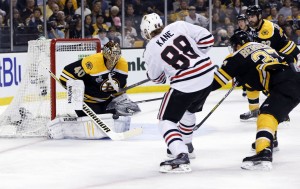 With no more than three possible games left in the 2013 NHL season, there's an end in sight. At the very latest, next Wednesday at this very time, we'll have Champions. One of these teams will have lifted the Stanley Cup while the other band of brothers sit silently in their locker rooms, thinking of what could have been if they had just hit that shot or made that play.
It's terrifying, isn't it?
Nah, it's normal, the players will say as they shrug off any hints of fatigue or injury. They're hockey players. They're tough. They're being paid to play out a childhood dream and are willing to go through hell and back to win a Stanley Cup.
It's no surprise that this Stanley Cup Final is playing out the exact stereotype of what hockey is all about. It's a battle; a game of chances defined by who wants it more and who is willing to sacrifice the most for a win. The 2013 Stanley Cup Final has seen four games; three of which have gone to overtime, with the other game ending up a nail-biter. There have been battles resulting in wins, losses, and even some scars.
The ugliness is the sport at its finest, and after almost four months without a game of professional hockey, it's a perfect ending to a truncated season.
Game 4 of the Stanley Cup Final between the Boston Bruins and Chicago Blackhawks epitomized this. Ugly, but everything you paid to see in a hockey game. In the end, it was Brent Seabrook's shot from the right point that sailed past Tuukka Rask to tie the series at two apiece between the two teams. Why not, right? Even before the Final started it seemed almost obvious that the series was going to go deep.
And on Wednesday night during Game 4, as it was in Games 1 and 2, all it took was a bounce.
It's the luck of the game that causes a puck to deflect off of a stick, skate, or glove and redirect into the goal. The Blackhawks learned how to solve Rask by setting up players in front of him to cause a screen or deflection. And it worked. In a series that saw a total of 12 combined goals in the first three games, the 11 in Game 4 shows that the teams have been studying Rask and Corey Crawford a little bit more in depth. The Bruins learned how to beat Crawford–glove side, all the time–while the Blackhawks figured out that you can't score on Rask consistently unless there is traffic in front of the net.
The reality is that this series needed a high-scoring game to add to the theatrics. The Stanley Cup Final needed another game where the offenses of both teams just went off.
Oh…and overtime, too.
The rest of the Stanley Cup Final could go either way and that was the case before the puck even dropped. This is where heroes are made, legends are born, and all of that other cliched crap. The agony and euphoria of what comes from these games are what hockey is all about and after a season that almost didn't happen, the fans that stuck around deserve that.
Let's try to at least enjoy it.
Follow Mike on Twitter for more Bruins updates, news, and commentary