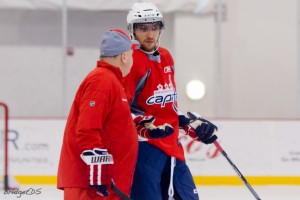 A franchise record-setting seven straight wins – that's how the Washington Capitals kicked off the season. On October 27th, nearly a month into the season, they lost their first game to the Edmonton Oilers. Over the next 15 games the Caps only picked up five wins; into late November they sat three games over .500 and held onto the final playoff spot by just a thread. Team captain Alex Ovechkin had only 17 points in his first 23 games. As Ovechkin struggled to produce, his ice time fluctuated, causing speculation that a rift between he and his coach was growing. Around then, Bruce Boudreau was fired.
The firing of Boudreau sparked a league-wide game of  musical chairs that ended last week. On November  28th Caps GM George McPhee showed Boudreau the door, replacing him with Dale Hunter.  The next day the Hurricanes fired Paul Maurice and the day after that the Ducks terminated Randy Carlyle, who was replaced in the very same day by Boudreau. Recap – Boudreau fired, Carlyle fired, Boudreau hired, and now, Wilson fired and Carlyle hired by the Leafs.
Boudreau's case is unique in that he was the only coach holding a playoff spot at the time he was fired. Here's a breakdown of this season's coaching records at the time they were fired:
| | | | |
| --- | --- | --- | --- |
| Coach: | Team: |   | Record: |
| Bruce Boudreau | Washington |   | 12-9-1 |
| Davis Payne | St. Louis | | 6-7-0 |
| Jacques Martin | Montreal | | 13-12-7 |
| Paul Maurice | Carolina | | 8-13-4 |
| Randy Carlyle | Anaheim | | 7-13-4 |
| Terry Murray | Los Angeles | | 13-12-4 |
| Scott Arniel | Columbus | | 11-25-5 |
| Ron Wilson | Toronto | | 29-28-7 |
Now, four months later, the Caps find themselves holding down the ninth spot with 69 points and there's no signs of increased production from Ovechkin, who is on pace for a career low 66 points this season. With a new coach behind the bench, the Caps haven't seen the same upward trajectory teams like Anaheim, Los Angeles and St. Louis have since bringing in their own fresh blood. Since Dale Hunter has taken the reigns, in Washington, they've gone 20-19-4, showing no turnaround since their shakeup. Let's have a look at how the league's other teams have fared with a coaching shakeup:
| | | | |
| --- | --- | --- | --- |
| Coach | Team: |   | Record: |
| Bruce Boudreau | Anaheim |   | 22-15-6 |
| Dale Hunter | Washington |     | 20-19-4 |
| Randy Cunneyworth | Montreal | | 12-19-3 |
| Kirk Muller | Carolina | | 16-14-10 |
| Darryl Sutter | Los Angeles | | 17-11-8 |
| Todd Richards | Columbus | | 9-13-1 |
| Ken Hitchcock | St. Louis | | 35-11-7 |
If Boudreau's inability to prod Ovechkin into increasing his point production was a major factor in his dismissal, not much has changed. In Ovechkin's first 20 games this season he posted just 15 points; in his first 20 games under Hunter he netted 17 points. As it stands now the Ducks and Caps both sit out of playoff contention and have had their seasons marked by an ebb and flow of wins and losses, yet Boudreau himself has had what's largely been a winning season. Combining Boudreau's time in Washington and Anaheim this season he has posted 34-24-7 record with 75 points, which would put any team in either conference in playoff contention right now.
The firing of Boudreau had a lot to do with expectations. Expectations that this team, who have made the playoffs for the last four years straight, would be a shoe-in, but they're suddenly on the outs. The expectations that one of the league's best scorers would continue to impress, but he's all but disappeared. While there are always arguments to be made for intangibles like team chemistry, Caps management pushed the panic button on this season before it got off the ground. The situation in Washington now has an added sense of urgency that a change in personnel cannot fix.