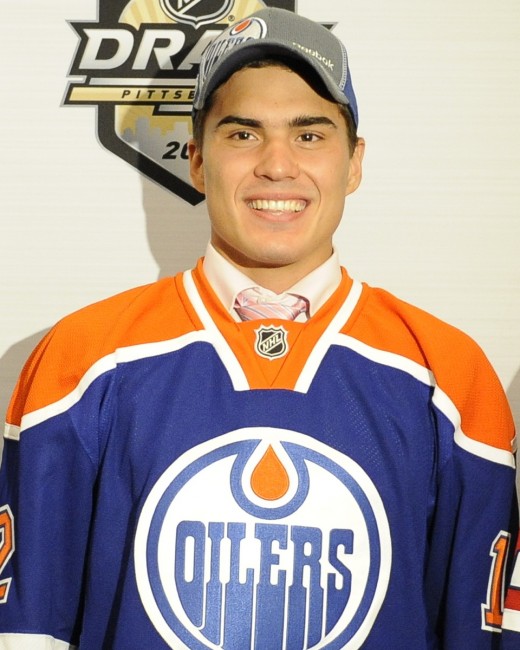 Given he has just come off one of his better performances internationally in a bronze-medal winning game over Canada at the 2013 World Juniors, it may seem preposterous that someone would even broach the subject of the Edmonton Oilers trading Nail Yakupov.
He is also one of the leading candidates to bring home this season's Calder Trophy.
"We know the skill-set of Nail Yakupov and we're excited. We see his passion and potential to be a great Oiler." – Coach Krueger

— Edmonton Oilers (@EdmontonOilers) January 7, 2013
Oilers new bench boss Ralph Krueger is saying the right things. Has Nail given Oilers brass any reasons to suggest trouble may lie ahead?
The Case For Trading Nail
First time I listened to Nail Yakupov speak at 2012WJC, I thought he had major prima donna potential. Haven't changed mind yet.

— Cam Cole (@rcamcole) January 2, 2013
Will Ryan Nugent-Hopkins be to Yakupov what Alex Galchenyuk was during their successful pairing with the Sarnia Sting of the OHL a couple seasons back? Will the Oilers even consider playing the two together now? With Ryan Nugent-Hopkins and Jordan Eberle embedded as lethal linemates, Yakupov appears to be the odd man out, at least when it comes to playing with the team's dynamo playmaking centerman.
How will Nail respond in a situation where he may play second fiddle to the already embarrassment of offensive riches in Edmonton? From the outside looking in, there is the potential for him to be a locker room disturber and distraction.
Nugent-Hopkins, Hall and Eberle are all cool, calm and collected young individuals who will lead the Oilers with a more reserved demeanor. The enigmatic Yakupov craves the spotlight and is a much more fiery and unpredictable personality. This could prove to take some of the pressure off the aforementioned three young guns or conversely disrupt team chemistry. At this stage in the development of the team, do the Oilers really want to take a chance that the latter scenario comes to fruition?
***
Great line from Soviet great Boris Mikhailov re Nail Yakupov: "Nail's as far removed from Bure as I am from the moon". #Ouch

— Spector's Hockey (@SpectorsHockey) January 2, 2013
The very reason why most might question why to trade him now is precisely the same reason to make the move promptly. Yakupov's stock may never be higher than it is now.
Nail had a horrendous start to the 2013 World Juniors in Ufa. Though he seemed to be working hard enough, unfortunately it appeared he was aimlessly wondering around the rink, without purpose and accomplishing little. Yakupov was failing to utilize his teammates and trying to do too much on his own.
His immense potential was on display by tournament's end, however, as he was executing impressing rushes at breathtaking speeds, making creative feeds to linemates and even sacrificing his body in his own end of the rink.
Which version of Yakupov shows up for the majority of his time in the NHL?
***
Nail may be one PR disaster away from lowering his stock; GM Steve Tambellini should be shopping him like a Bugatti Veyron Super sports car.
It would be tragic to fall into the situation which former Calgary Flames GM Darryl Sutter was faced with a couple seasons back when he was virtually forced to deal Dion Phaneuf to the Toronto Maple Leafs for what amounted to a dreadful return.
The Case Against Trading Nail
While I think the Oilers would improve their future fortunes by dealing Yakupov before he even suits up for the team, the discussion is definitely not a one-sided coin.
Bruce McCurdy of Edmonton Journal highlighted Yakupov after his bronze medal win at the World Juniors:
"At the end of the day it was Nail Yakupov who was wearing both a Russian flag and a smile one kilometre wide as he accepted the accolades on behalf of his team from Russian hockey great Vladislav Tretiak. For a young man who has appeared troubled at times lately, it was good to see the return of the smile and the cockiness that accompanies it…"
Yes, Yakupov has the potential to be a winger that players like Eberle and Hall are providing secondary support scoring for. Scary to think, I know.
***
GM Steve Tambellini, as reported by Joanne Ireland of the National Post, was impressed with Yakupov's bravado at times during the World Juniors in Ufa, Russia:
"Ryan is so poised and so under control with everything he does. Yak is trying to lead by example. To see him dive face first to block a shot, doing what he thinks he has to do to contribute to the team's success. Sometimes it's an emotional decision; sometimes it's a hockey decision. We know he is offensively gifted but he's definitely willing to sacrifice his body if it's going to help. He wants to score so badly, you can see that, but he's still trying to contribute."
***
David Staples of Edmonton Journal makes some good points as well:
"Yakupov is a big talent with a big personality. I like both aspects of him. And I don't think he'll be too much of an issue in Edmonton, even if he does go his own way now and then. On the Oilers, he won't be the most talented player, he'll be one of the talented players. I suspect he'll find a way to fit in. He will have to do so because nobody is going to bow down to the guy. He's a great player, but not the first one here, and not the only one here."
***
On being a team player, courtesy of Andrey Osadchenko at Oilers Nation in the post "Nail Yaupov in his own words":
"I'm not the kind of guy who doesn't care where his team is in the standings. I'm not the one who thinks: 'So I'm on the team… whatever. The way it plays, doesn't affect my pay-cheque'. I always set my bar high. I want to be a top-6 forward. I want to score, I want to get assists and I want to win. I don't care what team I'm on. Every team has a potential. Every team has good players and coaches. Any team can lose. Every team can win."
***
Keeping Nail gives the Oilers countless offensive weapons at their disposal; Tambellini can't possibly deal Nail now, can he?
Even with some convincing arguments against dealing Yakupov now, I strongly feel if the right offer presented itself, Tambellini and the Oilers should pull the trigger lickity split.
Potential Trade Partners
This is section is not intended to generate trade rumours. Rather, I wanted to highlight some NHL teams who might covet an asset like Nail Yakupov and at the same time be in a position to trade with the Oilers.
A blueliner, or package including a blueliner seems like the logical priority for return, but the Oilers might look at solidifying other aspects of their roster as well, should they make such a bold move.
Make no mistake, I feel it is in the best interest of the Oilers to pursue a deal involving Yakupov, but the potential deal has to have a meaningful return.
The following are several teams that might be potential trade talk partners for the Oilers, with one not likely – I'll let you make that determination for yourself.
Toronto Maple Leafs: They have the depth on the blueline and could use a potential scoring star. Dare I say a return to his "native land" would be beneficial for Dion Phaneuf? Jake Gardiner would be a desirable target and option, but not sure how keen the Leafs would be to part with his services.
Montreal Canadiens: There have been suggestions from a variety of sources that still unsigned RFA blueliner PK Subban might be legitimate target for the Oilers and dangling Nail may land him. Given his previous history and chemistry with Alex Galcheyuk, the move would seem to make sense for GM Marc Bergevin, but would leave a gaping hole on the blueline.
Winnipeg Jets: The Jets could use a true game-breaking forward. They have the talent on the blueline that could attract GM Steve Tambellini's attention – Dustin Byfulglien, Zach Bogosian, Tobias Enstrom and Team USA stalwart Jacob Trouba.
Pittsburgh Penguins: This would admittedly be a long shot, but Penguins GM Ray Shero is constantly looking to improve his squad. The Pens have a plethora of high quality defensive prospects, many of which are close to making an impact at the NHL level. Evgeni Malkin could be Yakupov's guide to the NHL off the ice, with Sidney Crosby being his guide on the ice.
Washington Capitals: potential one-sided phone call:

Steve Tambellini: "George: I got this explosive, immensely talented Russian forward that is sure to put your team over the top!" After a clicking noise, "George? George? Are you still there?"
***
Will he stay or will he go? In the end, only Steve knows.