As future hall of famers Teemu Selanne and Daniel Alfredsson are getting ready to start their farewell tours throughout NHL arenas, fans are getting ready to welcome in the next generation of potential superstars that arrive in training camps at the beginning of every season. In the end only one rookie will be able to claim the Calder Memorial Trophy – Here is how I think this rookie class stacks up prior to the start of the 2013 NHL season.
10. Gustav Nyquist (Detroit Red Wings)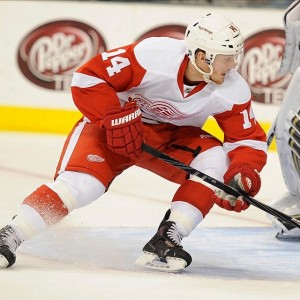 A talented skater with a high hockey IQ, Gustav Nyquist is currently lighting it up in the American Hockey League for the Grand Rapids Griffins. Nyquist currently leads the Red Wings' AHL affiliate in scoring with 32 points (12G 20A) through 33 games played.
Nyquist got a taste of NHL action last season when he played 18 games for the Red Wings and was able to accumulate 7 points (1G 6A).
Heading into training camp, Nyquist is a shoe in to make the NHL roster and could even become a top-6 forward during the season. The veteran presence of Pavel Datsyuk and Henrik Zetterberg will be invaluable to Nyquist as he begins his career as an NHL forward. Look for Nyquist to be a reliable playmaker this season and to potentially crack the teams 2nd scoring line.
9. Ryan Strome (New York Islanders)
After an impressive 2013 World Junior Championship for team Canada, Ryan Strome will join a young Islanders' team as they continue their rebuilding process that has seemingly lasted since the millennium. Strome is known for having exceptional playmaking abilities as well as a knack for protecting the puck.
Most recently, Strome has been playing for the Niagara IceDogs of the OHL where he has amassed and astounding 62 points (22G 40A) through only 34 games played. As well as his impressive point total, Strome also has attained an impressive 34 +/- for the season thus far.
I expect Strome to be the Islanders' starting 3rd line center right out of training camp this season. His potential to be used on the power play could result in Strome accumulating a good amount of points and potentially being a top 5 rookie scorer this season. Although the Islanders have rushed prospects in the past – see Nino Niederreiter – the consensus around the NHL is that Strome is ready for the everyday rigors of the NHL.
8. Chris Kreider (New York Rangers)
Already a household name to Ranger fans, this season Chris Krieder will look to show that his playoffs heroics last summer were no fluke. Like something
out of a movie, Chris Krieder burst onto the NHL scene during the 2012 Stanley Cup Playoffs by scoring game winning goals against both the Ottawa Senators and Washington Capitals.
During the NHL lockout, Kreider spent his time playing for the Connecticut Whale of the American Hockey League. During his stint with the team, Krieder totaled 12 points (5G 7A) through 33 games played.
Kreider should excel in his first regular season with the Rangers as he is already now accustomed to the pressures of playing in front of an NHL crowd as well as being involved in high pressure on-ice situations. While Kreider will most likely not finish in the top 5 for rookie scoring this season, his consistently good play as well as his aggressive hitting game should keep him in the public eye for the majority of the season.
7. Justin Schultz (Edmonton Oilers)
While his defensive game has much room for improvement, Justin Schultz could potentially be the top scoring rookie defenseman this season. Gifted with exceptional passing and playmaking skills in the offensive zone, Shultz has the ability to be a top 4 defender in Edmonton this season.
Schultz has spent the duration of the NHL lockout playing for the Oilers' AHL affiliate, the Oklahoma City Barons. Since his arrival in Oklahoma City, Schultz has been nothing more than dominate offensively from the blue line. Schultz is currently second in scoring in the AHL with 48 points (18G 30A) through 34 games played.
Playing for an offensively minded Edmonton squad, Schultz will most likely struggle to play consistently good defense and accumulate a terrible plus/minus on the season. However, the offensive numbers he can potentially put up in the Oilers' offense will keep him in the Calder discussion deep into the season.
6. Dougie Hamilton (Boston Bruins)
 On a team stacked with bruising defensive talent, Dougie Hamilton will look to add some offensive finesse to the Boston Bruins' blue line this season. While the Bruins have relied on strong defensive defensemen in the past, Hamilton's offensive capabilities will add a whole new dimension to the Bruins' defense this season.
Hamilton showcased his extensive offensive repertoire during the 2011-2012 season when he scored 72 points (17G 55A) for the Niagara IceDogs of the OHL.
Like most Bruin defenders, Hamilton will most likely end the season with a very impressive plus/minus total that could end up leading all rookie defensemen. His ability to break up passes in the defensive zone and scoring abilities both from the blue line and on the break will help him stand out this season as a top defensive rookie.
5. Nail Yakupov (Edmonton Oilers)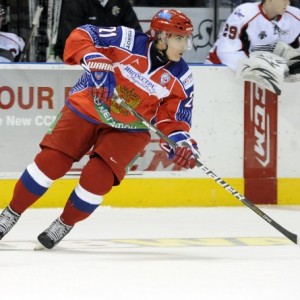 After being selected 1st overall in the 2012 NHL Entry Draft, expectations are sky high for Russian phenom Nail Yakupov going into his rookie season. Yakupov has the luxury of joining an Edmonton Oilers team that is already stacked with young scoring talent. Savvy playmaking from the likes of Jordan Eberle and Ryan Nugent-Hopkins should set up numerous scoring opportunities for Yakupov.
Prior to heading to the 2013 World Junior Championship, Yakupov was playing for HC Neftekhimik Nizhnekamsk of the KHL. While playing in the KHL Yakupov totaled 18 points (10G 8A) through 22 games played.
Due to Edmonton's questionable goaltending situation, the Oilers will most likely rely on a fast pace offense that should place them in a lot of high scoring games. Look for Yakupov to get plenty of opportunities to put the puck on net as stars like Taylor Hall and Jordan Eberle attract the most attention from opposing defenses.
4. Sven Baertschi (Calgary Flames)
With the departure of Jarome Iglina possibly imminent, the 2013 season could prove to be the beginning of Sven Baertschi's era in Calgary. At only 20 years old, the talented Swiss winger could be one of the Flames' top scoring threats this season.
A laundry list of injuries to Flames players allowed Baertschi to play in 5 NHL games last season for the club. In those games he was able to score three goals and win over the fans in Calgary almost immediately. During the lockout Baertschi played for the Abbotsford Heat where he scored 18 points (6G 12A) in 21 games.
This season, look for Baertschi to play well for the Flames right out of training camp. Barring a huge setback in camp, Baertschi projects to be a top 6 forward and will have numerous chances to prove himself while receiving good ice time every game. If Jarome Iglina is traded this season, Baertschi could potentially become the top scoring threat for the Flames near the end of the season.
3. Mikael Granlund (Minnesota Wild)
In a whirlwind off season that saw the Minnesota Wild acquire superstars Zach Parise and Ryan Suter, the emergence of Mikael Granlund should sneak up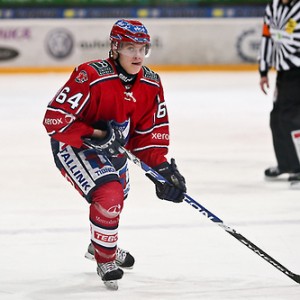 and surprise many NHL fans. Granlund is possibly the best puck handlers and play maker in this year's entire rookie class and will be given a great opportunity to play in the public's eye as Minnesota hopes to contend for a Stanley Cup.
Recently, Granlund has been playing spectacular hockey for the AHL's Houston Aeros where he is averaging a point a game and has 21 points total thus far.
While Granlund possesses the ability to score beautiful goals, look for him to take on the role of a grand facilitator this season for the Wild. Playing alongside scoring talents like Zach Parise, Devin Setoguchi, and Mikko Koivu will help boost Granlund's assist numbers as he makes a run at this season's rookie scoring crown.
2. Brendan Smith (Detroit Red Wings)
As Detroit Red Wings' fans mourn the departure of team captain Nick Lidstrom this season, they will also be cheering the arrival of possibly the next great Red Wings' defender – Brendan Smith. A naturally gifted skater, Brendan Smith is known for his talents as an offensive minded defender with the ability to both score and set up goals.
Red Wings' fans already have already seen a small sample of what Smith is capable of at the NHL level. During the 2011-2012 season, Smith played 14 games for the Red Wings and was able to accumulate 7 points (1G 6A).
Recently, Smith has been playing in the AHL for the Grand Rapids Griffins where he has 20 points (5G 15A) through 32 games this season. Look for Smith to be a top-4 defenseman this season as he will most likely be paired with current Red Wings' defenseman Kyle Quincy or Niklas Kronwall.
1. Jonathan Huberdeau (Florida Panthers)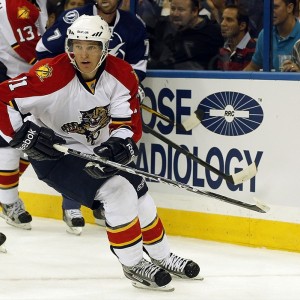 Just months after Pavel Bure's enshrinement into the Hockey Hall of Fame, the Florida Panthers' are getting ready to welcome their greatest talent since
the "Russian Rocket." An amazingly gifted skater, Huberdeau also has the ability to create scoring chances through gifted passing and stick work. Even before playing a single professional game, Huberdeau can already be considered one of the Panthers' best scoring options.
Huberdeau spent this past season building size and strength while playing for Saint John Sea Dogs of the QMJHL. In only 40 games played this season, Huberdeau has already compiled 45 points (16G 29A) and making it known that he is ready to play at the NHL level.
Considering the lack of creative scoring on the Panthers' roster, look for Huberdeau to score early and often this NHL season as he will most likely play on Florida's second scoring line and potentially become a primary option on the Panthers' power play.
Follow Jameson on Twitter @coopdaloop123