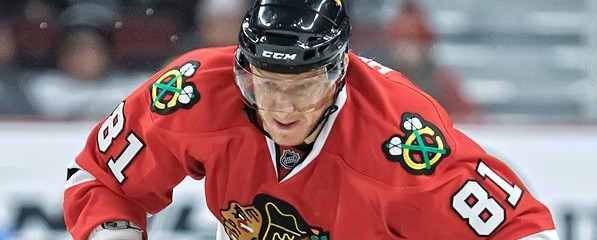 The end of the NHL lockout has obviously ignited a great deal of discussion, due to the many new aspects of the soon-to-be-ratified collective bargaining agreement. Of course, one of the main talking points of the new CBA is the idea of the two buyouts that will become available to teams.
Those buyouts are expected to be available for teams to use prior to the 2013-2014 season. Though they will count against hockey-related revenue, they will not count against the salary cap for any team. Speculation over who could be on their way out of their respective city as the result of the availability of these buyouts is already rampant.
Luckily, the Chicago Blackhawks are not in a situation where they'd absolutely have to or want to use a buyout. Not in the way that some teams may want to cut someone like a Jay Bouwmeester or Rick DiPietro. They're in pretty good shape from an awful contract point of view.
We have a rough idea of who the Hawks could look to use their buyouts on. The first name that comes to mind is Steve Montador. You could also throw in names like Johnny Oduya or Rostislav Olesz. Maybe even Michael Frolik. But one name that is going to come up, regardless of what the front office intends to do is Marian Hossa.
The reasoning behind Hossa's name emerging in buyout talks has nothing to do with his performance. He's performed, pretty consistenty, at a high level for the Hawks since he signed with the team prior to the 2009-2010 season. However, his contract makes him a candidate by default.
Hossa's incredibly front-loaded deal goes through the 2020-21 season, meaning he's signed for almost nine more years. His cap hit, at just over $5 million, is the fourth highest among the forwards on the team, and is seventh overall, when you factor in their two highest paid defenseman.
For a future Hall of Famer, that's obviously not a high price to pay. Especially considering that he's coming off of his best season as a member of the Blackhawks. However, his track record as far as his health is concerned since he's been in Chicago isn't great. On top of the fact that he's about to turn 33.
The reasoning behind a potential Marian Hossa buyout is simple enough. But is it likely? That's the question. If this was following the 2010-2011 season, which was the second season where Hossa underperformed and struggled to stay healthy, we may be having a different discussion. But he's coming off of a season where he played in 81 games and finished with 77 points. He's still among the best in the game.
Is there going to be some concern over his health, even being cleared, after that brutal concussion he sustained at the hands of Raffi Torres? Sure, but the lockout, frustrating as it was, did give him the necessary extra time to recover. There's no reason to think he can't return to his near point-per-game play of last year.
At this point, a buyout of Marian Hossa would be a questionable and wildly unpopular move. He's still playing at a high level, and is one of the game's best two-way forwards. Even at 33, there are no signs of his game falling off yet.
Regardless of what the Blackhawks may plan to do, Hossa's name is going to come up in this buyout talk. It's unpreventable. It's almost as if any long contract for a player with an injury history is going to come up as a candidate. And in many cases, that's going to be valid. But in the case of Marian Hossa, don't expect him to be packing his bags and leaving the Windy City anytime soon.