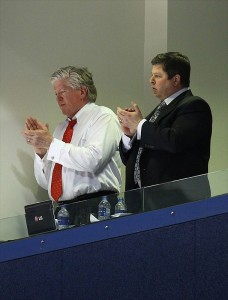 For two consecutive seasons, the Toronto Maple Leafs have shown they have what it takes to compete with the league's best teams – at times. This ability has had them in the playoff conversation near the season's end both years, but falling (substantially) short both times.
What this tells us is that there are pieces in place that bode well for the future of the club and many of those pieces are thanks to Brian Burke.
One thing Burke has never been and will likely never be is shy. Not shy to say what he feels. Not shy to do things his way. And certainly not shy to make roster moves.
Last season Phil Kessel demonstrated just why the man who traded for him in 2009 was convinced he was not giving up too much (two firsts and one second round draft pick) for a relatively unproven product.
At 25, Kessel put up a career high numbers (37-45-82). Twenty-five more points than one of the first-rounders he was traded for, Tyler Seguin (yes Seguin was only a sophomore, but points are points aren't they?).
https://twitter.com/dev0h/status/289156817915887616
Still, many say the Kessel trade sealed Burke's fate from the day he pulled the trigger. But for every criticized move, there seems to be one that upon further reflection has panned out just fine.
How about Tomas Kaberle? He was a shadow of his old, power play-quarterbacking, point-producing self when he was still with the Leafs, but based on what he is now there is now way any GM in the league would give up Joe Colborne – who will certainly be an NHLer for a long time – a first and second-rounder for Kaberle.
But that's what Burke got in return. And he got a lot when he unloaded aging defenseman Francois Beauchemin just a week earlier.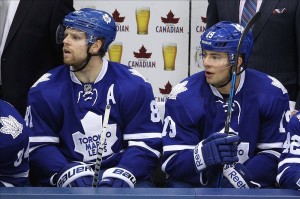 Prior to being picked up by Toronto in February of 2011, Joffrey Lupul was coming off back surgery which resulted in him missing 24 games the season prior and getting off to an average start with the Ducks. He was a risk.
But alongside Kessel in 2011-2012, Lupul came alive and was part of one of the best tandems in the league. He also put up a career high in points (25-42-67) and heading into the shortened 2013 season, the duo is the only thing coach Randy Carlyle says is "etched in stone."
Also plucked in the Beauchemin deal was Jake Gardiner, a speedy in defenseman drafted in the first round and with plenty of upside, who – even if he doesn't pan out in Toronto – will fetch quite a big return on the trade market.
Three deals by Burke that significantly impacted a team which was in the dumps before he took over. What he didn't do was resolve the team's goaltending issues, among other things. And if there was more that ownership didn't like about Burke than his just his "style" goaltending may have done him in.
After Wednesday morning – for all intents and purposes – Brian Burke is gone from Leafs' management. Despite a fancy title, which remains, it is hard to believe the former Leafs' general manager will continue to make any important decisions for the team, especially in its day-to-day hockey operations.
But just because the Stanley Cup winning general manager was relieved from his duties (before even coming close to doing so with the Buds) it doesn't mean he won't play a part in any success they have in the near future. He has already made his impact.
That's the mark of a competent general manager despite the fact that for this one at this time, things didn't work out.
Burke's replacement Dave Nonis knows how this works all too well. After making a fairly large impact on the Vancouver Canucks (ironically, after replacing his predecessor at the time, Brian Burke) by unloading Todd Bertuzzi and acquiring Roberto Luongo, and hiring Alain Vigneault, Nonis was fired. The team went on to win the President's trophy and reached game seven of the Cup Final, with many of the players Nonis and Burke for that matter brought to Vancouver.
But it was Mike Gillis who presided over the success.
Let's not overlook a Stanley Cup winning team in Chicago, overlooked by Stan Bowman but largely pieced together by Dale Tallon.
And of course, let's not forget Brian Burke taking over for Bryan Murray in Anaheim, tinkering and winning a cup.
In all cases, the former GMs laid the foundation and the successor filled out the rosters and got the glory.
Dave Nonis may do the same in Toronto. But that's not without thanks to Brian Burke.