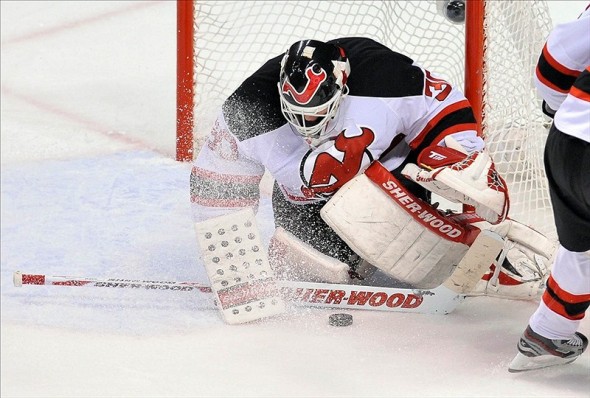 Yes, the NHL is back ladies and gentlemen. There are very few people who played fantasy hockey back in the year 1995. For those that did, this is a very interesting time. Back then, the sport was scored by looking into newspapers. Now there are enough options to make your head spin. Yet there are enough basic similarities between then and now to at least take a look at what the fantasy landscape looked like in the year 1995.
The game is different obviously now but the way we play fantasy hockey is similar to days gone by. The means may be altered but the end is quite alike. As we have said here, Fantasy Hockey ONE is going to be a fun one stop source of fantasy hockey and debate so why not turn the clock back a bit. Here are the top ten scorers from the 1995 shortened season.
| | | | | |
| --- | --- | --- | --- | --- |
| Player | GP | G | A | PTS |
| | | | | |
| Jaromir Jagr | 48 | 32 | 38 | 70 |
| Eric Lindros | 46 | 29 | 41 | 70 |
| Alexei Zhamnov | 48 | 30 | 35 | 65 |
| Joe Sakic | 47 | 19 | 43 | 62 |
| Ron Francis | 44 | 11 | 48 | 59 |
| Theo Fleury | 47 | 29 | 29 | 58 |
| Paul Coffey | 45 | 14 | 44 | 58 |
| Mikael Renberg | 47 | 26 | 31 | 57 |
| John LeClair | 46 | 26 | 28 | 54 |
| Mark Messier | 46 | 14 | 39 | 53 |
The offensive numbers are thanks to Rauzulusstreet and just a second while we gather the goaltending data. This was done a bit differently as we just casually mention the notables in the shortened year. Dominik Hasek was his usual dominant self with a 2.11 GAA and an incredible .930 save percentage. The next best save percentage was .917, which is pretty impressive even in a 48 game campaign. He also led the league with 1136 saves while posting a 19-14-7 for a very average Buffalo Sabres squad. Ken Wregget led the league with 25 wins but had a 3.21 GAA. Yes the Pittsburgh Penguins were one of the favorites to win the Stanley Cup. Guys like Jim Carey and Jocelyn Thibault had magical seasons in limited duty.
Overall the league took a drop down in scoring. However, average goalie starts were down too and save percentage. The thing is there is a huge variable that was not present in the last 48 game season. There are so many leagues to stay in shape. Whether its the KHL, AHL, ECHL, etc., a bottom line exists. Players do have options that did not exist but clearly the Forwards have an advantage over the goaltending. As for defensemen, it is kind of a wash for the most part.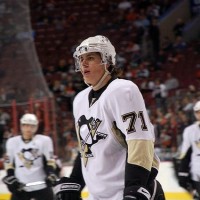 The leading scorer averages just a hair above 1.5 points per game on the shortened year. If you look at the 2011-12 season, Evgeni Malkin topped the NHL with 109 points in just 75 games played. That average is just fractions off from the Eric Lindros pace set during the 1995 lockout season. Malkin's KHL season has been amazing now granted, the level of competition is different but results are results. The guy is well over the 1.5 point per game threshold and is in the best shape of his career. Yes the game will be faster with less space but this is a player who can score from a phone booth. It will be interesting to see how the guy who had a whopping 65 points in 37 games does back in the NHL. Now while Jaromir Jagr was a more fluid player, Eric Lindros was more North-South. It looks like this year has similar tendencies but who knows. Malkin could easily approach 70 points along with a couple others especially if teams really try to "conserve" their goalies especially early and late in the season. Keep in mind, the most starts in the 94-95 season was 42. If you see a starter in that range, there should be a little concern. If you take into account, past success, potential breakouts, and conditioning, there is a general idea of the top five scorers and goalies. Keep in mind, these are early projections. They will likely change.
Top five scorers:
Evgeni Malkin (PIT) — 68 pts
Steven Stamkos (TBL) — 62 pts
Sidney Crosby (PIT) — 58 pts
Ilya Kovalchuk (NJD) — 55 pts
John Tavares (NYI) — 52 pts
This is going to change quite a bit between now and Week 1 of your fantasy season because it is all going to depend on who looks like what in camp. Also, injuries play the biggest role in a 48 game season because the percentage of games lost is that much higher. One game is like missing two in theory. Watching for the bumps, bites, and bruises will save you so much heartache.
The goalies are a little different in theory as we did a placement system based on how they would do. In this case, the lowest amount of points won. We based on five major goaltending categories (Wins, Shutouts, Save %, Saves, and GAA). It was a bit tough but again taking into account all those fun variables, here are our early top five projected goalies.
Top five goalies:
Jonathan Quick — 9.5

Henrik Lundqvist — 12.5

Cory Schneider — 16
Carey Price — 18

Mike Smith — 19
Again, a lot of these could change. There are going to be all sorts of surprises, breakouts, and duds in this 48-game circus. Let's face it, it will be a circus ladies and gentlemen. If you are of good fantasy acumen and you think you can handle the pace, then the shortened season may just be for you. Sometimes learning a little from history (1995) can pay dividends now (2013).
Good luck in your fantasy leagues, and we want your before training camp projections. Let us have them, and thanks again for reading.