When Helle Thorning-Schmidt said upon her election as Prime Minister that Denmark needs change, she was probably not talking about hockey. That being said, however, it can relate to the sport, especially in the position of goaltender. So many great netminders in the country dwell in anonymity, with only one — Frederik Andersen — having been drafted to the NHL so far (and he also became the first to be redrafted). Anders Jespersen knows all about the change needed in Denmark. He has done so much during his career and, unfortunately, there is not much known about him. What many do not know is that he is one of the more accomplished goaltenders in Denmark and he is hopeful that the position is in good hands going forward into the future.
Anders Schmidt Ejgaard Jespersen was born on March 9, 1991 in Esbjerg, Denmark, nearly three hours away from the national capital of Copenhagen. His mother Birgit Schmidt is a prison secretary and his father Per Ejgaard Jespersen spent nearly fifteen years as a slaughterhouse worker. Anders is the oldest of two brothers; his younger brother Rasmus was born on December 7, 1994. Growing up, young Anders always loved hockey. His father would take him to a local rink in Esbjerg and the love affair was immediate. One day at practice, his coach asked him and his teammates who wanted to be a goaltender. The team did not have any so Jespersen readily jumped at the opportunity to take on being a goalie. Just like with the sport as a whole, his love affair with the position was instantaneous.
While Jespersen was growing up, there were not many goalies in the country to look up to and admire. Ernst Andersen (Frederik's father), Henrik Bjerring, Rasmus Åradsson and John Markussen were perhaps the best ones in the AL-Bank Liga, Denmark's highest professional league. Jespersen was undeterred. In fact, he found himself admiring a high-calibre NHL goalie in Roberto Luongo. Jespersen wanted to be the best goalie he could be, even if there were going to be bumps along the way. He remained grounded, focusing on his education as much as his hockey. By the time he was in seventh grade, he had enrolled into a special school that allowed for him to practice thrice a week in the morning, in addition to normal nightly practices and games.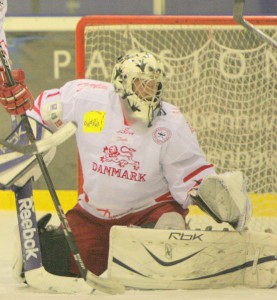 The practice paid off. By the time Jespersen was halfway through high school, he was playing higher-level junior hockey in Denmark. By the time he was fifteen, during the 2006-07 season, he was playing games for the under-20 team of Esbjerg IK, his hometown squad. Additionally, he was practicing with their elite team, the top professional squad in the city. Jespersen also got the opportunity to represent Denmark for the first time on the international level that year, playing in a Four Nations Cup in Ski, Norway.  During that tournament, he and his teammates played against teams from the host country, Switzerland and Italy. By the next season, Jespersen was already playing in the 1. Division in Denmark, the second-highest professional league, in addition to playing for Esbjerg's under-17 and under-20 teams, as well.  He helped the under-20 team win their league championship that year.  He also went to another Four Nations Cup, this time in Füssen, Germany, where he competed against the hosts, Switzerland once more and Belarus.
*
In 2008-09, Jespersen played more games in the 1. Division for Esbjerg, in addition to starting practice with the AL-Bank Liga team.  He also played in a tournament with the Danish under-18 team, which was held in France.  The professional grooming helped immensely since he signed a one-year contract the following campaign with the Frederikshavn White Hawks.  He played for both their under-20 team and their 1. Division squad, all while being held as a reserve goalie for their AL-Bank Liga team.  Frederik Andersen was the #1 netminder that season for the White Hawks and he was not willing to relinquish the reins.  Jespersen had a rather busy schedule, though.  In addition to school, he would practice with the elite team in the mornings, up to eight practices per week, and games every weekend.  He also played with the under-19 national team, reserved solely for players born in 1991 such as himself.
After his year with Frederikshavn, Jespersen returned to Esbjerg for the 2010-11 season.  It felt great for him to finally be back home.  He played with both their 1. Division team and in the AL-Bank Liga, in addition to playing for the national junior team.  That same season, Jespersen thought that the time was right for young goalies to show their potentials.  After all, he had watched Frederik Andersen become the first Danish goalie ever drafted to the NHL, as well as seeing Sebastian Dahm still playing in North America.  Patrick Galbraith was having success in Sweden, playing for Leksand.  Young goaltenders in the country such as Sebastian Dyberg Feuk and Matthias Nayberg Hansen were really starting to come into their own.  Jespersen decided to harness that upswing of talent by becoming a goalie coach, starting off coaching the goalies with Esbjerg's under-17 team.  He also started doing independent work as an aspiring agent, demonstrating skills that he learned in business school back home.
*
After his final season with Esbjerg, Jespersen started looking around for other opportunities.  He nearly signed with HC Chotěboř, a team in the Czech Republic, but the situation was not to his liking.  The team already had five goalies, including him, so he returned home to Denmark.  He also became a permanent player-coach.  Jespersen signed to play for and coach with the under-20 team of the Odense Bulldogs.  He was there for three months before travelling 2388.4 kilometres from Odense to Ankara, Turkey.  Jespersen started playing for and coaching at Ankara University, whose team played in the Turkish Ice Hockey Super League.  For someone who had always enjoyed vacationing in Turkey, it became clear that the blonde-haired goalie from Denmark was going to have a good home.  Jespersen set up a goalie camp in Ankara, tutoring eight to ten goalies every weekend.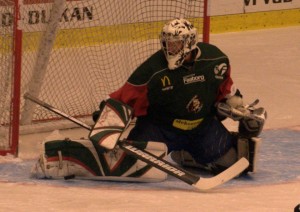 Upon the completion of the 2011-12 season, Jespersen made another long trip.  He traveled nearly 4408 kilometres from Ankara to Reykjavik, Iceland, signing as a player-coach with Vikingar, a team in that country's top league.  After only two games, though, Jespersen's contract was voided and he returned to Denmark.  He got a job playing for IK Aarhus, a team in the 1. Division, but he only stayed for a month.  He then signed with another team in yet another country, heading for Estonia to be a player-coach with Viru Sputnik Kohtla-Järve, a team that also employed significantly talented players such as Ragnar-Hindrek Russ, one of the country's best young forwards, and up-and-coming defenceman Valentin Popov.  Yet again, however, Jespersen did not stay long.  After being demoted to the team's affiliate, Kalev-Välk, he has decided to once more travel to one of his favourite countries: Turkey.  He will finish the remainder of the season as a player-coach with B.B. Ankara SK.
*
Jespersen can consider himself lucky.  There have not been many goaltenders in Denmark who have managed to find themselves achieving success somewhere other than their homeland.  That being said, however, there are some who are starting to find themselves gaining significant accolade.  Despite Denmark's poor showing, Sebastian Dyberg Feuk really had a coming-out party at the 2012 World Juniors in Alberta.  Mattias Horan has already played in North America while Jonathan Willumsen has had a tryout in the Central Hockey League.  Frederik Jakobsen, George Sørensen, Stephen Rinke, Nikolaj Fogh Madsen and Nicolai Lærke are definitely starting to come into their own.
*
When all is said and done, perhaps Prime Minister Schmidt was right.  Denmark does need change.  For a country whose hockey notoriety only seems to come from top-end forwards (Mikkel Boedker and Lars Eller, for example), the position of goaltender is changing and it is up to the rest of the hockey world to stand up and take notice.  For Anders Jespersen, he is doing whatever he can to expedite that, as both a coach and a player.  It has been successful so far and time will tell if it will continue.