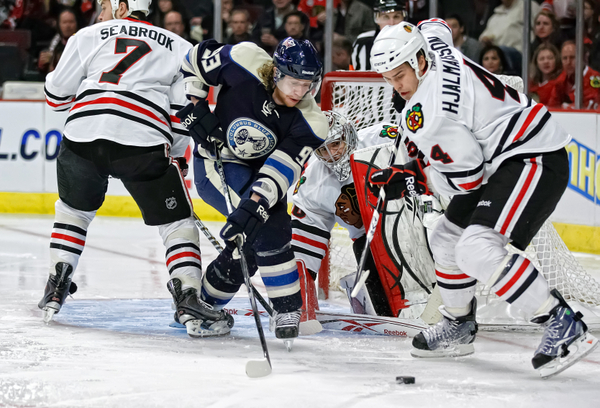 After acquiring Johnny Oduya at the 2012 trade deadline, many people believe the writing is on the wall for Niklas Hjalmarsson. He has two years remaining on his contract, shoots left, and some people believe he essentially brings the same game as Oduya only Nik has less to show on the offensive side of his game… a notion I cannot get behind. As much as I hope he stays in Chicago, I still wouldn't be surprised if he was moved.
I like Hjalmarsson… a lot. He plays a simple game, he's fearless, a true warrior, and excellent on the penalty-kill. Last year he had 142 blocked shots in 69 games, finishing 2nd on the team behind Brent Seabrook. The year prior, he led the team in blocked shots, and in his first full season he was 3rd behind both Keith and Seabrook. To me, this is the type of player you want around playoff time.
He was paired with Nick Leddy and Brent Seabrook for a majority of the 2011-12 season, although he did struggle at times with Leddy as his partner, he was still fairly steady all year finishing with a plus-9.
There hasn't exactly been a noticeable difference between the Hjalmarsson that won the Stanley Cup and the one that plays today. I think the only reason people pile onto him is because he signed the infamous offer-sheet the summer the Blackhawks won the Cup — the same summer the team needed cap space, effectively forcing Stan Bowman to ship out another player in order to keep him. Also, while most players improve year-by-year it seems like Hjalmarsson's development has been stagnant. This isn't exactly a bad thing because Nik was a solid player to begin with, I just think people expected more from him.
He's never going to hit everything in sight, he's never going to have a rocket from the point, he won't pinch to make a play, and he will never lead a rush with blazing speed. And that's okay. He just needs to be a steady presence that will block shots and stay in position. That's his home. Better off that he knows his role than forcing plays and trying to be the hero, that is when players of his caliber get themselves in trouble.
What We Should Expect
If the Blackhawks decide to keep him for the entire season, expect him to see time on the 2nd pairing as the steady stay-at-home defenseman as well as a boatload of minutes on the 1st penalty-killing unit. It's uncertain whether or not he will be paired with Nick Leddy again after the Blackhawks acquired two more right-handed shooters in Michal Rozsival and Sheldon Brookbank, but chances are he finds a home with Leddy again despite the fact they both shoot left. I would give Rozsival an outside shot on that 2nd pairing if Leddy can't cut it.
The Future of Niklas Hjalmarsson
There is such a large logjam on defense, it's hard to pinpoint exactly who will stay and who will go. The best answer I can give is that it all depends on job performance. Duncan Keith obviously has secured his job with his ability to anchor the top line. Oduya, Leddy, and Hjalmarsson will all find themselves competing for the remaining two spots on the left side. One of them will probably be shifted to the right side, or at worst they could be scratched if the new additions to the defense can prove that they are more effective. Regardless, his future may be in limbo, but I have confidence that Hjalmarsson can win that battle and play out his contract in Chicago.
***
PREDICTION: 46 GAMES | 9 POINTS | 97 BLOCKED SHOTS | PLUS-11