On January 7,  Bovada opened the odds of the Philadelphia Flyers winning the Stanley Cup at 12/1, the same as the defending champion Los Angeles Kings.  The only teams with better odds were the Pittsburgh Penguins, New York Rangers, and Vancouver Canucks.
To justify such lofty expectations, the Flyers will have to overcome a few critical flaws.
The painfully glaring weakness of the Flyers last season was their defense.  In the summer before the lockout, they lost Matt Carle to free agency.  Adding Luke Schenn via trade adds another physical presence, but he has yet to live up to his expectations as a 5th overall draft pick.  Free agent defenseman  Bruno Gervais will provide depth, at best.  Shea Weber would have been the perfect fit, but Nashville elected to match Philadelphia's offer sheet.
In the crease, Ilya Bryzgalov struggled with consistency, though he's looking to improve in his second season with the Flyers.  If he doesn't, you can definitely bet on him not being around much longer.
The saving grace for the Flyers was their offense, scoring 260 goals, good enough for a tie with Boston for second in the NHL – but that might not necessarily be the case in 2013.
Compare Philadelphia's offensive totals to the current roster and you can subtract 30 goals with the departures of Jaromir Jagr (19) and James van Riemsdyk (11).  Look even further and you'll notice several Flyers had extraordinary scoring seasons that shouldn't be depended on repeating.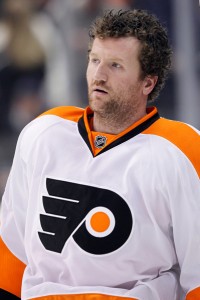 Scott Hartnell set career highs in goals (37), shots (232), and shooting percentage (.159%, .114% career).  Hartsy found his groove on a line with Claude Giroux and Jagr, and did a lot of his scoring on the power play.  With Jagr gone, opposing defenses will be able to focus more on shutting down Hartnell 5-on-5.
Max Talbot and Wayne Simmonds also eclipsed career highs for goals.  Talbot matching Jagr's 19 goals was definitely not something GM Paul Holmgren imagined when signing him.  Talbot's previous career high of 13 would be a more reasonable expectation.  Simmonds' 28 goals nearly doubled his previous high of 16, but as a young player with potential, he could match – or surpass – that number this year.
Jagr's prospective replacement on the top line, Jakub Voracek, has yet to top the 20 goal mark in a season, though his speed will bring a different element to the top line, and he has the vision and playmaking ability to thrive with increased opportunity.
The Flyers made an attempt to sign Zach Parise or Shane Doan, but both players decided to sign elsewhere.  Based on newly signed Ruslan Fedotenko's previous seasons, it would be a stretch to expect 20 goals and 40 points from him.
Barring any last second transactions, the team you see right now will be the same on opening night.
With a lackluster defense, the pressure will be on the offense once again to outscore the opposition.  In order to do that, the goals are going to have to come from the likes of Simmonds, Voracek, Brayden Schenn, Sean Couturier, and Matt Read.  Their continued development will be necessary if the Flyers are to continue being one of the highest scoring teams in the NHL.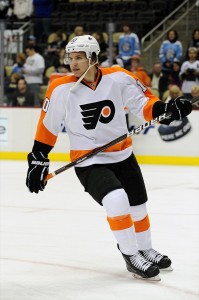 Besides Read, all of those players came to Philly in the trades of former franchise conerstones Jeff Carter and Mike Richards.
These young talents are going to need to produce even more for the Flyers to challenge for a Stanley Cup.  Read scored 24 goals in his rookie year and will be looking to avoid a sophomore slump.  Couturier showed off his two way game in the first round series against Pittsburgh, defending Evgeni Malkin and scoring all 4 of his points in Game 2.  Schenn came on late in the season, tallying 9 points in 11 postseason games, and has averaged a point per game in 33 AHL games.
Touted last summer as one of the best players not currently playing in the NHL, Schenn will be depended on to spark the second line.  The expectations will climb as his production rises with experience.
Schenn, Simmonds, Voracek and Couturier will continue to be key members of the franchise.  How they respond to the pressure of  increased roles and responsibilities – and Bryzgalov's play in goal – will decide the outcome of the abbreviated 2013 season.