It feels great to be writing about actual hockey rather than collective bargaining. It's been a grueling 113 days for fans, team employees, writers and players alike.
With that said, there are a lot of details in the new CBA that we don't know yet. We do however know about the 2 compliance buyouts that have been included in the deal. These will work somewhat similar to the NBA amnesty clause that was included in their new CBA last year. The difference is that in the NHL, a team wishing to buyout a player will pay 2/3 of the salary remaining on the deal. That player will then be free to go and removed from the salary cap number. This is being done in an effort to assist teams get down to the year 2 cap number of $64.3 million prior to the 2013-14 season.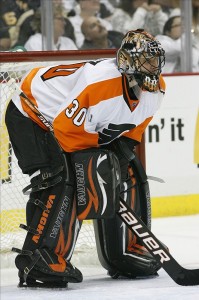 As far as the Philadelphia Flyers go, believe it or not, they are in pretty good shape with their payroll. They have one clear elephant (or should we say bear) in the room, and we'll get to him in just a second. Currently the Flyers have $57 million committed to 16 players for next season. There will be some player movement and trimming to get to the $64.3 million cap number for 2013-14, but nothing overly drastic.
If you look at the Flyers committed salaries, they are all pretty reasonable except for 1 in the long term and maybe another 1 in the short term.
Now, regarding the Flyers buyout possibilities, there's one name that comes to everyone's mind right away and then maybe a couple of more faint names in the background. Let's take a look at some of these possibilities.
#1. Goaltender Ilya Bryzgalov
Bryzgalov has been one of the most heavily scrutinized Flyers since joining the team as a high priced free agent last season. This 48 or 50 game season will be an open audition for Bryzgalov. If Bryz does not have a spectacular season I see the Flyers buying out his contract next year. At the two-thirds buyout it would cost the Flyers a little over $20 million to buy him out, since the contract was front loaded. With seven years remaining on the deal after this season, one gets the feeling Bryz would have to really impress for the Flyers NOT to buy him out. 7 years is a long time.
#2. Forward Danny Briere
This one would be tough for Flyers fans and team management alike to swallow. Danny Briere does have a pretty big cap hit ($6.5 million) over the next two years following this season. However, Briere is probably the Flyers most clutch players come playoff time. The picture will be more clear next summer with how much trimming the Flyers need to do to meet the year 2 cap number of $64.3 million. I'd imagine they'll hold this very tough decision until the last minute. Danny is very close to Flyers team management and one of the most popular guys in the locker room. It will also depend a lot on the rules. If a player is not allowed to be bought out and then immediately re-signed by his current team, it makes the situation stickier as well. One thing the Flyers have in their advantage is they control Claude Giroux through 2014-15, which is when Briere's deal expires. So depending on what the Flyers want to do with Giroux (lock him up early or wait until 2014-15), that could have a big impact on whether or not Briere hangs around.
#3. Debunking the Chris Pronger Talk
Another name that has been going around in regards to a buyout is Chris Pronger. While Pronger has been inactive for the better part of the last two seasons due to injury, the Flyers can keep him on Long Term Injury reserve. Also, in all likelihood Chris Pronger will never play again anyway, and in order for the compliance buyouts to work, the player must be active. Pronger's number won't count against the cap either way.
If Bryzgalov has an average to bad year this upcoming season, the Buy-Out-Meter is at 100%. Briere will be a toss-up. The good news is we all get to watch actual hockey before these decisions even have to be thought about.
In the mean time, we'll all enjoy every game meaning something. Whether it be meaning something for the playoff hunt or whether it means an audition for guys like Bryzgalov or Briere, it will be a treat for all of the hockey fans who are coming back for the 2012-13 season.