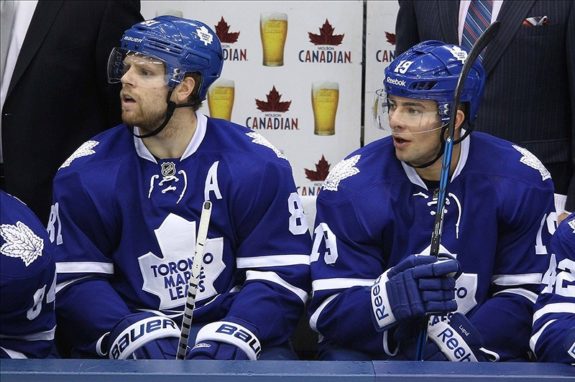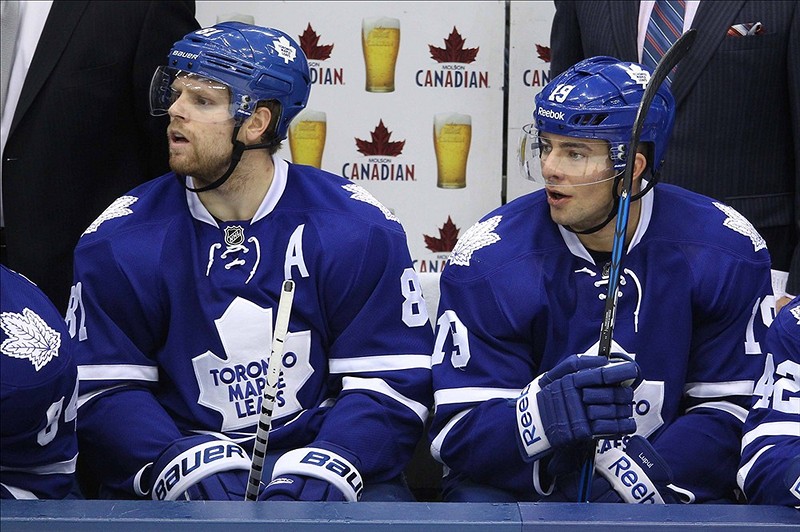 After what can only be termed a complete debacle, the NHL and NHLPA have a tentative deal on a new CBA. The deal is expected to be signed as early as Tuesday, which means the NHL season will start as early as the January 15 for a 50-game schedule or January 19 for a 48-game schedule.
Training camp is expected to open on Wednesday, Thursday or Friday, pending the ratification of the new deal. If everything goes to plan it appears as if the season will start on January 15.
For NHL clubs, a 50 or 48-game season will mean plenty of back-to-back games, with few nights off. The NHL is expected to announce a schedule that will be loaded with key Division and Conference matchups. With that in mind, the 2013 NHL season will be a dogfight and somewhat of a marathon, with every game expected to be a war.
Coming off a season in which the Toronto Maple Leafs finished with a paltry 35-37-10 record, the fans of the Blue and White will be looking for a measure of improvement.
Toronto Maple Leafs general manager Brian Burke made several moves this off-season, the biggest of which being the acquisition of Philadelphia Flyers forward James van Riemsdyk in return for stay-at-home defenseman Luke Schenn.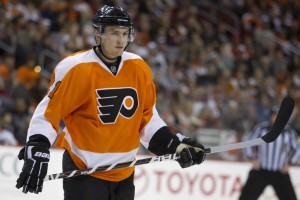 Originally drafted second overall by the Philadelphia Flyers in the 2007 NHL Entry Draft, van Riemsdyk has played the majority of his NHL career on the Flyers' left wing. Early reports had Maple Leafs head coach Randy Carlyle willing to give JVR a shot at the first line centre role. With little time to prepare for the season, it will be interesting to see how Carlyle approaches JVR's assignment.
More likely, JVR will find himself on the wing, developing his play at centre as the season goes on. In order for JVR to fill a role at centre he will need to be much better defensively and work on his face-offs; two areas that JVR has struggled in the past.
Carlyle has promised a more defensive-minded team that will play the physical game that GM Brian Burke has always foreseen since his arrival in Toronto in November of 2008.
Like every NHL team, the Maple Leafs will have to deal with a plethora of players that will arrive to training camp outside of game shape. Look for Carlyle to promote several players from their AHL affiliate, the Toronto Marlies. If they want to hit the ground running this season, they will need plenty of time in the gym to prepare, with plenty of beta-alanine which helps build muscle to survive (and thrive) on the ice this year.
Forwards Nazem Kadri and Leo Komarov (who started the season with the Marlies and is now playing in the KHL) will be prime candidates to earn a spot on the roster as both players have impressed the Leafs' brass this season.
Having played in Germany and Russia and Sweden, several of  Toronto's roster players should be able to hit the ground running for the Maple Leafs, including Mikhail Grabovski (KHL), Nikolai Kulemin (KHL), Joffrey Lupul (KHL), Cody Franson (who is an RFA, Sweden) and Clarke Macarthur (Germany 2).
Lupul is already home from his KHL stint, while Kulemin, Grabovski and MacArthur will have to make arrangements to get back for training camp ASAP.
Coming off a career-worst season in which he registered just seven goals and 28 points through 70 games played, Kulemin has been tearing it up in the KHL with Metallurg Magnitogorsk, registering 14 goals (seven of which came on the power play) and 35 points through 35 games played.
The Maple Leafs will be banking on Kulemin emerging as a key cog in their hopes to reach the playoffs this season by making a return to the player that scored 30 goals and notched 57 points in 82 games with Toronto in 2010-11.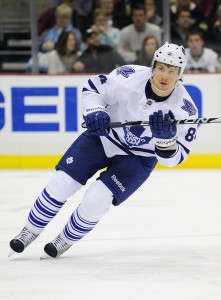 Mikhail Grabovski has been playing well for CSKA Moscow in the KHL. He has 12 (three of which came on the power play) goals and 24 points through 29 games. He too will be expected to raise his game this season, and perhaps see some time on the top line, where he may see the odd game playing centre for sniper Phil Kessel and Joffrey Lupul until JVR can find his way or a return of Tyler Bozak to the top line happens.
Prior to defecting to the KHL to play with Dynamo Moscow, Leo Komarov was dominant in his stint with the Marlies, registering six goals and nine points through 14 games with the Maple Leafs affiliate.
While Komarov's point totals are not outstanding, his defensive play was exceptional, as was his willingness to get under the skin of opposing forwards. Through 13 games with Dynamo, Komarov has registered two goals and 10 points while racking up 42 penalty minutes.
Look for Komarov to make the return to North America where he will likely join the Maple Leafs to fill a third line role with the big club.
Lupul struggled to find his game in the KHL, registering one goal and four points through 17 games with Avtomobilist. Rest assured; Lupul's totals with the Avtomobilist are nothing more than an aberration. Playing alongside Phil Kessel, Lupul will be a major player for the Maple Leafs, where he is expected to match or better his 25 goals/65 point effort with the Blue and White last season.
The Maple Leafs also boast a group of players that have been playing in the AHL, including the aforementioned Leo Komarov and Nazem Kadri, as well as defensemen Jake Gardiner, Korbinian Holzer, Jesse Blacker and Mike Kostka.
Both Gardiner and Holzer (who has a one-way contract) are expected to start for the Maple Leafs, while Blacker and Kostka will remain with the Marlies.
Signed as a free agent this summer, Marlies defenseman and former NHL player with the Tampa Bay Lightning, Paul Ranger, has emerged as a real threat to make the Maple Leafs. Through 28 games with the Marlies Ranger has bulged the twine a total of five times (including two power play goals) and has 18 points. His steady play has earned him a plus-17 rating and some high praise from Marlies head coach Dallas Eakins.
"He just keeps getting better and better, said Eakins of Ranger in a recent interview. It's a great story for me. A guy who was off that long, to come back in day one of training camp and set the tone with his fitness level, to pick up his game this fast … it shows not only his hockey ability, but his mental fortitude."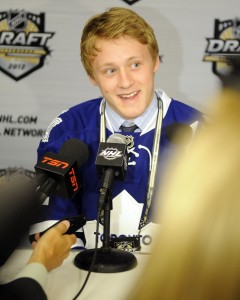 Another defenseman that will push for minutes at the NHL level will be Morgan Rielly, who just got back from the World Junior Championships and has put up some impressive numbers with the Moose Jaw Warriors of the WHL.
Drafted fifth overall by the Maple Leafs at the 2012 NHL Entry Draft, Rielly was coming off an injury-filled season in 2011-12 where he was limited to just 18 games, registering three goals and 18 points. This season Rielly has seven goals and 28 points through 33 games with Moose Jaw and looked very good with Team Canada at the World Junior Championship.
Rielly may need a little more seasoning before he gets a shot with the Maple Leafs, but he is not that far off, which bodes well for the Blue and White.
Forwards Matt Frattin (who is expected to start with the Maple Leafs), Joe Colborne (who has struggled this season) and Carter Ashton (who has shown a physical edge this season) have also been playing with the Marlies, as has goaltender Ben Scrivens.
Scrivens is expected to back up starter James Reimer for the Maple Leafs. After a slow start, Scrivens currently sports a 14-7-1 record with a 2.22 goals against average and a 0.917 save percentage through 22 games played with the Marlies this season.
Having posted a 5-1 record, 1.81 GAA and 0.942 SV%, Jussi Rynnas looks more than ready to assume the starters role with the Marlies, while Mark Owuya (2-2, 3.79, 0.833) will likely back Rynnas up.
Reimer is coming off an injury-filled season in which he registered a 14-14-7 record to go along with a bloated 3.10 GAA and a sub-par 0.900 save percentage. Despite his injury troubles of last season, Reimer is said to be healthy and the Maple Leafs are hoping he will return to the level he was at in 2010-11 where he registered an impressive 20-10-5 record where he earned a 2.60 GAA and a 0.921 save percentage through 37 games played.
A trade for disgruntled goaltender Roberto Luongo of the Vancouver Canucks has long been rumored. It will be interesting to see if the Canucks chose to buy Luongo out and how that will effect his future as an NHL goaltender. Could he end up being a member of the Blue and White? Time will tell; despite big hopes for Reimer, the Maple Leafs certainly could use a goaltender of Luongo's caliber.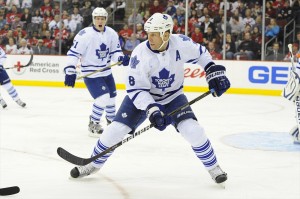 With a one-time buyout amnesty looming, a trio of Maple Leafs' future with the club remains uncertain. Defenseman Mike Komisarek and forwards Tim Connolly and Matthew Lombardi are all candidates to be bought out. Whether or not GM Brian Burke chooses to exercise this clause remains uncertain, but expect all three (all of whom have ugly contracts) to be under extreme scrutiny as the season gets set to start.
Coming off a season in which he posted career-highs in goals (37), assists (45) and points (82), Phil Kessel remains Toronto's biggest threat offensively. Kessel showed he belongs with the leagues elite scorers, the Maple Leafs are banking on him continuing that trend throughout the 2013 season.
With Komarov, Frattin, Kadri and free agent signing Jay McClement all expected to compete for minutes with the big club, there is every indication that the Maple Leafs will ice a very different forward lineup from the one that led Toronto to a bottom-five finish in 2011-12.
Frattin is a shoe-in to make the club, as is Komarov. Kadri has made considerable improvement in terms of his defensive breakdowns and will get a long look to fill a top-six assignment. McClement is expected to make the club as a defensive specialist where his penalty killing attributes will be a God-send for a team that finished with the 28th ranked penalty kill at a paltry 77.3 percent success rate.
Ryan Hamilton currently leads the Marlies with 16 goals through 31 games. Look for him to get a long look in training camp as the Maple Leafs look to round out their forward lines. Former NHL player Keith Aucoin could also get a sniff with the big club as he currently leads the Marlies with 35 points through 32 games.
It is unknown where Clarke MacArthur fits in with the Maple Leafs. MacArthur showed great chemistry playing on a line with Kulemin and Grabovski in 2010-11, but struggled to find his game in 2011-12. MacArthur could find himself on the second line, or see himself drop as far down as the fourth line depending on where head coach Randy Carlyle chooses to slot him into the lineup.
Captain Dion Phaneuf and Carl "Uzi" Gunnarsson will be expected to lead the Maple Leafs on the backend, while John-Michael Liles and Jake Gardiner will round out the Buds' top-four.
Korbinian Holzer, Cody Franson and Mike Komisarek will compete for the other three defensive assignments, with Paul Ranger, Morgan Rielly and Mike Kostka (six goals, 28 assists, 34 points through 33 games with the Marlies) will also push for minutes at the NHL level.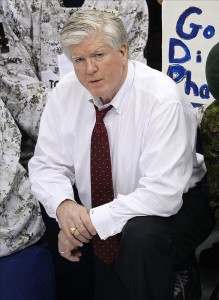 Like every NHL club, the Maple Leafs will have to come out flying to start the season. Top-notch fitness will be of the utmost importance as will establishing team chemistry very quickly.
Clearly, the first month of the season will be key to any thoughts of making the playoffs. Head coach Randy Carlyle will be expecting a lot from his troops, as will the playoff-starved fans of the Blue and White.
If you are a fan of the Maple Leafs, the 2013 season marks an exciting time. GM Brian Burke will be under intense scrutiny, as his tenure is quickly closing in on him.
Should his team be struggling or not, look for Burke to be active when the trade deadline (which will likely be sometime in April) rolls around.
There is no question that the next three months will make or break Burke; how his team performs over the first 12 weeks will go a long way in determining his future with the club.
For now, all Leaf fans care about is that the NHL season is about to commence, and for that, we are all grateful.
Known as an honest, opinionated and trusted writer, Mark Ritter brings a unique view on the Maple Leafs and the NHL in general. Mark has been writing about hockey for almost ten years and is known for bringing an honest view on the Maple Leafs. You can view more of Mark's work at www.theslapshot.com
Please follow Mark on Twitter: @theslapshot