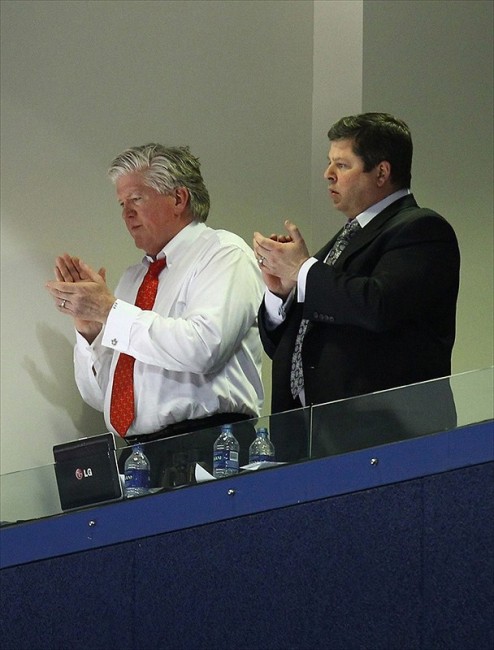 In what can only be described as a shocking move, the Toronto Maple Leafs have fired Brian Burke, replacing him with assistant general manager Dave Nonis. Burke will be retained in a consulting role, alongside the trio of Dave Poulin, Claude Loiselle and Cliff Fletcher, who were all retained as members of the Maple Leafs' management team.
Just days away from a 48-game season commencing, the timing of the firing is questionable.  Why fire Burke now? Why fire him with the draft and free agency already behind him and yet another big trade which saw Burke land forward James van Riemsdyk from the Philadelphia Flyers in return for fan favorite defenseman Luke Schenn already in the books? Curious, indeed!
A changing of the guard at the ownership level which saw Bell and Rogers communications assume majority ownership of the Maple Leafs looks to have played a huge role in Burke's firing with rumors that ownership was attempting to meddle in Burke's affairs. Burke has always maintained that he needed complete control in order to run a hockey club, if the new owners tried to impede that, Burke would probably have invited the firing or stepped down.
Even with Burke assuming a consulting role as the clubs senior adviser with the club it is unsure just how much say he will have in terms of future hockey decisions.
Burke joined the Maple Leafs in November of 2008. His first conference with the media left little to the imagination as Burke promised to assemble a team with "proper levels of pugnacity, testosterone, truculence and belligerence."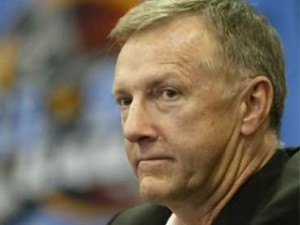 Burke inherited a team that had missed the playoffs in two straight years and a coach who Burke deemed a close personal friend. In Wilson, Burke aligned himself with someone he had every confidence could lead the Maple Leafs to success. Ultimately, Wilson would be fired, a move Burke struggled greatly with despite Wilson's lack of results during his tenure as head coach.
Burke based the firing of Wilson on a difference in philosophy, but the truth is Wilson simply wasn't getting it done with a roster Burke deemed good enough to make the playoffs last season.
In his four-year tenure as president and general manager of the Maple Leafs Burke orchestrated a complete overhaul of the roster he inherited. The reconstruction started with the controversial acquisition of forward Phil Kessel from the Boston Bruins in return for two first round draft choices and a second round draft choice, which would later turn out to be a pair of highly touted youngsters in Tyler Seguin and Dougie Hamilton, with Jared Knight rounding out the deal.
Despite the success of Kessel in a Maple Leaf uniform, Burke will be forever criticized for making the Kessel deal as many fans feel Burke should have resisted the quick fix, favoring a more calculated plan.
In January of 2010 Burke made another a blockbuster deal which saw forwards Nik Hagman, Jamal Mayers, Matt Stajan and defenseman Ian White moved to the Calgary Flames in return for defenseman Dion Phaneuf, and forwards Fredrik Sjostrom and Keith Aulie.
Phaneuf had an all-star caliber season with the Maple Leafs last season, but he has failed to live up to the billing that accompanied him when he was a member of the Flames organization.
A self proclaimed impatient man, Burke attempted to improve the club through several free agent acquisitions, many of which did not work out. Burke's free agent acquisitions included the signing of hard luck defenseman Mike Komisarek, who will be under intense scrutiny in the coming days and in jeopardy of being bought out by the Maple Leafs.
Some of Burke's worst work came when he signed Tim Connolly via free agency and traded for Matthew Lomabrdi last summer. Both players have fallen well short of expectations and have saddled the team with two huge contracts.
There are also plenty of question marks surrounding Burke's drafting of Nazem Kadri. Thought to be a key cog in the Maple Leafs re-tooling process, Kadri has failed to live up to expectations and, despite some improvement in his defensive play and conditioning, the verdict is still out on whether or not Kadri will evolve into the top-six forward the Blue and White so desperately need.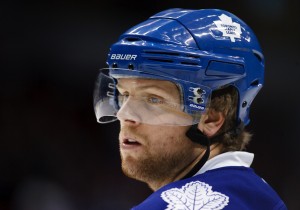 Of course, Burke's biggest mistake may have been misjudging the performance of his team prior to the Kessel trade. Burke is on record as saying he felt the Maple Leafs would be drafting in the middle of the pack that year. The fact that the Bruins were able to secure the services of Seguin with what turned out to be the second overall pick from the Maple Leafs and Hamilton with another high pick the following season will forever leave the fans of the Blue and White wondering what could have been if Burke had chosen to embrace a more patient approach.
Kessel is a monster goal-scoring talent, but he is very one-dimensional and may not have a lot of upside beyond the player he is. Given the fact that Kessel is an elite scorer you can't be too tough on Burke, but Kessel will likely pale in comparison to the player Seguin may become, not to mention what Hamilton may bring to the table.
Burke rolled the dice on Kessel, only time will tell if he got the deal right, but the early thoughts lean towards Burke getting fisted in this deal in the long run.
While Burke struggled in the free agency department, his trading record has been much better overall, including the acquisitions of the aforementioned Phaneuf, all-star forward and top-five scoring leader Phil Kessel, youngster Jake Gardiner and top-six forward Joffrey Lupul, who's career was resurrected in Toronto last season after a number of tough seasons due to injuries.
The jury is also out on the acquisitions of Joe Colborne from the Boston Bruins and Carter Ashton from the Tampa Bay Lightning. Colborne continues to struggle to find his game at the AHL level, while Ashton is deemed somewhat of a project by most.
Colborne cost Burke the services of veteran defenseman Tomas Kaberle, while Burke was forced to part with hard-nosed defenseman Keith Aulie in return for Ashton.
Kaberle, now with the Montreal Canadiens, has already played his best hockey and is a diminishing asset, while Aulie looks to be a solid stay-at-home defenseman with a physical edge.
Burke also found a few diamonds in the rough, including forwards Matt Frattin and Tyler Bozak and, to a lesser degree, goaltender Jonas Gustavsson, who was signed by the Detroit Red Wings in the off-season.
Once seen as the answer to the Maple Leafs struggles between the pipes, Gustavsson was hampered by a number of personal issues off the ice and a goaltending coach that many feel tried to change his game too much.
Burke's decision to keep highly respected goaltending coach Francois Allaire in toe for as long as he did also came under extreme scrutiny. Burke finally acknowledged a change was needed, firing Allaire in favor of former NHL netminder and goaltending guru Rick St. Croix in the off-season.
It remains to be seen if St. Croix can deliver. Starting goaltender James Reimer and potential backup Ben Scrivens look poised to be St. Croix's understudies, with a change in philosophy fully expected.
Long said to be interested in acquiring goaltender Roberto Luongo from the Vancouver Canucks, Burke is said to have balked at the price tag, which is thought to have been top prospect Nazem Kadri and up and coming defenseman Jake Gardiner.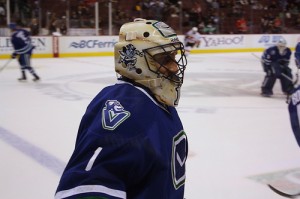 Given the implications of trading Kadri and Gardiner along with assuming the questionable salary/cap hit of Luongo, it is hard to argue with Burke's refusal to pull the trigger on a deal for the disgrunted netminder. It remains to be seen if Nonis chooses to engage in trade talks with the Canucks or what the price will be to acquire the unhappy and unappreciated goaltender out of Vancouver.
Ultimately, despite some modest success as president and GM of the Blue and White, Burke's term with the Maple Leafs will go down as a failure unless Burke's considerable moves can pay off in the form of playoff births in the coming years.
When Burke arrived in Toronto he promised that his first order of change would be to instill a competitive environment throughout the organization. Burke looks to be well on his way to bringing a measure of respect back to the organization, which was backed up by the Toronto Marlies finishing runner up in the quest for a Calder Cup in the AHL playoffs last season.
Inheriting a stable of talent which was laughable, Burke has increased the talent base measurably from top to bottom with prospects such as Morgan Rielly, Tyler Biggs, Ben Scrivens, Jesse Blacker, Matt Finn, Kadri and Ashton all emerging as NHL ready players.
In the end it is all about results and Burke sorely lacked in that department, finishing his four-year stint with a record of 129-135-42 and never once led the Blue and White to a playoff birth—one of only three former Maple Leaf GM's to be saddled with that distinction.
Nonis will now inherit a hockey team that has Burke's finger prints all over it from top to bottom. Despite a decent roster and considerable building blocks from which to draw from, Nonis, who has served as Burke's right hand man throughout Burke's tenure and in Vancouver, will have some heavy lifting to do if he expects his team to make the playoffs.
A shortened season, questions in goal, no clear number one centre and a defense that on paper looks good but has continually fallen well short of expectations, are just a few of the hurdles Nonis faces, not to mention having to deal with the media frenzy on a nightly basis that Burke was all too familiar with.
Given Nonis' considerable knowledge of the organization in terms of players, the management team and the coaching staff, he appears to be the right choice as the Maple Leafs 14th general manager, at least for now. But wouldn't the Maple Leafs have been better off awarding Nonis the interim title rather than appointing him the GM right away?
Should Nonis succeed where Burke failed (ie: making the playoffs) Nonis could be in line for an extention. Should he falter, there will be a slew of GM's lining up to take over as Toronto's GM— something that Toronto may explore regardless.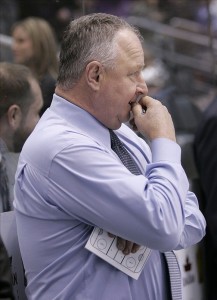 Head Coach Randy Carlyle (a Burke hiring after the firing of Wilson just three months after Burke gave Wilson a contract extension) is expected to ice a team that will put a premium on defensive play and bring that physical edge that Burke wanted to deliver but  failed to do so.
To be fair, when you consider the horses that Carlyle will run with, a physical team may not be realistic, as many of Toronto's forwards look to have far more skill than brawn.
It will be interesting to see how Nonis puts his mark on the club in the coming months, starting with a decision on the acquisition of Luongo, which will likely happen in the next 3-5 days.
Nonis has said that he has little interest in blowing up the current roster, but the expectation is that he will embrace a patient, more calculated approach to building his team for the future as opposed to Burke's style of living more in the now.
Burke's legacy will be one of disappointment for Leaf fans, but as we said before, he appears to have left the organization having built far greater depth and a chance to compete for a playoff spot as early as this season.
The debate over whether or not Burke deserved to play out the 2013 season will rage on for some time. Ultimately, the decision to fire Burke may come back to haunt the Maple Leafs as, in the minds of many, Burke was not allowed to follow through on the re-tooling process that he started back in November of 2008.
Love him or hate him, at the very least, we can all agree there was never a dull moment when Burke was around, and for that, we are grateful.