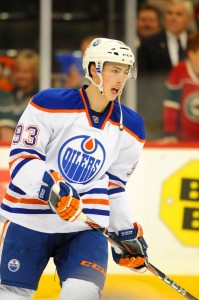 There were a lot of disappointments for the Edmonton Oilers this year, with one of the biggest being former first overall pick Ryan Nugent-Hopkins. With his third year in the NHL under his belt, he simply has not produced the way the Oilers had hoped. As the Oilers first line centre, it has been a steep learning curve for Nugent-Hopkins. He has stood toe-to-toe with the best players in the NHL in the face-off circle, with his numbers improving every year. But, although he has developed into a much stronger player overall, his offensive numbers just aren't what they could, or should, be.
Nugent-Hopkins' Rookie Year
Nugent-Hopkins was a force when he first entered the NHL. He finished his rookie year with 18 goals and 34 assists for 52 points, and even pulled off being just -2 on an ever-struggling Oilers team. His production would have been even higher if he hadn't spent part of the season sidelined with a shoulder injury. With the help of Taylor Hall and Jordan Eberle, he quarterbacked the Oilers power play. In the end, he was runner up for the Calder Trophy to Gabriel Landeskog of the Colorado Avalanche.
Sophomore Slump
The shoulder injuries continued to plague Nugent-Hopkins in his lockout-shortened sophomore year, and he failed to produce at his rookie pace. Although the Oilers power play was still strong last season, Nugent-Hopkins did not carry the man advantage for Edmonton the way he did the year before. His offensive struggles were likely due to injury and he was shut down before the season ended, when it was clear that the Oilers would not make the playoffs, in order to repair his ailing shoulder and help him restore his rookie magic.
Still Not Producing
Nugent-Hopkins definitely looked more like his old self as the 2013-14 season wore on, but he still hasn't caught up to fellow first pick, Taylor Hall. Hall has ended up in the Top Ten in NHL scoring for the past two years, reaching the 80-point mark this year. Nugent-Hopkins was far behind Hall's numbers, finishing the season with 19 goals and 37 assists. A respectable year to be sure, but still not where he needs to be.
Most noticeable in Nugent-Hopkins' offensive woes this past season was a 15-game goalless drought, finally snapped when he scored a power play goal against the Nashville Predators on March 18. For a player with so much offensive talent, a drought this long seems almost unbelievable.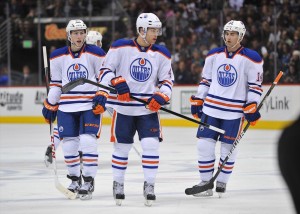 Stronger Defensive Game
Although Nugent-Hopkins struggled offensively this year, he played strong defensive hockey. Rookie Head Coach Dallas Eakins even put Nugent-Hopkins out on the penalty kill, putting faith in his skill with the Oilers short-handed. Nugent-Hopkins played a much stronger 200-foot game for Edmonton, showing more responsibility in his own end.
Now that he is healthy and has three years of NHL experience to his name, it seems inconceivable that Nugent-Hopkins won't improve in the years to come. At just 21-years-old, he has a long career ahead of him in Edmonton. He has gained strength and muscle, and is still working hard to improve his game. With any luck, for both Nugent-Hopkins and the Oilers, he will return to his rookie form next season.